The official launch of Geelong Sustainability's innovative community solar energy investment project took place last week.
We mentioned the project, CORE Geelong One, last year after the group received a $140,000 grant from the Victorian Government to support its community solar investment model.
The project involves raising funds to install 156kW of rooftop solar power at a Multicultural Aged Care Services (MACS) facility in North Geelong. 102.6kW is to be installed on the Residential Care building and 53.4kW on Bella Chara, the facility's independent living apartments.
Funds have been sought from twenty investors, who will be repaid principal and interest. MACS will also pay monthly lease fees for the system for 10 years, after which time ownership will be transferred to MACS for one dollar.
It's been a long road for the CORE task group leading to this point.
"After four years of research and development, we are very excited to be launching the project tonight," said Geelong Sustainability President Vicki Perrett at last Tuesday's event.
The project evolved from the results of a supporter survey carried out in 2014 that indicated the need for a "bold" renewable energy project in the region.
A tender process for the installation has already been undertaken, with City to Surf Solar Plus being awarded the contract to carry out the installations, which will feature 520 solar panels in total. Here's how they'll look.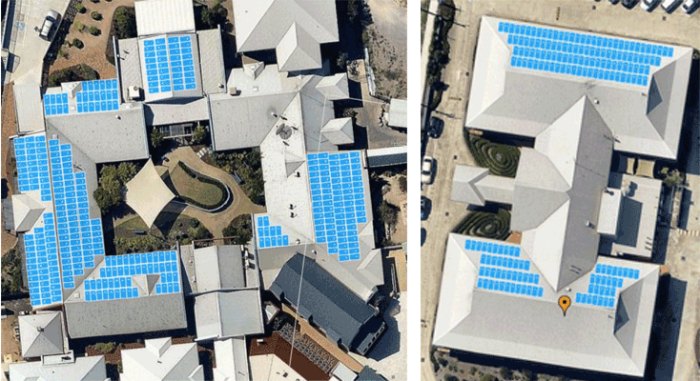 The project is expected to generate 577kWh of electricity a day on average and is forecast to reduce MACS' mains electricity bills by around $29,000 annually, along with significant reduction in carbon emissions (approximately 210 tonnes of CO2 a year).
"This project is a wonderful way to demonstrate MACS' commitment to environmental sustainability as well as what a passionate and committed group of volunteers and a not for profit community based organisation can achieve together," said MACS CEO Joy Leggo in November last year.
This project is just the beginning says Geelong Sustainability Project Coordinator, Dan Cowdell.
"Going forward, we intend rolling out more projects. We are already investigating further potential host sites and keen to connect with others."
The group is currently looking for residents and organisations interested in becoming investors in its community solar projects and says they can expect returns better than bank interest while supporting the growth of clean energy in the Geelong region. Further details can be viewed here.
The MACS installation will add to North Geelong's total of more than 1,130 small scale solar power systems (as at March 2018) installed throughout the 3215 postcode, representing a combined capacity of around 4.5MW.