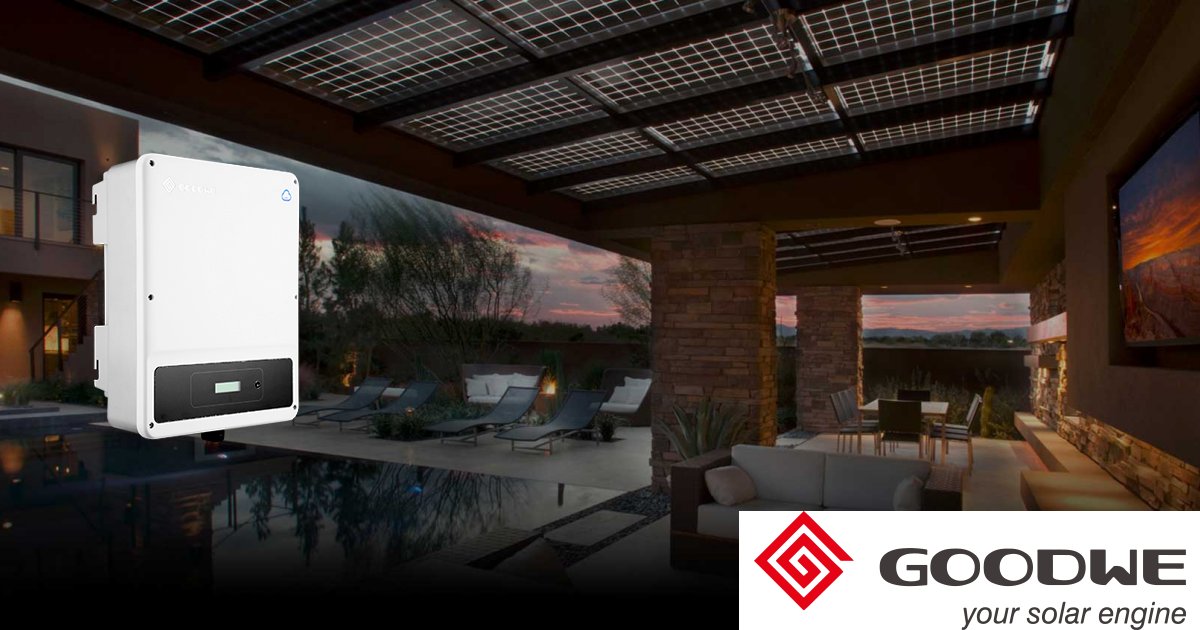 Solar inverter manufacturer GoodWe has extended its warranty – and if you've had a GoodWe inverter installed very recently, you may be in luck.
Up to this point, GoodWe's standard manufacturer warranty for grid connect inverters has been 5 years, with the option to extend out to 7, 10, 12, 15 and even 25 years in some cases – but this involves extra cost. For example, to extend the full manufacturer warranty for a 5kW GW5000D-NS inverter out to 10 years usually costs an additional $87 + GST.  Some extended warranty options only cover hardware costs.
GoodWe announced yesterday it has increased its manufacturer warranty to a standard 10-year full warranty across its entire range of grid connect inverters, when registered on GoodWe's Smart Energy Management System (SEMS) portal. The extension applies to all GoodWe inverters manufactured after October 1, 2020 and installed in Australia after January 1 this year.
10 years is a generous warranty for what is a cheap, but decent quality inverter.
"We hope this new warranty will give customers more confidence to choose our world leading technology products and that it shows our strong desire to stay in the Australian market for the long haul," said Country Manager of GoodWe Australia Dean Williamson.
GoodWe still needs to update the warranty page on their website to reflect the change. At the time of publishing, it was stating 5 years- as was the warranty document.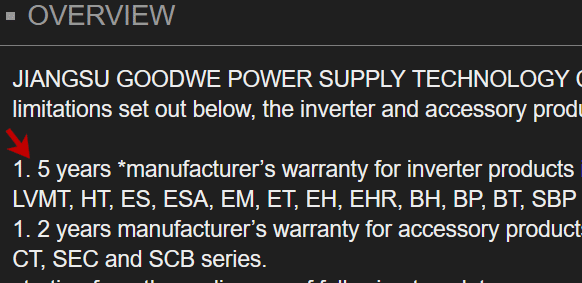 It's quite often the case when solar manufacturers announce improved warranties that there's some lag before their web site and other documentation is updated. If you're considering purchasing a GoodWe inverter, perhaps hold off until all GoodWe's ducks are lined up and you've had the opportunity to go over the updated warranty.
GoodWe says customers will need to upload their inverter's generation data to their SEMS portal for the warranty to take effect.
"Apart from end users being able to track their power generation data daily, their inverters can be upgraded remotely using the SEMS system," states the company. "The system can also intelligently diagnose issues and send warning push notifications and troubleshooting guidelines automatically."
Are GoodWe Inverters Any Good?
GoodWe has been manufacturing inverters for around a decade and says it has shipped two million units globally, for a total capacity of 16 GW. GoodWe inverter products have been available in Australian since 2012, when the firm established an office in Melbourne. The company points out it achieved EuPD Research's Top Brand PV Award in Australia in 2019 and 2020, which is based the recommendations of installers.
GoodWe inverter reviews from Australian customers here on SolarQuotes have generally been positive. The company is currently listed on SQ's trusted brands chart at the budget end of the chart.
When shopping for a solar power system, it's often the panels that are the focus of attention – but choosing a solar inverter is very important part of selecting a system.
It's the component most likely to fail in the first 10-15 years given the amount and nature of work this critical device performs and the conditions under which it operates. In SQ's Solar 101 guide, Finn advises that even if you're on a limited budget, he recommends considering a mid-range or high-end inverter as it is likely to last longer than the cheaper units.