Huawei is a giant Chinese company and the world's largest producer of solar inverters going by gigawatts of capacity.  This fact is hardly known here but it's not surprising because if you go to their Australian website you'll see a woman with cheekbones from hell and no mention of inverters at all.  They are far more interested in selling mobile phones, tablets, and what they call "wearables" which appear to be for people who haven't yet realized watches are no longer a thing.
If you want to find out about their inverters you have to go to their other site that can't be reached from the main one.  I don't know why they've done it that way.  It's almost as if they think people looking for a mobile phone won't be interested in grabbing a solar inverter or two while they're at it.
Going to their Australian inverter site and clicking on "residential" will bring up information on their SUN2000l series of solar inverters.
These are single phase inverters ranging from 2 to 5 kilowatts in capacity.  I was surprised to see these are all multimode inverters — also known as hybrid inverters — and can be used with battery storage.  The only compatible battery system listed is the LG Chem RESU 7H and 10H.  The inverters can't provide backup power during a blackout, but are a low cost option for people who want home energy storage.
Even if they weren't multimode I would say they were competitively priced.  Fortunately, considering they are the world's largest producer, Huawei appears to know how to make inverters that don't fail miserably soon after you buy them and offer an above average warranty.  For their residential inverters they have a 5 year full replacement warranty with an additional 5 years after that where they will provide a free replacement inverter or parts but won't pay for labour.  This is best standard warranty for any Chinese inverter I know of.
Huawei also produces solar panel optimizers that help get the most out of your solar panels.  I've looked though their installation manual and there is no indication their inverters require these optimizers, so you are free to take them or leave them as you desire.
For people who want something larger than a single phase 5 kilowatts, the next largest inverter is a 3 phase 8  kilowatts, but Huawei regard this as a commercial inverter and so it only comes with a straight 5 year replacement warranty.
Who Is Huawei?
Huawei Technologies is a massive Chinese company with 180,000 employees and it flogs its wares in over 170 countries.  It's mostly a telecommunications company.  While they are the largest inverter manufacturer in the world, as far as they're concerned that seems to be a minor detail.  Kind of like how I rarely mention that my Canadian, millionaire, supermodel, scientist girlfriend is also an Olympic athlete.
Their headquarters are in Shenzhen, a city with a population equal to half of Australia's, which is directly north of Hong Kong.  The company was founded in 1987 and immediately started pulling apart electronics from overseas to figure out how to make them.  They then paid officials to make sure their components were used.  Their hard work at reverse engineering and innovative bribery paid off and now they are the world's largest manufacturer of telecommunications equipment and the second largest manufacturer of smartphones.
Huawei has plans to become a major cloud company.  I don't know what that means, but I only got working internet this year and once I get around to reading it I'm sure I'll find out what it is.
Inverter Technical Specifications
Here are some technical specifications for the SUN2000l inverters from their datasheet: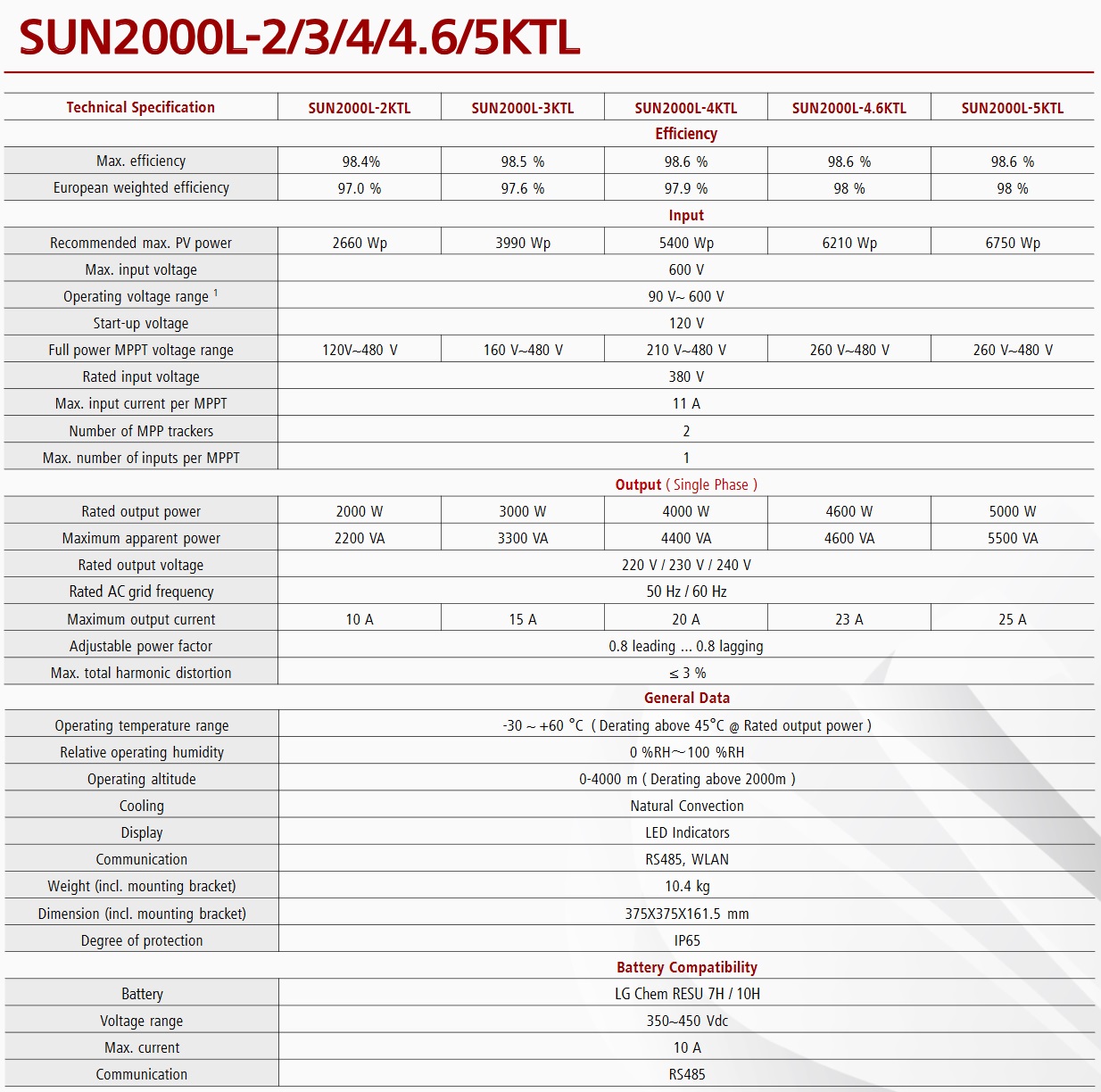 One thing I will mention is even the smallest inverter with only 2 kilowatts of capacity has two MPPT (Multiple Power Point Trackers) instead of the one that is common among inverters of that size.  This means all the SUN2000l inverters can have 2 independent arrays of solar panels that face in different directions if desired.
Another interesting fact is the inverters are very light at only 10.4 kilograms and they all seem to weigh the same.  This makes me wonder if they are all actually 5 kilowatt solar inverters that have been nobbled internally to give them different capacities.  (I doubt it this is the case, but it's possible companies will start doing this at some point.)
Do Not Install Near The Sea
The SUN2000l installation manual says not to install the inverters within 500m of the sea to prevent sea mist corrosion.  That's quite a distance as sea mist corrosion usually isn't significant more than 200 meters from the shore, but I guess they're not taking any chances.  So if you have beachfront property, or live less than a 6 minute walk from the beach, don't get a Huawei SUN2000l.
Update 15th May 2019:  Huawei Australia has informed me if you contact them they are likely to be able to give written confirmation their warranty will still apply if you install within 500m of the ocean.
The Only Compatible Battery — LG Chem RESU 7H or 10H
The only battery that is listed as being compatible with the SUN2000l solar inverters is the LG Chem RESU 7H and RESU 10H.
These are what LG Chem calls 400 volt systems, which is considerably more than the 48 volts of their other RESUs.  Here are some technical details for the batteries and you can read a little more about them here: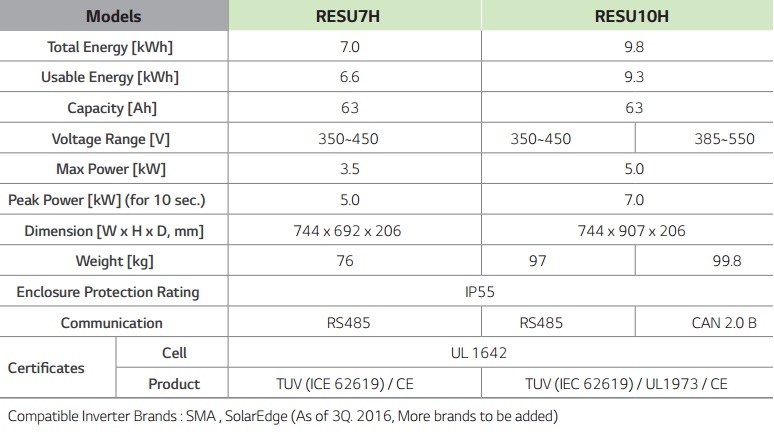 If you get the smaller RESU7H you'll have 6.6 kilowatt-hours of usable storage and with a 4 kilowatt or larger SUN2000l inverter you'll be able to get a maximum of 3.5 kilowatts of power from the battery.  With the larger RESU10H you'll have 9.3 kilowatt-hours of usable storage and with a 4.6 or 5 kilowatt SUN2000l inverter you'll be able to get from 3.5 to 4.5 kilowatts of power from the battery.
The solar inverter is not capable of providing backup, so if the grid fails you will be sitting in the dark along with everyone else.  But the grid very rarely fails in cities and major towns.  Mostly it's people in rural areas who have to put up with ridiculous outages.  Since I left Queensland I've never had a blackout that's even made my ice cream go soft.1
Warranty
The SUN2000l inverters have a 5 year full replacement warranty with an additional 5 year period after that where they will replace a defective inverter or provide parts for free but won't pay for labour.  This is better than the average solar inverter warranty which normally just 5 years full replacement.  One interesting and useful feature of the warranty for replacement inverters is it will last for the length of the original warranty or 12 months — whichever is longer.  I can't recall seeing this condition in any other inverter warranty.
SUN2000l Inverter Pricing
Looking at estimated retail prices the uninstalled cost for a household would range from around $1,220 for 2 kilowatts and $1,830 for 5 kilowatts with the other sizes within that range.  Note these estimates are rough and will change with time, the value of the Australian dollar, and possibly with what the CEO of Huawei had for breakfast.
These prices are good for an inverter with an above average warranty and I'd say they are excellent if you are planning to get an LG Chem RESU battery and aren't too concerned about having backup capability.  (Very roughly a RESU10H may set you back $8,000 or more)
Larger Inverters
What Huawei calls residential inverters are all single phase with a maximum capacity of 5 kilowatts.  But they make plenty of larger ones.  The next step up is the SUN2000-8/12KTL, which is a 3 phase inverter with 8 kilowatt and 12 kilowatt versions.  Because Huawei regards this as a commercial inverter its standard warranty is only for 5 years.  If you need something even larger Huawei has some humungous inverters.  They can help you build a solar farm if you want.
Huawei Optimizers
An optimizer is a little electronic doodad that goes under solar panels and works as a DC converter to adjust the voltage it provides to maximize the output of the panel.  Their big advantage is if a solar panel with an optimizer performs poorly it won't drag down the performance of other panels it's attached to.  This makes them very useful for solar power systems that suffer from partial shading.
Their full title is SUN2000P-375W Smart PV Optimizer and, as you may have guessed from its name, it can be used on panels that are up to 375 watts in capacity.  Its warranty is for 25 years which is normal for optimizers overseas but good for Australia.  At a retail price of around $90+ uninstalled it's priced roughly equal or better than its competitors.
It is possible to individually monitor each panel that has a Huawei optimizer but that will require additional equipment and a monitoring unit – and this is an expense I don't have figures for at the moment.
Huawei Is A Spy?
In 2012 the Australian government prohibited Huawei from tendering for NBN contracts because they were worried the Chinese Government would use them to spy on our internet.  You know, that thing that spambots, mafias, Facebook, and the US Government is already using to spy on us.
The Attorney-General's Department said Hauwei was banned because the NBN is…
"…a strategic and significant government investment.  We have a responsibility to do our utmost to protect its integrity and that of the information carried on it."
So the Attorney-General wants to protect the integrity of the internet?  Does he even know what it is?  More to the point, when is he going to start?  I think half the processing power of my old laptop is being used to mine bitcoins for Ukrainian mobsters.  I hope he deals with that before he gets rid of all those horrible pictures of goats in bikinis that I know nothing about.
The Chinese Government definitely engages in ridiculous levels of spying on their own citizens and Huawei is complicit in this.  Huawei has also engaged in extremely explicit industrial espionage.  But I have yet to see any good evidence that Huawei is using telecommunications infrastructure in countries outside of China to spy for the Chinese government or anyone else.  Until evidence turns up, if we want to ban Huawei from bidding on telecommunications contracts, we should use the exact same criteria to vet every other company that wants to bid.  After all, we don't want to strain out a gnat while passing a camel.  There are definitely other countries out there that are well known for being stickybeaks.
Huawei's Future Is So Bright They've Got To Wear Shades
Huawei is a massive company that probably isn't about to disappear.  While giant companies can rise and fall it's hard to see Huawei falling fast enough to not be around to honor warranties in 10 years time.  But if you want to be sure you always get high quality warranty service, just make sure you only say nice things about the Chinese government whenever you're near your inverter.
Footnotes
Mind you, I don't go checking it.  If the power goes off, I leave that fridge door shut as long as possible.  It's not like it's a teleporter.  I know what's going to be in there when I do open it. ↩