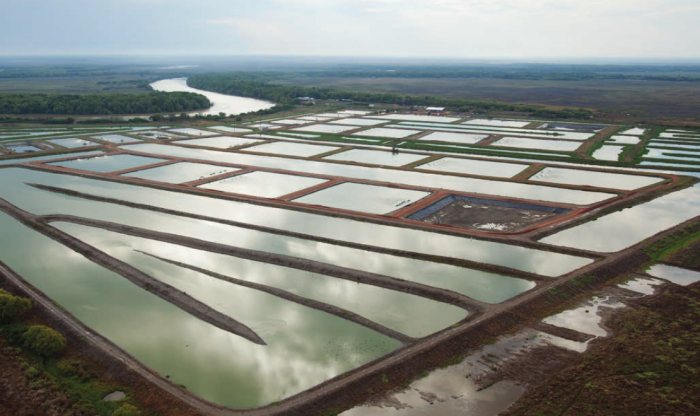 Humpty Doo Barramundi Farm, the first NAIF loan recipient in the Northern Territory, will soon embark on a major expansion including solar energy to help power its operations.
The Northern Australia Infrastructure Facility's investment will initially provide $7.18 million towards the first stage of the company's three-stage project.
The first stage includes construction of  2-megawatts of solar capacity that will reduce the aquaculture firm's reliance on electricity generated from natural gas. This stage will also see a specialised barramundi nursery established to reduce predation by birds and to supply other aquaculture farms. It will also involve the Territory's first automatic feed storage and distribution facility and an ice-making facility.
Humpty Doo Barramundi's Bob Richards said he was pleased his company will be investing in solar power and other infrastructure that will help towards the firm's carbon neutral goals, while boosting Humpty Doo Barramundi's reputation as a leader in sustainable Australian aquaculture.
All three stages of the project will receive a total of $28.7 million from the NAIF over the next five years, matched by funding from Humpty Doo Barramundi.
With the expansion will also come more jobs.
"Humpty Doo Barramundi expects to double the number of people it employs from 50 to 100 by the time this project is complete," said Northern Territory Chief Minister Michael Gunner.
Work will start on stage 1 in the next month or two.
The farm is located on the banks of the Adelaide River, halfway between Darwin and Kakadu. It started operations around 20 years ago and has grown from an annual harvest of 300 kilograms to become one of the largest producers of salt water barramundi in Australia. It was also one of the first barramundi farms in the country to be certified under the Australian Sustainable Barramundi Certification program.
The Northern Australia Infrastructure Facility will approve loans for suitable projects in North Queensland, North Western Australia and the Northern Territory to 30 June 2021, investing up to $5 billion.
Another major aquaculture related solar project in the Territory that is still in the pipeline is associated with Seafarms Group's $1.45 billion Project Sea Dragon prawn aquaculture venture, which will involve a distributed solar PV rollout of approximately 17.5MW. There hasn't been much news on that since last year.
While on the topic of the Northern Territory, also missing in action is apparent recent progress in relation to the Territory's Roadmap to Renewables, which supports Territory Labor's election commitment to a target of 50% renewable energy by 2030 .
Perhaps the lack of news is due the NT Government being distracted by all the recent fracking around.