Investment value in large-scale solar power projects in Queensland make up more than half of the national total says the Clean Energy Council.
Launching the 2018 Large-scale Solar Industry Forum in Brisbane yesterday, Clean Energy Council Chief Executive Kane Thornton said 20 projects were either under construction, would soon commence or had already been completed in Queensland this year.
"Across the country, projects which are under construction, completed or have secured financial commitment add up to $5 billion in investment, with Queensland investments contributing more than half – 52 per cent, or $2.6 billion," Mr. Thornton stated.
It was only a few years ago that there wasn't a single commercial large-scale solar facility of more than 5MW capacity in the state.
Aside from the 1400MW of new and renewable energy represented, current large-scale solar related activity in Queensland is generating up to almost 2,670 direct jobs. All up, large-scale renewables projects in the state are supporting 3,196 jobs, far exceeding any other state.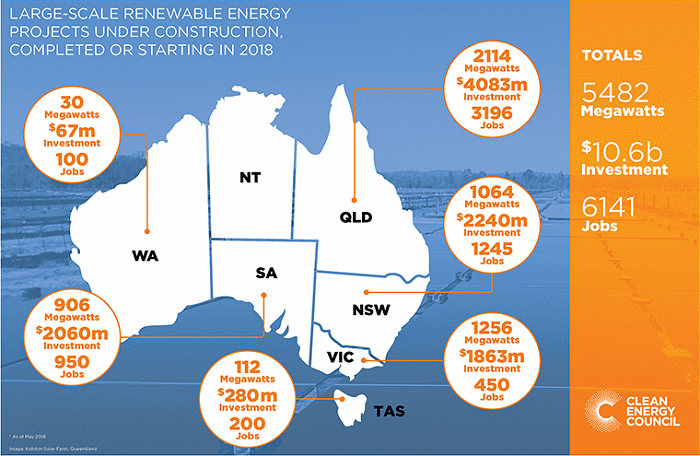 A list of renewable energy projects either under construction, completed or starting in 2018 in Queensland and across Australia can be viewed here.
Queensland Large Scale Solar Guidelines Submission
In other recent news from the Clean Energy Council, the CEC has lodged a submission relating to the Queensland Government's Draft Solar Farm Guidelines. These will be the first comprehensive set of community engagement guidelines in Australia developed specifically for the large-scale solar industry.
"Large scale solar brings jobs and economic benefits for communities, but they can also bring their own set of planning challenges," said Natural Resources, Mines and Energy Minister Dr Anthony Lynham in March. "The right planning guidelines need to be in place to ensure communities, developers, councils and investors are all on the same page about what is best for Queensland."
The guidelines consist of two parts – one relating to local government and the other to communities, landowners and project proponents.
The Clean Energy Council has given its general tick of approval to the drafts.
"The CEC is supportive of the Queensland Government's draft guidelines and encourages developers to adopt the community engagement guidance in their projects," states the Council. " We also acknowledge that many CEC members already meet and exceed this guidance in their standard business practices."
The Clean Energy Council's submission can be viewed here.
Queensland's guidelines could be used as a template by other states. At times when large-scale solar energy projects face opposition and cause friction within a community, it can be largely due to poor community engagement on behalf of the developer; an avoidable situation.