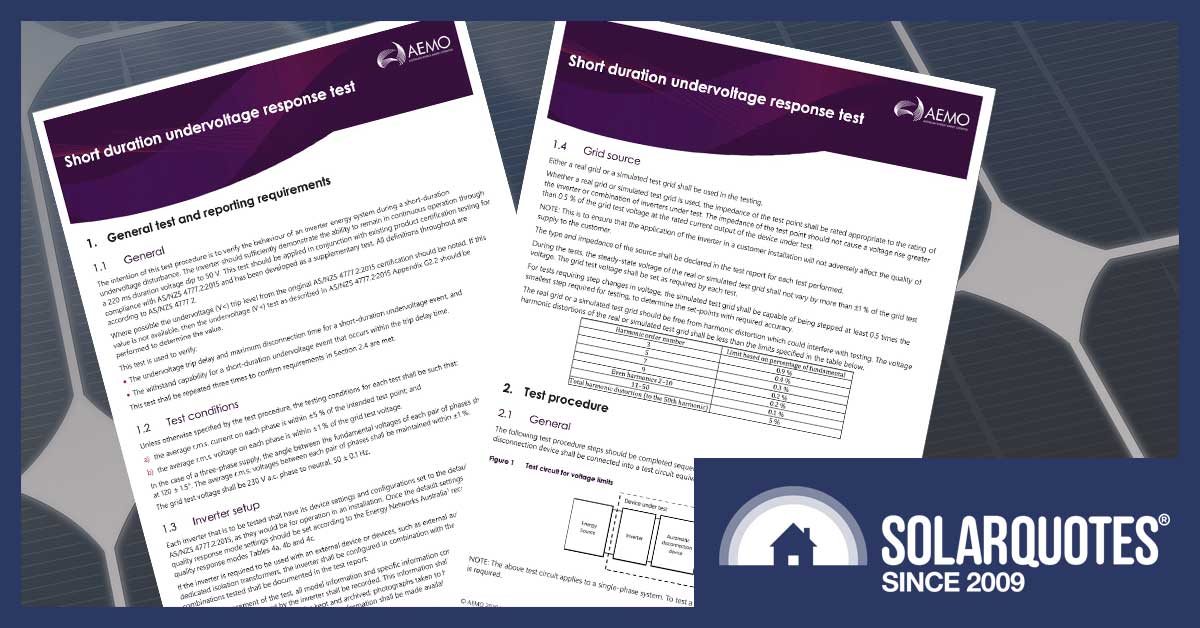 Friends, it's arrived: the Australian Energy Market Operator has published its standard low voltage ride-through test procedure for inverters.
As we previously informed our readers, South Australia made its regulatory plans in the expectation that the test would be mandated soon. As expected, the "Short duration undervoltage response test", published here (PDF), will be mandated as of September.
That means that – as it stands – no inverter can be installed in South Australia from September unless it has passed this testing procedure. That's less than 3 weeks from now folks!
The aim is to verify that grid-connected inverters can survive brief undervoltage disturbances*. As commenter Jonathon Dore explained (correcting my original misreading of the standard – thanks, Jonathon, I'm new to electricity documents!):
"There is one test at 180V and another test at 50V.
"Specifically, one test to ensure that the inverter disconnects after 1s at just under 180V and another test to ensure that the inverter can ride through 220ms at 50V (i.e. maintains power output or re-establishes power output within 1s of the dip)."
The note is intended to be read in conjunction with AS/NZS 4777.2:2015, so the undervoltage test document is mercifully short, stipulating:
Test conditions – RMS voltage tolerance, and grid test voltage tolerance;
Inverter setup – including recording and photographing the test setup for verification. The setup diagram is shown below; and
Test procedure – testing the system's response to undervoltage shorter and longer than the 220 ms set in the standard.
As we've previously reported, technical detail aside, the move to implement the standard so quickly hasn't been welcomed by the industry.
Last month, Michael mentioned the Clean Energy Council's concern that "the timeframe for low voltage ride-through requirements was oblivious to the practical limitations of test laboratories to undertake the testing required".
The Smart Energy Council was also worried about the September 2020 implementation timeframe, calling it "unworkable".
"It is unclear how some of the proposals will be implemented, who will pay for the changes and how the proposed changes will be enforced", the SEC said at the time.
Regardless, South Australia pushed ahead with its Smarter Homes proposal – which will rely on the inverter test, as well as specifications for remote connect/disconnect and its mandate for two-element, two contact smart meters.
The questions for vendors, resellers and installers is whether their inventory can meet the requirements and therefore stay on sale in South Australia – and if not, is it something that can be solved with a firmware update? Other states will be watching South Australia with interest.