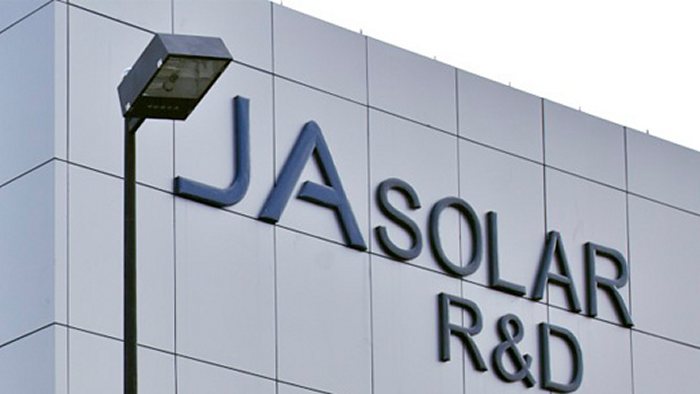 JA Solar has announced output power of its 60-cell solar modules comprised of mono-Si PERC cells has exceeded 325W; reaching 326.67W
This result represents a new world record for 60-cell monocrystalline silicon panels stated the company, and was measured and verified by TÜV SÜD.
"Setting a new world record of over 325W output power from a 60-cell mono-Si PV module is remarkable achievement enabled by PERC technology," said Dr. Wei Shan, Chief Technology Officer of JA Solar.
PERC stands for Passivated Emitter and Rear Cell or Passivated Emitter and Rear Contact. The technology boosts efficiency by enabling  electrons to flow more freely, plus increases the reflective attributes of the back of solar cells. If you're interested in learning more, check out Ronald's explainer on PERC technology.
JA Solar has been working with PERC technology since 2010 and was the first company to exceed the 20% conversion efficiency mark for a commercial version of PERC solar cells using a screen-printing metallization process, which occurred in 2014. The company began mass-producing PERC-based solar cells and panels in 2015.
In other recent news from the company, JA Solar reported last month shipments of its modules reached 1,582.5MW during the third quarter of 2017, an increase of 31.9% year-over-year, but a decrease of 26.3% compared to Q2.
Total shipments were 1,640.9 megawatts; consisting of the 1,582.5 MW of panels, 37.9 MW of cells to external customers, plus 20.5 MW of modules to the company's downstream projects.
In the November report, Chairman and CEO of JA Solar, Baofang Jin , expressed some concern relating to uncertainties around a trade case in the USA and another in India , which he said could impact global solar demand in the mid-term.
For the final quarter of this year, JA Solar expects total cell and module shipments to be in 1,600 to 1,800MW range, with nearly all products to be external shipments.
Based in China, JA Solar is one of the world's largest producers of solar panels and last year shipped 5.2 GW of solar power products. The company's silicon wafer, cell and module production capacity has reached 3.0GW, 6.5GW and 7.0GW respectively and to date, the company has shipped more than 23 GW of products.
JA Solar panels have been a popular choice in Australia for home solar power system installations given their reliable performance and lower pricing compared to some other premium "Tier 1" brands.