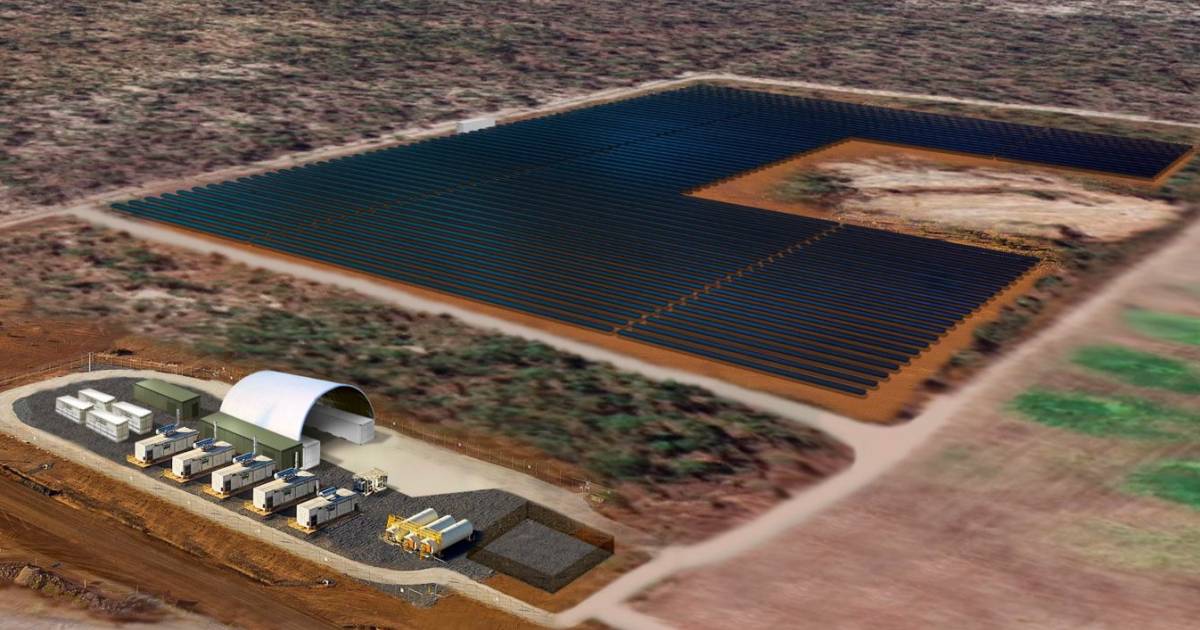 Clearing works have been completed for the construction of a new hybrid solar/storage/diesel power plant in the Northern Territory's Jabiru.
Jabiru, around 250 kilometres east of Darwin and in the midst of Kakadu National Park, was a town purpose-built in the 1980's to service Energy Resources of Australia's (ERA's) Ranger uranium mine. With ERA ceasing mining and processing operations at Ranger in January this year, the town's future was uncertain.
So too was the future of Jabiru's electricity supply, as that is currently supplied by ERA from diesel generators at the Ranger mine. But as part of the Northern Territory Government's $135.5 million dollar investment in the town and Kakadu, Jabiru can look forward to an energy future part powered by renewables.
"Jabiru is an important town, and the gateway to Kakadu National Park and the West Arnhem Region," said NT Chief Minister Michael Gunner. "We are investing millions into Jabiru to transform it into the tourism and services hub we know it will one day be."
EDL has been contracted by the Northern Territory Government to deliver the Jabiru Hybrid Renewable Project, which will consist of 4.5MW of diesel generators, a 3.9MW solar farm and a 3MW/5MWh battery. EDL says at least 50% of Jabiru's electricity will come from solar energy over the long term.
The facility will be able to power the equivalent of 2,000 homes – and there were around 626 dwellings in Jabiru as at the 2016 Census.
Site clearing and preparation commenced in mid-June and with that now done, EDL can start hooking into power plant construction. It's expected the diesel power station element will be completed by the end this year, and the solar farm and battery will come online in early 2022.
During the clearing and preparation, EDL worked with the Djurrubu Rangers – a group providing professional land management services across the Kakadu region.
"This collaboration with the Rangers was a great opportunity for EDL and our contractors to work with local traditional owners and learn about the culture, land and local fauna and flora," said EDL Chief Executive Officer James Harman.
EDL has been in the power plant game for more than 30 years. Its first project was the Pine Creek Power Station in the Territory, which comprises two 10MW gas turbines equipped with heat recovery steam generators coupled to a 7MW steam turbine.
Once complete, Jabiru Hybrid Renewable Project will be EDL's 100th site world-wide.
NT Renewable Energy Target – How Goes It?
The Jabiru project will contribute to Northern Territory's target of 50% renewable energy by 2030. And just on that, it seems the Territory's journey towards the goal is rather bumpy
According to RenewEconomy's Giles Parkinson, NT's renewables share is sitting around just 7 per cent and there are several utility-scale solar farms totalling 55MW capacity sitting idle because they are yet to secure approval to be switched on
There's certainly plenty of other solar capacity also proposed for the Territory, including the massive Sun Cable project.  The Australia-ASEAN Power Link (AAPL) is a $22 billion, 13.1GW solar farm across 12,000 hectares, along with 33 gigawatt hours of energy storage that will supply Darwin, Singapore and ASEAN markets – the latter two via an incredibly long HVDC submarine cable.