Jinko Solar has inked a deal with Jing Bei New Energy that will see the PV giant supply 100MW of its solar panels for use in two fish farm projects in China.
"After completion, the project will produce greater than 110 GWh/year of electricity," said a Jing Bei New Energy project manager. "The power generated by the station will be connected to the state grid, yielding lucrative income and creating another source of income through the fishery."
The panels to be used at the aquaculture project will be from Jinko's Eagle Series – which the company claims were the world's first Potential Induced Degradation (PID) free module under 85C / 85% relative humidity conditions.
What does a solar powered fish farm look like? A photo that appeared on the People's Daily Online of another project (panel brand unknown) shows that unlike floating solar farms such as we've covered recently where the panels are installed on pontoons and situated very close to the water's surface, the module mounting structures are fixed and raised up high enough to permit navigation via boat between the rows.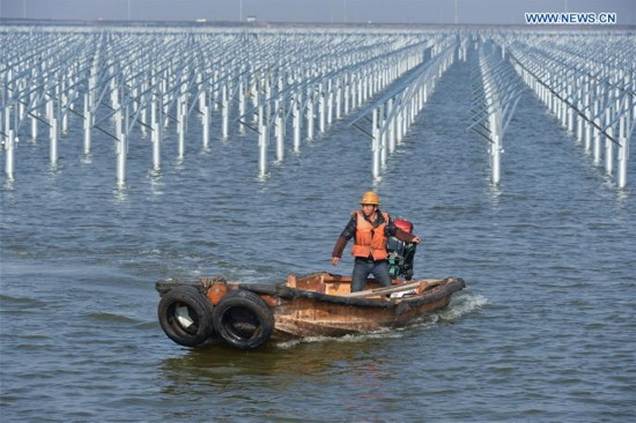 Completed earlier this year, the facility pictured above was constructed in Cixi City, in China's Zhejiang Province and is expected to generate 220 million kilowatt-hours a year. It's a massive installation, covering nearly 300 hectares.
Jinko Solar says PV demand from agriculture and aquaculture sectors presents a huge opportunity for the company.
One of the world's largest manufacturer of PV modules and a tier 1 producer, Jinko Solar products have been available in Australia for quite some time. You can learn more about the company and read Jinko solar panel reviews here from Australians who've had the modules installed.
In other recent news from Jinko Solar, the company has provided 1MW of panels to the University Teknologi Malaysia (UTM) in Kuala Lumpur and announced it supplied modules for four operating solar power projects of 18 MW total capacity in the UK.
Yesterday the company announced it had signed financial agreements for debt and equity funding for the Sweihan Solar PV Independent Power Project; a 1,177 MW (DC) solar PV power station. The project will be located in the Eastern Region of the Emirate of Abu Dhabi, approximately 120 km east of the city of the same name.