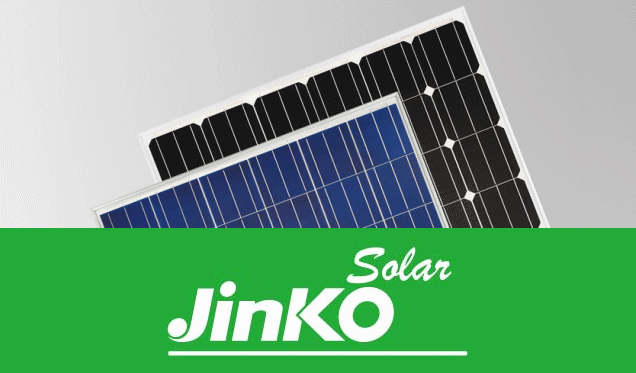 Jinko Solar has announced it has again set a new a conversion efficiency record – this time for P-type monocrystalline PERC solar cells.
JinkoSolar broke the existing and freshly minted world record, announced just days ago by Longi Solar 1, by achieving conversion efficiency of 22.78% on P-type monocrystalline PERC solar cells. The result was verified by the Chinese Academy of Science Testing Laboratory.
The company says the achievement was attained through a number of enhancements, including the use of selective emitter structure and fine-finger metallization technologies; which significantly reduced energy losses caused by recombination and improved open circuit voltage and conversion efficiency.
Earlier this month, we reported Jinko Solar had achieved conversion efficiency of 22.04% for "practical sized" P-type multi-crystalline silicon solar cells, verified by Fraunhofer ISE Germany. This was the second time the company had broken this world record since October 2016 .
" We plan to apply what we've learned from our successful world record attempts in a test production environment," said  Kangping Chen, CEO of Jinko Solar. " We will then rapidly seek the mass application of our new technologies to further bring down the cost per watt of our modules."
In other recent news from the company, the firm announced earlier this month it had supplied 12.7 MW of Jinko Solar panels to Hitachi Systems, Ltd. for a solar plant in Ulan Bator (Ulaanbaatar), Mongolia. Ulan Bator is the nation's capital and largest city. It has a population of around 1.3 million, which is almost half of the country's total population. It also has the unpleasant distinction of being one of the most polluted cities in the world; with the burning of coal one of the main culprits.
The PV facility will be the country's first utility scale solar farm and is expected to be connected to the grid next month.
"This is a big step for us in expanding our presence in Mongolia. We look forward to creating a bright future for solar energy there," said JinkoSolar's Vice President Global Sales and Marketing, Gener Miao.
There may be plenty of opportunities for JinkoSolar and other PV manufacturers in the country, with the Mongolian Government setting a target of 20 per cent renewables by 2023 and 30 per cent by 2030.
Trivia : While utility-scale solar is new to Mongolia, solar energy has been improving the lives of the country's nomadic herders for years. A program launched by the Government of Mongolia in 2000 aimed to provide half a million nomadic herders with access to electricity through the use of subsidised portable solar power systems. While running into its fair share of hiccups, the program was eventually successfully completed in 2012 with the assistance of the World Bank, with approximately 100,000 systems distributed.