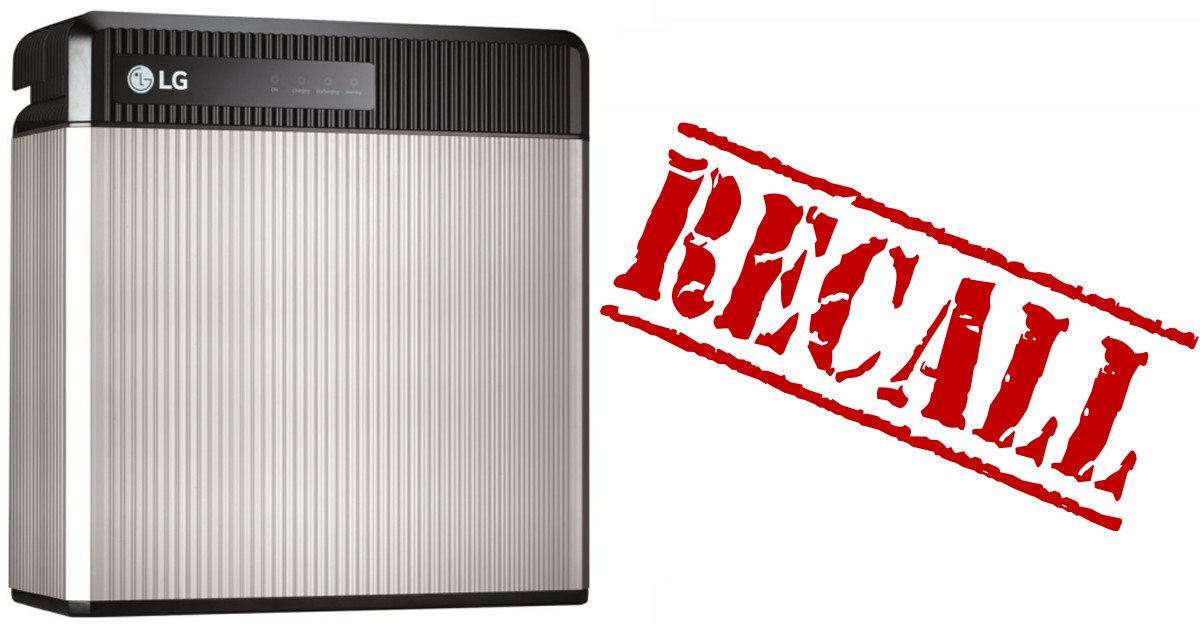 LG Energy Solution Australia has issued a recall notice for various LG Chem RESU models and battery packs with cells from specific production lots.
In December last year, LG Energy Solution triggered a voluntary recall in the USA after receiving five reports of fires resulting in minor property damage. These incidents were associated with LG Chem RESU 10H residential energy storage systems with specific serial numbers sold from January 2017 through March 2019. The recall involved around 1,800 battery systems.
On Friday, a recall notice was posted on the Product Safety Australia web site for the following models with cells manufactured between March 2017 and September 2018 from certain production lots.
RESU7H_Type R
RESU10
RESU10H Type-C
RESU10H_Type R
EM048063P3S4
EM048126P3S7
The last two are battery packs (3.262 kWh and 6.524 kWh respectively) that may be used in other storage systems, such as Redback Technologies' Smart Hybrid Battery Enclosure BE13200.
479 units in Australia are affected by the recall; the serial numbers of which can be found here and instructions for locating those numbers here.
The recall notice notes the defect as being "the batteries may overheat and catch on fire".
Owners of affected systems who haven't yet been contacted are urged to get in touch with LG Energy Solution Australia's product department (1300 677 273 or email via [email protected]) immediately to arrange an inspection. If applicable, a replacement battery will be supplied at no cost.
During the period prior to replacement, a remote software upgrade for affected internet-connected  RESU10H Type-R and RESU7H Type-R units is being organised by LG Energy Solution Australia to lower the maximum state of charge to 90%.
While this is an unfortunate turn of events, at least LG is taking this voluntary action rather than saying nothing, crossing its fingers and hoping none of its potentially affected LG Chem RESU batteries installed in Australia burst into flames. It's not clear why there was a significant lag between the US recall and Australian recall.
Lithium-ion Battery Safety
Lithium-ion batteries are ubiquitous – used in everything from phones through to solar batteries and electric vehicles. One of the major advantages of lithium-ion battery technology is its high energy density capabilities – which can also be one of its drawbacks.
While generally very safe, when things go wrong it can happen pretty quickly and violently, leading to venting with flame along with toxic smoke and/or explosion.
The LG Chem RESU is a lithium-ion battery storage system that uses lithium nickel manganese cobalt oxide (NMC) cells. The Li-ion chemistry widely regarded as the safest is lithium iron phosphate (LiFePO4). But just because a battery uses LiFePO4 cells, that doesn't make it safe per se – it needs to be part of a well designed system. A good NMC based system would be safer than a shoddy LiFePO4 unit, so while battery chemistry can be a consideration when planning a home energy storage purchase, it shouldn't be the sole focus.
You can view a range of energy storage solutions currently available in Australia along with specifications including chemistry types and approximate pricing on SQ's solar battery comparison table.
On a related note, SQ's Ronald recently published an article on the most recent Canberra Battery Test Centre reports, which continues to indicate even reputable battery manufacturers still have difficulty producing reliable home batteries.