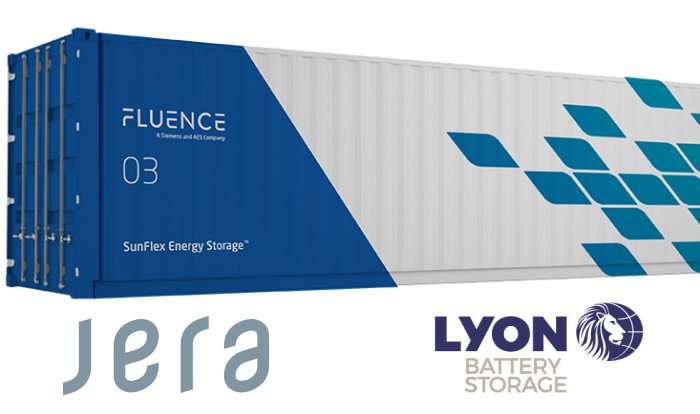 Lyon Group, JERA and Fluence have banded together to pursue further utility-scale battery storage development and investment opportunities in the Asia Pacific, including Australia.
The collaboration will see Lyon acting as project developer, JERA an investor and Fluence will be the energy storage provider.
Tranche 1 projects in Australia under previously forged relationships between the trio and scheduled to commence construction in the coming months include:
Cape York, Queensland (55 MWac solar + 20MW/80MWh storage)
Nowingi, Victoria (253 MWac solar + 80MW/320MWh battery storage)
Riverland, South Australia (253 MWac solar  + 100MW/400MWh battery storage)
Stage 2 of the Riverland project, which will be built near Morgan, will see up to a further 77 MWac of solar capacity added.
"Lyon's collaboration agreement with JERA and Fluence is a major step toward a future where the world's electricity systems meet consumers' needs securely and reliably with renewable power," said Chairman of Lyon Group, David Green.
Lyon says it is developing Australia's biggest pipeline of large-scale solar PV and battery storage projects, consisting of more than 1,700MW of solar capacity and more than 1,000MW of battery storage. Lyon is no newcomer to the solar power + storage scene. Back in 2012, it began the development of Lakeland Solar Storage, which was subsequently sold to Conergy.
JERA is an equal joint venture of Japan's TEPCO Fuel & Power Incorporated and Chubu Electric Power Company. JERA has approximately 66 GW of power generation capacity in Japan and approximately 8GW overseas.
Fluence, a  Siemens and AES venture, brings all battery-related activities previously undertaken by the parent companies under the one banner. Fluence says it has deployed or been awarded more than 500 MW of energy storage projects in 16 countries.
"More efficient electricity networks, more low-cost clean energy, and the highest reliability for consumers — these are the benefits we will be working to deliver with JERA across its operating fleet and through its and Lyon's projects in Australia," said Jan Teichmann, VP of Global Markets for Fluence.
Fluence has already made its mark in Australia. In March this year, a consortium comprising Spotless, AusNet Services, EnergyAustralia and Fluence inked an energy storage deal with the Victorian Government and the Australian Renewable Energy Agency (ARENA). The project involves the design, construction and operation of Victoria's first utility-scale, grid-connected batter system, a 30MW/30MWh facility to be located at the AusNet Services Ballarat Terminal Station in Warrenheip.
As well as batteries for renewable projects, the Lyon, JERA and Fluence venture will also investigate opportunities for integrating battery storage at thermal generation (e.g. coal power) plants.