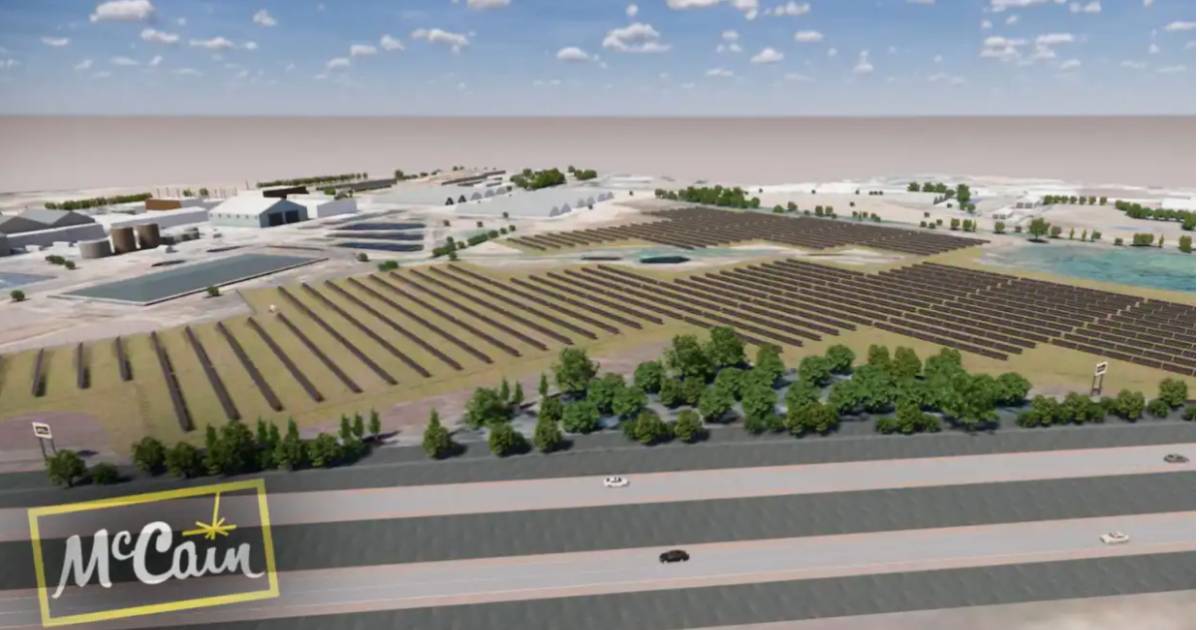 McCain Foods Australia has announced construction of what it says is Australia's largest "behind-the-meter" renewable energy system at its manufacturing facility in Ballarat, Victoria.
The 8.2 megawatt project will consist of solar power and a co-generation anaerobic digester producing biogas from food waste. On the PV side of things (7MW),  ground mount and car park arrays will collectively consist of 17,000 solar panels. In addition to the bonus of providing shade for vehicles, the car park solar system will also feature three electric vehicle charging ports.
The solar panels and tracking system to be used in the project will be supplied by Trina Solar. The solar inverters are to be provided by Fimer, an Italian company that has been manufacturing inverters for utility-scale projects for years. In March this year Fimer also entered the home and small commercial market through its completed acquisition of ABB's solar inverter business.
The project is expected to reduce the Ballarat site's reliance on natural gas by 16 per cent, and mains grid electricity by 39 per cent.
McCain Foods Australia will purchase electricity generated by the panels under a Power Purchase Agreement (PPA) with Smart Commercial Solar, with the project supported by renewable investment fund, Solar Bay.
Towards 100% Renewables
Established in 1957 and privately owned, parent company McCain Foods says it's the world's largest manufacturer of frozen potato products (plus it manufactures a range of other food items). So when it does stuff, others take notice.
The company is a member of  RE100, a list of influential companies that have committed to 100% renewable power.
"Globally, McCain Foods is committed to reducing our CO2 emissions by 50 per cent by 2030, ceasing any reliance on coal by 2025, and having 100 per cent of our plants powered by renewable electricity by 2030," said McCain Foods' Regional President Australia, New Zealand, South Africa, India & China, Louis Wolthers. "This project makes a significant contribution to this target."
The announcement coincided with the release of McCain's Sustainability Report that indicates interim targets of a 25% reduction in carbon emissions and 60% renewable electricity by 2025.
McCain Foods Australia believes the project in Wendouree, Ballarat will set a precedent for large-scale renewable energy projects for other major processing businesses.
Companies large and small, here and abroad are increasingly turning to solar energy as a way of not only slashing emissions, but also their electricity costs. In Australia, it's not uncommon for simple payback on commercial solar systems to be achieved within 5 years. Power Purchase Agreements can avoid the need for any capital outlay at all, as the PPA provider assumes the cost of designing and installing the system.
These days it's not so much of a case of whether a company can afford to go solar, more whether it can afford not to.