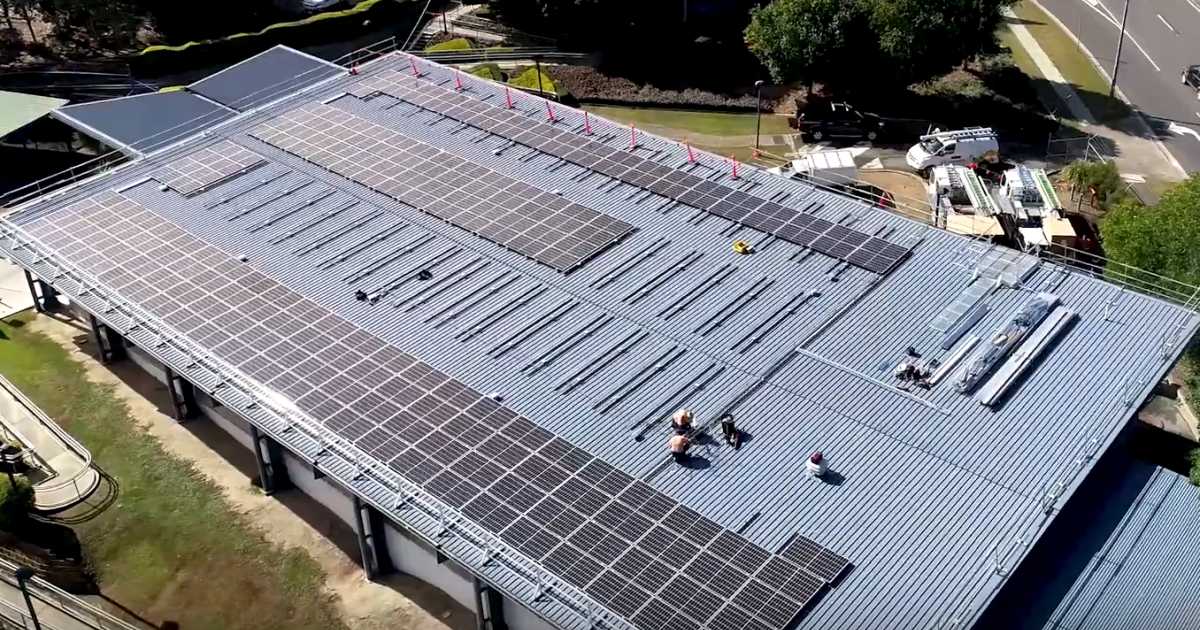 A new solar panel installation on the rooftop of an aquatic centre has taken Logan City Council's total solar panel capacity to more than 1,000kW. More is on the way.
The 100kW solar system on the roof of the Logan North Aquatic Centre in Underwood (pictured above during installation) is comprised of 303 solar panels. Other recently installed systems on Council's assets – projects originally announced in July last year – include:
Mt Warren Sports Centre (70kW)
Marsden Library (55kW)
Logan North Library (83kW)
Logan West Community Centre (18kW)
These systems and the Aquatic Centre's are all using power optimisers –  small devices attached to the back of solar panels designed to maximise energy harvest and allow for panel-level monitoring.
The combined power generation from these and Council's 20 other systems is expected to save an estimated $140,000 a year on electricity costs and avoid 930 tonnes of carbon emissions annually.
"Embracing solar is good for the environment and for the bottom line. We're also supporting the renewables industry, which is creating jobs in Logan," said City Planning, Economic Development and Environment Committee Chair Councillor Jon Raven.
Much More Solar Capacity To Come
Under its Carbon Reduction Strategy and Action Plan Council has set a goal of being certified carbon neutral by 2022. The City's PV capacity is to double again with just two more projects, helping it towards this goal.
Loganholme waste water treatment plant is to have a 1MW system installed in 2021/2022 and the 2020/2021 budget earmarks funding of $308,000 for the installation of a 200kW system on the roof of the Council Administration Centre in Logan Central.
"Your Mayor, Darren Power, has made this a priority for our city," said Cr. Raven. "He wants to see us installing more solar panels and reducing our carbon footprint even further because he's been listening to what you want."
Michael Asnicar, Council's Health, Environment and Waste Manager, is encouraging residents and local business to consider solar power, noting more than 32% of household and businesses in the local government area have systems installed.  In postcode 4114, which includes Logan, solar panels are on around 26% of homes according to SQ's solar location database. However, Council's area is much bigger than just this postcode – it's an area covering around 950 square kilometres and is home to a population of around 334,000.