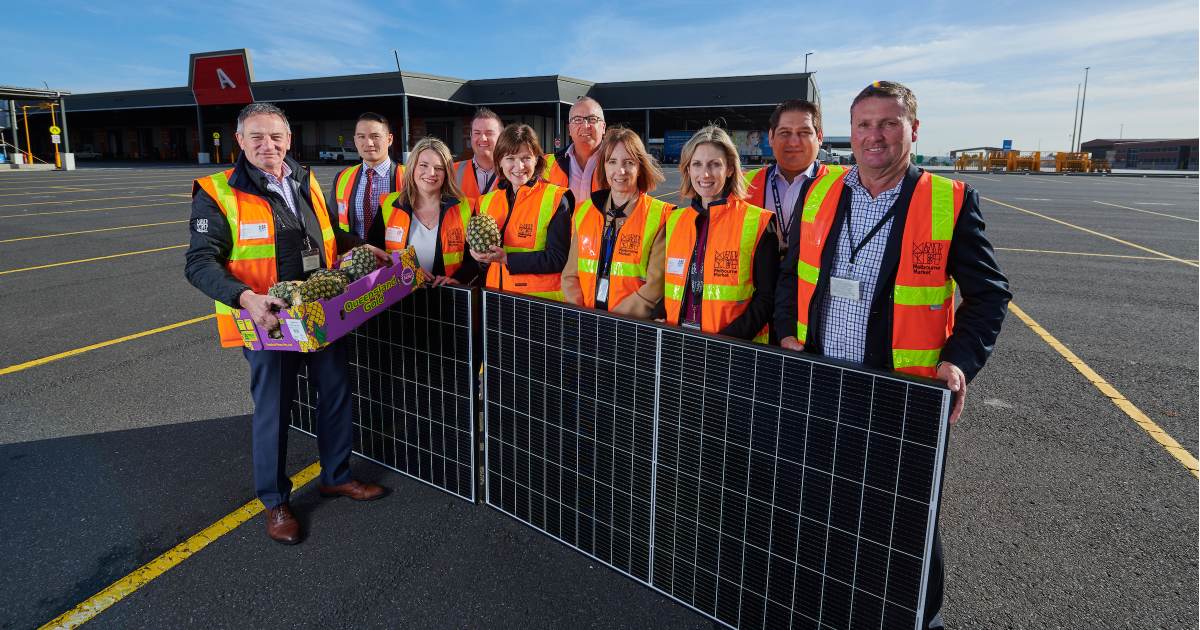 Melbourne Market in Epping is set for a big bump up in solar power capacity, with the market community and produce to also get better protection from the elements.
Opened in 2015 after shifting from its long-time home in Footscray to the current site at Cooper Street in Epping, thousands of businesses utilise the market to purchase fruit, vegetables and flowers for distribution across Victoria and Australia. It's a huge place – just the fruit and vegetable trading floor covers 12,500 square metres and has capacity for 330 stands; while the buyers' walk boasts 156 permanent stores. Added to this are the flower market, nine warehouses and other facilities.
Construction of new canopies will kick off this month at the Market, providing an additional 2.2 hectares of undercover parking. To host thousands of solar panels adding up to 1.95 megawatts of new solar power capacity, the canopies will harvest an additional 8.2 million litres of rainwater annually as well as providing clean power and protection.
While much of the action at the markets is in the early hours of the morning, the addition of more PV will help support the market's energy demands and slash related emissions.
"Our Agriculture Strategy envisions a sustainable, low-emissions industry and initiatives like the Melbourne Market's solar canopy project are a great example of this," said Victorian Minister for Agriculture Mary-Anne Thomas, who recently visited the Market.
It's expected the entire project will be finished in March 2022, with the construction of the solar aspect to occur between August this year and February next year.
The new clean power capacity will add to an existing 1,110 solar panels (468 kW) mounted on the rooftop of Warehouse 7. There's also another significantly smaller solar system at the Market, but I wasn't able to locate any detail on that installation.
Markets of all descriptions across the country are increasingly turning to the power of PV to rein in electricity costs and lighten their carbon footprints. With such huge rooftops, they can be perfect for commercial solar installations assuming they don't have what's called a "slender roof"; meaning designed to minimum specification and unable to support solar panels.
Melbourne Market And Sustainability
Melbourne Market's sustainability efforts go beyond solar energy and rainwater harvesting. It was recognised as an ABA100 Winner in The Australian Business Awards 2016 for its focus on reducing environmental impact in terms of waste and biodiversity as well as water and energy.
The Market also has a strong connection to coal – but not in the way you might think. Some of the concrete used in its construction contains fly-ash, the problematic by-product of burning the fossil fuel. Australia has plenty of coal ash laying (sometimes blowing) around. Coal ash has been called a ticking time bomb – one that could be defused to some degree by incorporating the ash into more products where its toxins are locked away.
On a related note, across the border in New South Wales a Parliamentary Inquiry recently delivered a report recognising coal ash is a toxic waste product requiring better regulation and utilisation.