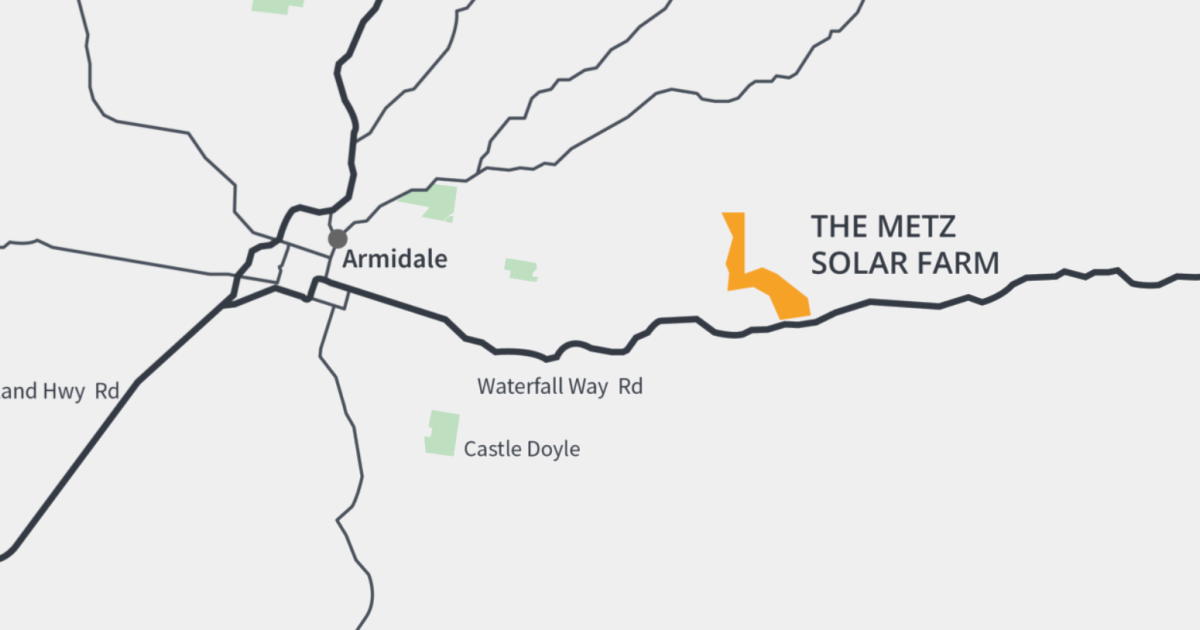 Armidale Regional Council is looking forward to the economic benefits it expects the Metz Solar Farm and other renewable energy projects will bring to its region.
The Metz Solar Farm is a 115 MWac PV power station that will be constructed on a 430-hectare site approximately 15 kilometres from Armidale. It received development approval back in 2017 and grid connection approval the following year.
The project  has seen several ownership changes, with Fotowatio Renewable Ventures (FRV) completing its acquisition in November last year and then closing financing in December 2020.
FRV says the solar farm will generate enough clean electricity to supply up to the equivalent of 40,000 households; which is more than half of the total 66,000 households in the region.
After 4 years since approval, Armidale Regional Council appears really keen for construction to finally kick off. In one version of a news item released last week, it mentioned construction of the facility would start "this month", but it looks like it has been corrected to state "soon".
At this point, FRV notes the facility will be operational in 2022 and have a service life of 30 years.
To be constructed by Beon Energy Solutions, the Metz Solar Farm is expected to create approximately 200 jobs during its construction phase and Beon aims to employ as many locals as possible. Other local businesses such as cafes and restaurants are also expected to benefit from increased activity.
Solar Energy To Create Economic Powerhouse
Large-scale solar power projects tend to provide a sugar-hit of jobs as after construction ends, few staff are required for the operational phase. However, there are often community benefit schemes associated with these facilities providing ongoing cash and other support to local communities.
But Metz Solar Farm won't be the only show in town. While some local governments warily eye large-scale renewables, Armidale Regional Council seems to be all-in for its region to play host to such facilities.
"The Metz Solar Farm is set to be the first of many investments in renewable energy in the region over the next ten years, and will kick-start the process to our region becoming an economic powerhouse," says Council.
Among other major solar power projects not far from Armidale, but just outside Council's area, is UPC Renewables' truly huge New England Solar Farm development. Situated in neighbouring Uralla Shire, the 720MW facility will also incorporate 200MW/400MWh of battery storage.
Armidale Regional and Uralla Shire Council areas are in the midst of the NSW Government's proposed New England Renewable Energy Zone (REZ). Forecast to host 8,000 MW of renewable energy capacity, the New England REZ is expected to attract $12.7 billion in investment, support 2,000 construction jobs and 1,300 ongoing jobs.
NSW Energy Minister Matt Kean stated last year that the New England REZ will be able to power the equivalent of 3.5 million homes – which is more than the total number of private dwellings in New South Wales as at the 2016 Census.