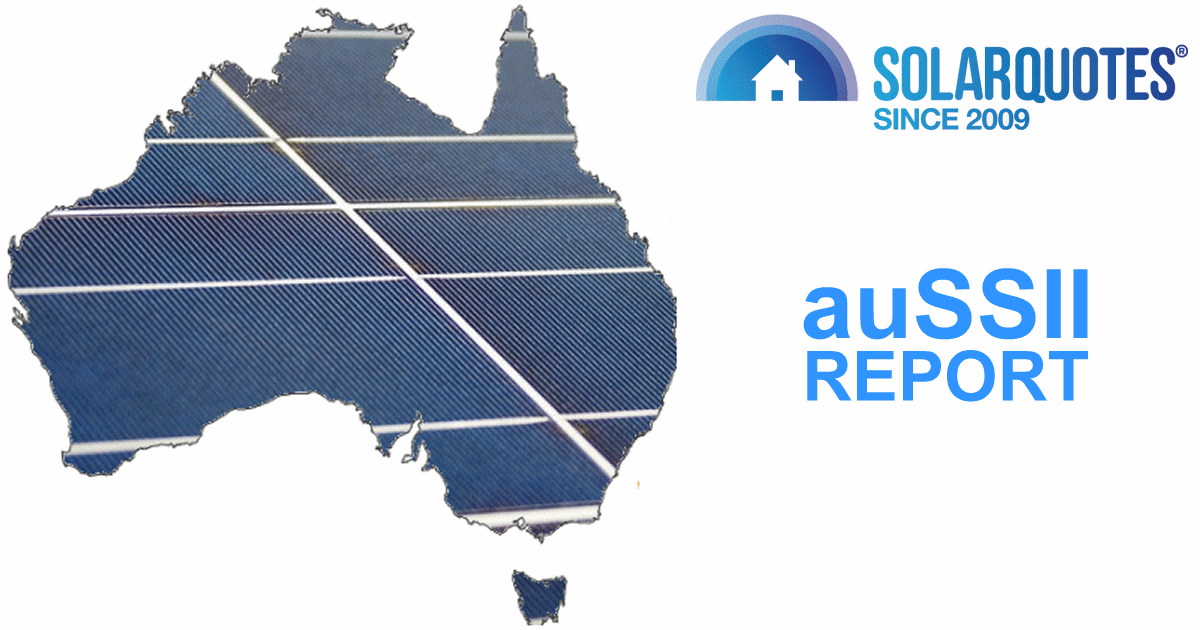 Discover what Australian solar and battery buyers were wanting in a system during April 2021 in the latest SolarQuotes auSSII report.
Solar System Capacity Selection
During April,  close to 85% of Australians requesting solar quotes through SQ who knew what system size they wanted were after pricing and details on systems 6kW or bigger. The proportion of those wanting larger than 6kW was higher, as it has been for a while now. On a related note, the latest episode of SolarQuotes TV has a special focus on why bigger rooftop solar is better.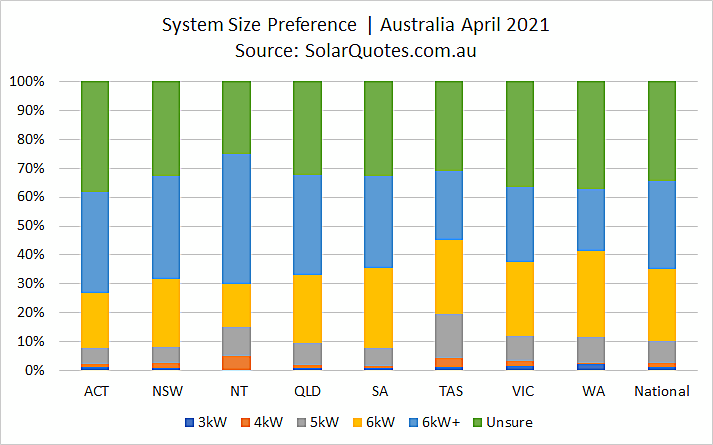 Purchasing Timeframe For Solar
Just over 20% were keen to purchase solar panels immediately in April, up a little on March; but still down on February and January. Just about all the remainder were considering buying a system within 3 months.
Note: generally installers don't quote for timeframes over 3 months because of fluctuations in the cost of solar. If someone indicates they are interested in purchasing a system in a timeframe past 3 months, ballpark prices are now displayed on the quoting form. In the next auSSII report, the following graph will be altered to reflect the change.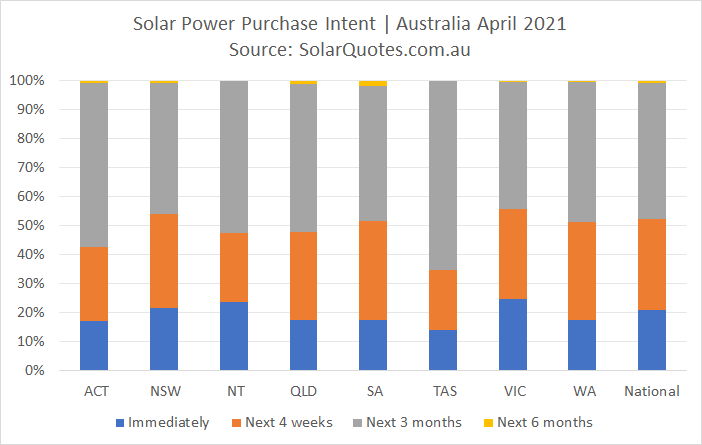 System Cost Vs. Quality
Close to 13% were wanting pricing on "top quality" (most expensive) systems compared to 12% in March and 11% in February. The proportion of those wanting a system offering a good mix of quality and cost also popped up a little from 79% in March to 80% in April, meanwhile interest in a good quality budget system dialled back to just over 7%.
While on the topic of quality, Finn's recently published the results of SolarQuotes' Installer Choice Awards for the best solar panels and best solar inverters in 2021 according to installers in the SQ network. Installers were asked to vote on what components they would use – both high-end and budget – for their own homes.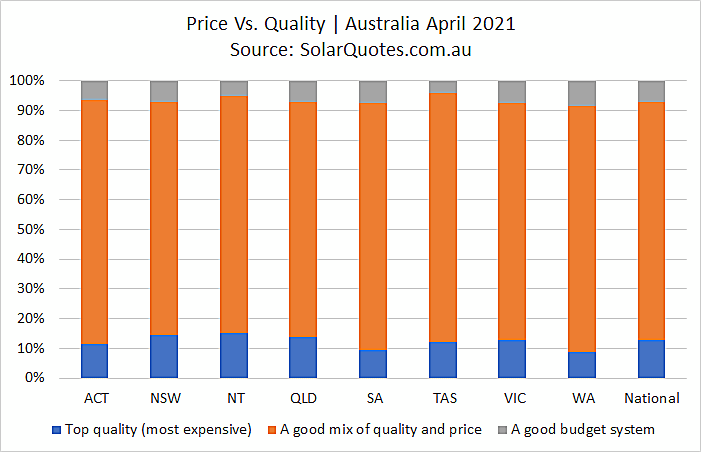 Microinverter Or Optimiser Option
This was interesting – around 19% wanted more information on the Panel Level Optimisation options of microinverters or optimisers – a big jump on March's 13%. While adding to the cost of a system, these devices offer a number of benefits; particularly in a scenario of partial shading.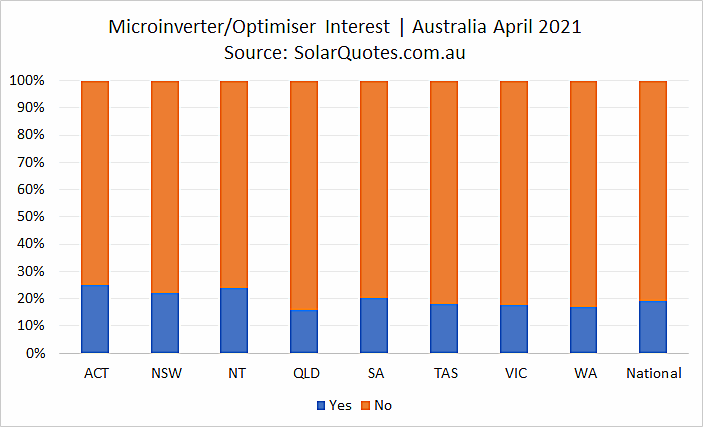 Solar Energy Consumption Monitoring
Another optional extra, one that enables a system owner to understand how much energy is being consumed in home as well was what is being generated, is advanced solar monitoring. In April, close to 43% of those using the SQ quoting service expressed an interest in this, up a little on March's 42%.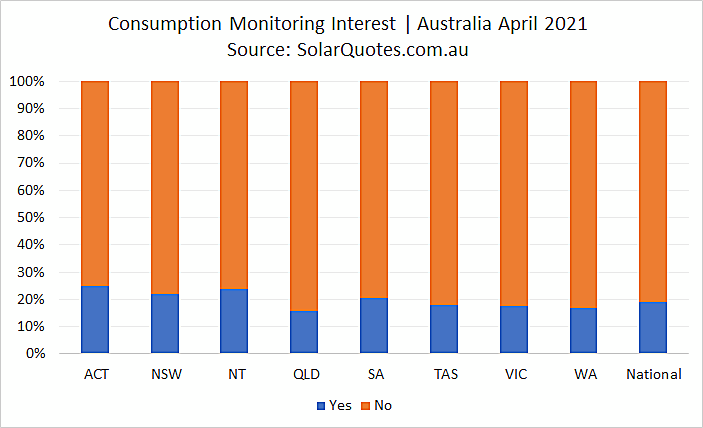 Battery Ready Solar System
Battery-ready solar saw a bit more popularity in April – 7% vs 6% and 5% in March and February respectively. While all solar systems can be considered "battery-ready", letting an installer know you're considering adding energy storage at a later point can be helpful in the solar power system design phase.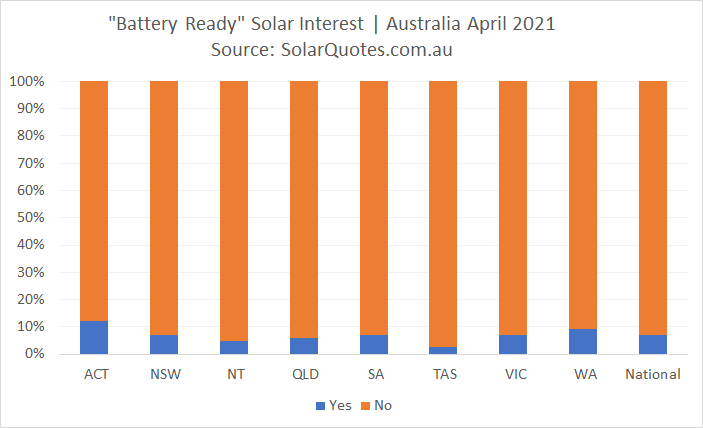 Concurrent Battery Installation
While battery-ready systems gained a little, having energy storage installed at the same time as solar panels continued to lose steam – a little under 10% in April (March: ~12%, February: ~14%, January: 15%).
If you're considering spending what will be a significant chunk of cash on a battery system, put SQ's solar and battery calculator through its paces. It will indicate the estimated financial returns on solar and storage separately, helping you to make a more informed purchase decision.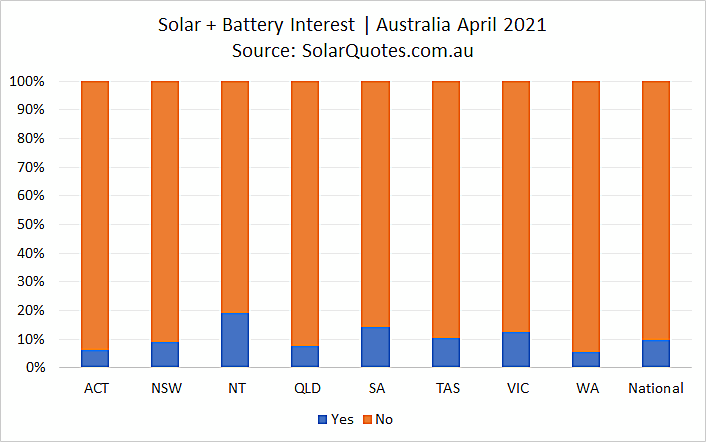 Battery Sizes
Where a concurrent battery installation was desired and capacity noted:
1 – 5 kWh: ~13% (March ~11%, February ~13.5%)
5 – 10 kWh: ~43% (March ~43%, February ~51%)
10 kWh+: ~44% (March ~46%, February ~35%)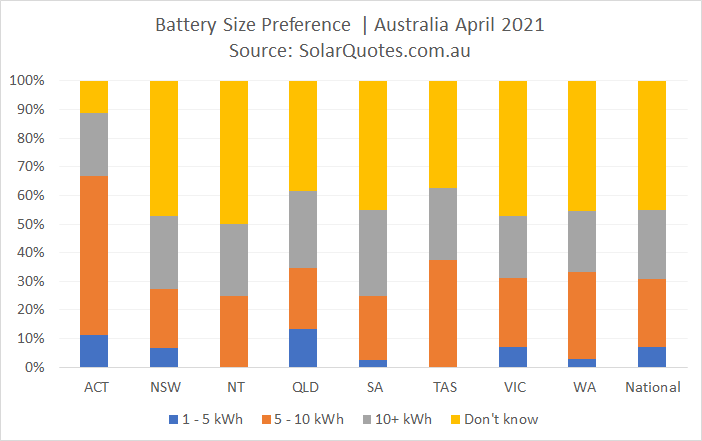 Primary Battery System Use
4% of prospective battery owners were to going to use energy storage primarily for backup purposes (7% in March and 6% in February/January), while 45% indicated a primary intention of reducing mains grid electricity consumption (38% in March and 39% in February). Around half indicated both backup and minimising grid supplied electricity use.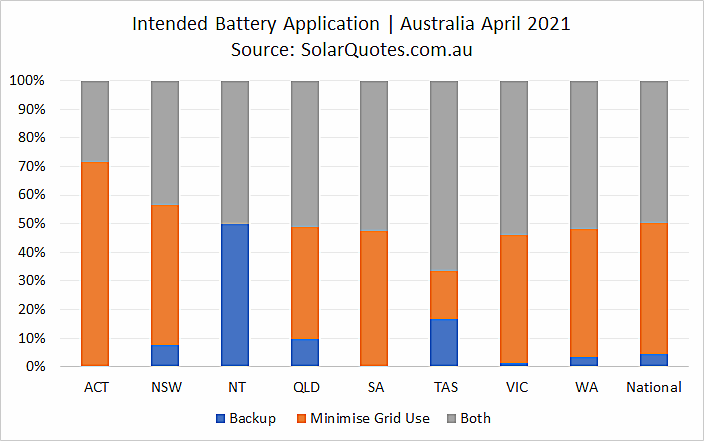 Electricity Costs Pre-Solar
Where quarterly electricity bill amounts were known, 47% indicated they were shelling out between $500 and $1,000 per quarter on average (45% in March and 49% in February). Around 9% were being hit with power bills of more than $1,000 per quarter – down significantly on March, February and January when the proportion was 11%.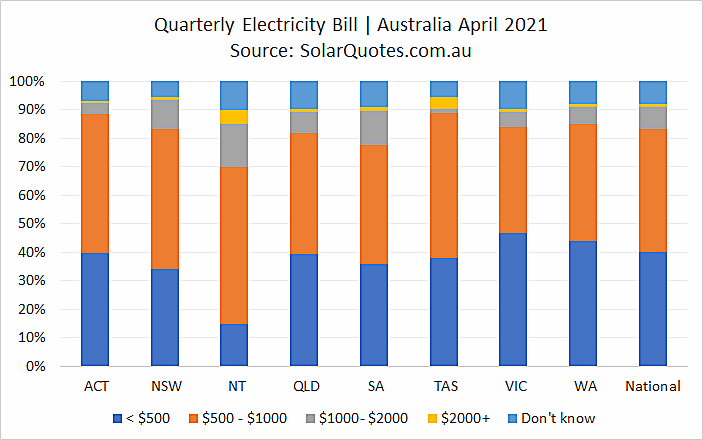 About The auSSII Report
Thousands of Australians utilise the SolarQuotes service each month to request pricing and system details supplied by carefully pre-vetted solar installers part of the SQ network. The information provided is used to compile the auSSII report.
Superior Sales Leads Since 2009
Finding solid sales leads is a challenge for many solar businesses. This is where SolarQuotes can help – we've been providing high quality sales leads to high quality companies for over 12 years.  Discover how your solar business can access eager customers.
Republishing Content From The auSSII
You're welcome to reproduce content from this report on your website, but you'll need to attribute it to SolarQuotes and reference this page.