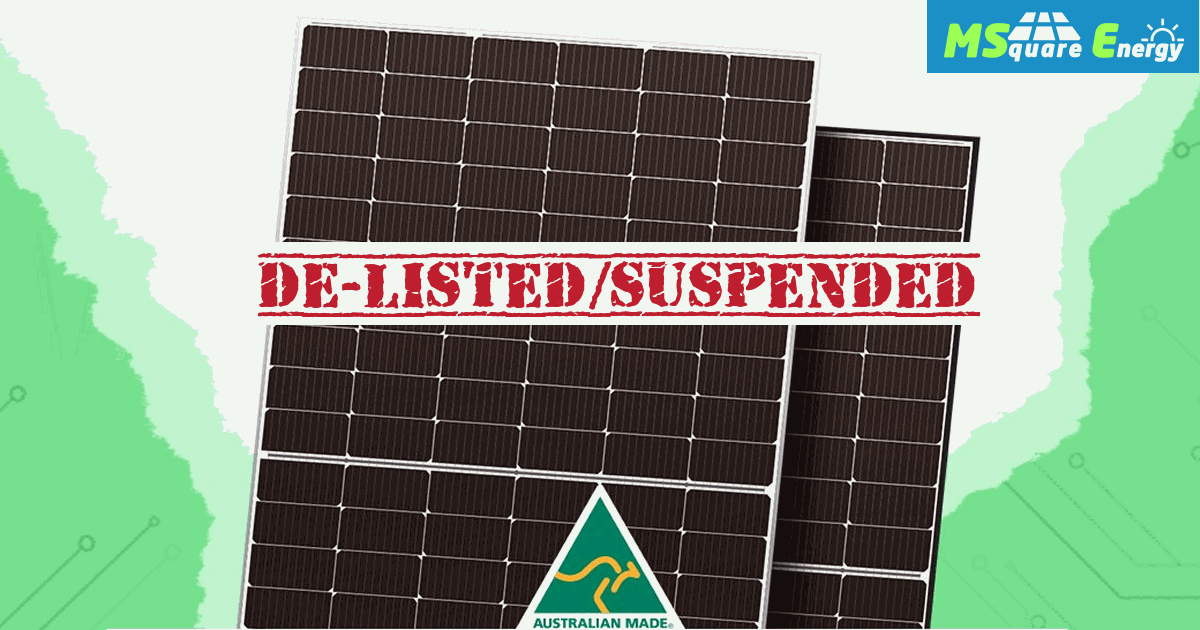 Further detail has emerged on the latest de-listing of MSquare Energy's Australian-made solar panels from the Clean Energy Council's Approved Modules List.
According to MSquare Energy's website, the Sydney-based company claims to be Australia's largest solar panel manufacturer.
Back in February 2021, the Clean Energy Council (CEC) announced all MSquare Energy solar panels were to be de-listed on February 19, 2021 due to their failure to meet the specified power rating in CEC testing and "other issues". Delisting is a very big deal – in order to be eligible for Australia's solar rebate, panels used in a solar power system must be on the CEC's Approved Modules List.
Whatever the issues that instance, they were obviously addressed to the CEC's satisfaction at the time as MSquare Energy panels were re-listed at some point.
But on March 23, 2022, the CEC indicated all MSquare Energy modules would be de-listed on 28 March 2022 due to breaches of the CEC Approved PV Modules Terms and Conditions. At the time of the announcement, the CEC reportedly said it wouldn't be commenting further on the matter.
However, the CEC did also mention on April 14 that the Clean Energy Regulator (CER) had permanently suspended MSquare Energy (as a registered person) and their Renewable Energy Certificates (REC) Registry account on the basis it was no longer fit and proper under the Renewable Energy (Electricity) Act 2000. The suspension came into effect on March 11.
This meant MSquare could no longer create Small-scale Technology Certificates (STCs) under the Small-Scale Renewable Energy Scheme (SRES); the virtual bits of paper forming the basis of Australia's solar subsidy. It seems the directors of MSquare were officeholders of two agents that had previously been permanently suspended (More Green Energy Pty Ltd and More Tile and Ceramics Pty Ltd).
Certification Compliance Failures
Yesterday, the Clean Energy Regulator shed a little more light on the MSquare solar panel delisting. In its compliance update covering the first quarter of this year, the Regulator said:
"The CEC found that MSquare solar panels sold in Australia did not comply with their IEC 61215/IEC 61730 certification. Further, the CEC found that the conduct of MSquare has breached various CEC Terms and Conditions for solar panels."
So, what are IEC 61215 and IEC 61730?
The IEC (International Electrotechnical Commission) is the peak body for the preparation and publication of international standards for all electrical, electronic and related technologies. IEC 61215 details the requirements for the design qualification of solar panels. IEC 61730 specifies and describes the fundamental construction requirements for PV modules in order to provide safe electrical and mechanical operation.
Regarding the MSquare Energy Small-scale Renewable Energy Scheme (SRES) suspension, the Regulator also stated:
"If any officeholders attempt to re-enter the Small-scale Renewable Energy Scheme through different companies we will take prior suspensions into account and may refuse registration."
So, What's A Good Australian-Made Solar Panel Brand?
Many Australians would love to have Australian-made solar panels on their rooftops; and more power to them for their buy local mindset – although SQ's Ronald has previously argued buying imported solar panels doesn't hurt Australia.
But if you have your mind set and wallet opened for locally manufactured modules that will be eligible for the subsidy, there's only one company currently. Thankfully it's a solid firm that has stood the test of time – Tindo Solar. SolarQuotes Founder Finn Peacock recommends Tindo and judging by the proportion of positive Tindo Solar panel reviews and ratings here on SQ, Australians who own these panels are generally very happy with their Tindo-based solar systems.
If country of manufacture isn't a burning issue for you, there are a bunch of good companies listed on SQ's recommended solar panel brands chart to consider. Many of these brands offer significantly cheaper, but good quality products.