The South Australian city of Port Augusta was reportedly again shrouded in haze yesterday by dust emanating from the Northern Power Station site.
After Northern Power Station closed in May 2016, fly ash (the waste product of burning coal) whipped up by wind began polluting the city's air; worsening in January this year.
But according to the Environmental Protection Authority (EPA), yesterday's incident was not fly ash related:
"The majority of the former power stations' ash dam has been covered with topsoil as part of rehabilitation of the site. During high winds on 27  December there has been visible dust from the topsoil," stated the Authority. "The section of the ash dam not yet covered with topsoil remains covered with dust suppressant and there is no evidence at this stage that there has been any dust from this portion of the site. The EPA will be conducting further assessments."
Late yesterday afternoon, Port Augusta City Council said it had lodged complaints with Flinders Power and the Environmental Protection Authority (EPA) over the incident.
According to a recent update from Flinders Power, rehabilitation work is continuing on the Ash Storage Area (ASA), with its outer banks and roadways now covered with soil and seeding to commence next year. Soil fingers are also being constructed at the northern end of the ASA to enable access for bulldozers to spread more cover.  Flinders Power says germination is occurring after recent seeding efforts and while patchy, independent experts believe a good coverage of vegetation will be achieved over time.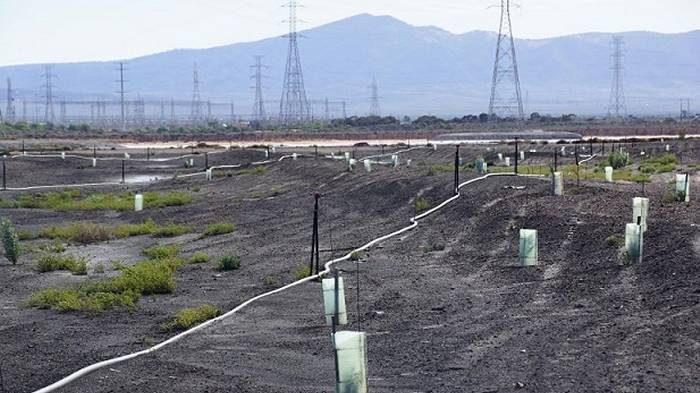 In November, the Northern Power Station's boilers were demolished using explosives. Flinders Power states excavators have made significant progress in clearing the remnants of the demolition.
While it will be quite some time before the impact of coal is well and truly in Port Augusta's rear vision mirror, residents are looking forward to a cleaner energy future. In August this year, the South Australian Government awarded a contract for a 150MW solar thermal power plant to be constructed near Port Augusta that will incorporate  8 hours of full-load energy storage.
Another major project in the pipeline for the region is DP Energy's Port Augusta Renewable Energy Park. The facility will boast generation capacity of up to 375MW; using up to 59 wind turbines and 1.6 million solar panels.
Unlike Northern Power Station, when these renewable energy facilities are eventually decommissioned, it will be a comparatively simple process and rehabilitation far less problematic.