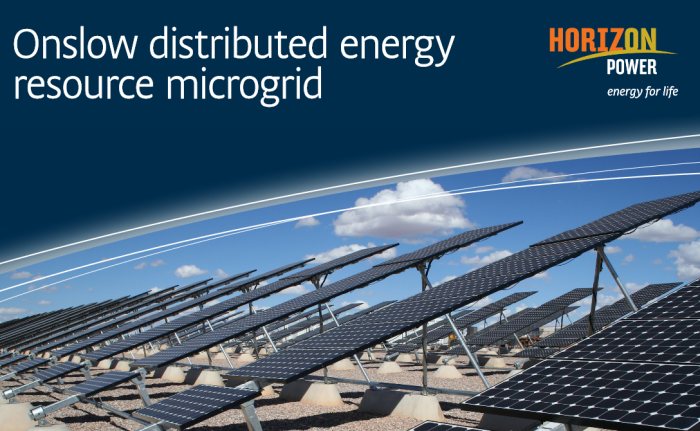 The residents of Onslow in Western Australia are a major step closer to a more reliable and less carbon-intensive electricity supply.
Onslow is a coastal town with a population of around 860 located in Western Australia's Pilbara region, and is approximately 1,400 kilometres north of Perth.
Due to its remote location and increasing demand for power, Horizon Power, Chevron Australia and Western Australia's State Government agreed on plans back in 2016 to construct a distributed energy resource (DER) microgrid in Onslow.
A microgrid is a local network of electricity generation sources able to operate either interconnected to the mains grid or disconnected from it. Given the falling cost of solar panels and battery storage; these technologies are increasingly becoming a major feature of new microgrids.
The first stage of the Onslow Power Project is now complete, with a new gas-fired power station to commence generating electricity for the town from July 14. The power station will be supplied gas via a dedicated pipeline connected to the Dampier to Bunbury Natural Gas Pipeline. 
Stage Two of the project will see a 1-megawatt solar farm and 1 MW/1 MWh energy storage system installed, as well as the integration of smaller distributed rooftop solar power and home battery storage systems across the Onslow community into the microgrid.
"The work being done by Horizon Power here in Onslow is helping us prepare for this future by enabling integration of more renewable energy, and developing a better understanding of how the network impacts can be safely managed for the benefit of both customers and utilities," said Energy Minister Ben Wyatt, who was in Onslow yesterday to view the gas plant.
As Onslow grows, the microgrid can be expanded. The overall aim of the project is to provide 50 per cent of the town's electricity needs  from renewables. Further information on the Onslow Power Project can be found here (PDF).
Another significant renewables based microgrid project in Western Australia currently being developed is the Kalbarri Microgrid.
In Western Australia, long stretches of powerlines servicing small communities and single properties pose a major cost burden in terms of maintaining electricity infrastructure, and reliability of supply is an ongoing issue in fringe-of-grid locations. Microgrids can supply electricity cheaper, cleaner, safer and more reliably than a traditional poles and wires approach.
In April this year, the Clean Energy Council urged Western Australia's Government to move to a more comprehensive microgrid program.