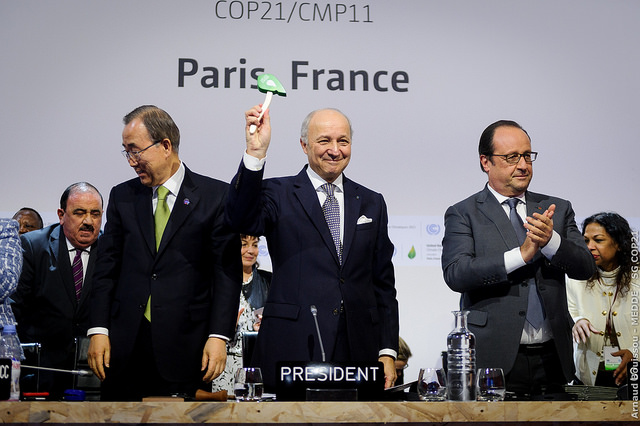 What do you think about the hoopla surrounding the signing of the Paris Climate Talks agreement readers? Happy? Deflated? A sense of the same old, same old? Or a new beginning for the planet?
I should be happy. Finally our pollies, like kids dragged screaming from a lolly shop, appear to be actually do something positive on behalf of those that put them in power. Even our own foreign minister — friend of the mineral lobby — hailed the agreement as "historic".
Yet I still find it worrying. Not just this round, but any environmental summit where politicians are asked to commit to targets that mitigate climate change that might just save the world.
You just know that after claims of alleged all-night discussions, heroic stands to full stop placements and dedication to saving the planet on behalf of [fill in country name here] … it's all just show. First on the agenda on next year's summit will be to examine why the last year's proposals/legally binding agreements hadn't been implemented properly and the whole process begins anew.
Or does this represent a "light at the end of the environmental tunnel"? It's an intriguing time.
The gabfest is a gold mine of weasel words: "framework", "non-binding targets", "road maps", "clean coal", "acceptable limits" and my favourite "a step in the right direction".
Rather than "a step in the right direction", we need a raft of policies that will support renewable energy and reduce our collective carbon footprint as a matter of urgency. That is now a given in all areas except shock-jock land and certain fossil fuel boardrooms.
Many of the climate negotiators and environmental groups attending the talks are undoubtedly genuine. However am I being too pessimistic to suggest the targets will inevitably be circumvented, stalled, or in the case of Australia, rejected or watered down so much as to be almost unrecognisable?
Broken political promises regarding the environment have become the norm in our country. Who now remembers former PM Rudd's claim that climate change was "the greatest challenge of our time", only to abandon the fight as soon as polling went south after a sophisticated pro-fossil fuel advertising campaign?
Or PM Howard's support for a price on carbon to be so ruthlessly destroyed by the harsh, anti-renewables policies of his acolyte Abbott?
Are we as a society hard-wired to destroy our planet? No. There is light at the end of the tunnel, it just depends where you look. For times are changing, and fast.
Work is being done to mitigate climate change and recalcitrant democratic governments are being dragged along whether they like it or not. The driver though is not necessarily government departments (at least less so in our part of the world). It is progressive think tanks, university studies, renewables and environment-focussed NGOs, independent agencies and most importantly businesses and households that are providing the force and inspiration needed.
It is clear that any achievements on renewable energy, energy efficiency, solar power or battery storage systems (the new gamechanger), will be driven from the ground up. From the demand end of the equation.
The experience in our country — certainly with the more conservative of governments — is that they will act to support renewables only when it is clear that opinion polls, business leaders and the community at large supports change. And we've reached that tipping point in our country now.
If anything the breakthrough at the Paris Climate Talks represent a final alignment of political need and "what the people want" to quote an old, hackneyed phrase.
Where to now in Australia? Will fossil fuel lobbyists design sophisticated and massively expensive campaigns to undermine the Paris Agreement? Or will allegedly far-sighted politicians like Turnbull grasp that it's time to change and lead the country away from a fossil fuel-dominated existence?