Two days ago I watched a documentary called Planet of the Humans that was released on Earth Day on April 22.  It's by Jeff Gibbs and promoted by Michael Moore, who was its executive producer.
If you don't know who Michael Moore is, he's famous for making documentaries such as Bowling with Columbines and Roger Me, Sicko.
Planet Of The Humans is 100 minutes long and incredibly tedious.  If you're not willing to take my word that it's dull, you can watch it yourself because it's free on Youtube, but I can't in good conscience recommend that.  Not unless you are a glutton for punishment or the type who describes The English Patient as "Rollicking good fun."
Planet Of The Humans was so slow I thanked Allah, Buddha, and Jesus for the fact that Youtube lets you speed up videos. I usually have to increase Americans to 1.5X regular-speed before they approach normal English cadence, but this documentary is almost unbearable at anything under 2X speed.  I fear British flibbertigibbets may need to crank it up to relativistic speeds before it becomes intelligible to them1.
But I can say this in the documentary's favour — Planet Of The Humans has one clear message that comes through loud and strong.  The core message I took away from it is:
Bicycles are as bad for the environment as cars.
Bicycles Are As Bad As Cars
Although the word "bicycle" isn't mentioned once during the entire documentary's 8 month subjective run time (only 3 months subjective at double speed), the lesson Jeff Gibbs taught me in Planet Of The Humans is that bicycles are as bad for the environment as cars.
Very quickly, using the same methods as the documentary, I will explain why:
Bicycles are made of steel.  Steel is bad because it's made from coal.  It takes a lot of coal to make steel.
Bicycles are made using rare earths.  This requires more mines on top of the mines for iron ore and coal.  This is bad.
Bicycles are made in factories.  Factories are enormous industrial complexes.  Their foundations are made of concrete and concrete is the third-largest source of CO2 emissions.
At some point, somewhere, electrical equipment used to manufacture something related to bicycles will make use of sulphur hexafluoride which is 23,000 times worse than CO2.2
Oil and natural gas are used to make synthetic rubber tires and other plastics.  Basically, bicycles are made of fossil fuels.
People are happy to ride bicycles when it's sunny but as soon as it starts raining they go back to driving cars.  This makes them as bad as cars.
In a couple of years, bicycles begin to degrade and must be replaced a few years later.
Large corporations profit from selling bicycles that then degrade and must be replaced.  The only reason large capitalist corporations are producing and selling millions of bicycles every year is to make a profit.
It's possible some bike riding eco-terrorist, like my boss Finn, might try to counter this by saying:
While fossil fuels are involved in the manufacture of bicycles, the amount is far less than what's required to make a car.
Manufacturing a bicycle currently requires fossil fuels, but a bicycle doesn't burn fossil fuels when in use.
Even if people only ride their bicycles when it's sunny, that's still better than driving their cars everyday.
As our society uses more renewable energy the amount of fossil fuels used to make a bicycle will decrease.
While these counterpoints may seem reasonable and have the advantage of being true, they are not good enough, and I can easily dismiss them by using counter counterpoints:
Although the amount of fossil fuels used to make a bicycle is much less than what's used to make a car, it is proportionately the same given the weight of the bicycle.  Therefore, bicycles are just as bad.
While a bicycle, technically, doesn't burn fossil fuels directly, it is powered by food eaten by the rider and this is produced using fossil fuels to power tractors and make fertilisers, so bicycles are fossil-fuel-powered.
People using bicycles when it's sunny does no good at all because every bicycle has to be backed up by a car.  And that car has to be idling the whole time the bicycle is in use to cope with the sudden increase in vehicle transportation if it rains.  If you don't believe me, check your car's fuel gauge before you go for a long bike ride and afterwards.  It will have gone down by the same amount as if you had driven the car.
It does no good if more renewables in the grid reduce the amount of fossil fuel required to make bicycles. You see, fossil fuels were used to manufacture those wind turbines and solar panels.  So everything will become contaminated by fossil fuels.3
Just to be clear, I don't actually believe bicycles are worse than cars.  But this the sum of Jeff Gibb's argument in Planet Of The Humans against renewable energy.  It boils down to renewable energy being bad because fossil fuels are used to build it, and capitalists are making money from it.
At the moment, both a solar farm and a coal power station require fossil fuels to build.  But the CO2 emissions of solar farm are trivial no matter how you look at it, while the coal power station will be emitting thousands of tonnes of CO2 every day it is in operation.  However, this fact doesn't get a look in.  Not once in the entire 100-minute documentary is this brought up.  Jeff Gibbs succeeds in making perfect the enemy of good.
Perfect Should Not Be The Enemy Of Good
In real life, you don't want to ditch the good in favour of the perfect.  It may be nice to have perfection if you can get it, but if you strive for it everywhere, you'll get very little done; while if you are insane, you'll start advocating killing people because humans sure as hell aren't perfect and some will always find a way to sully your perfect plans.
When it comes to climate change, it would be nice if we could magically cut greenhouse gas emissions by 100% overnight.  But I can't see any way to do that.  At least not any way that wouldn't:
Kill people.
Be rejected by the vast majority of the earth's population.
But if we stop worrying about the perfect and instead concentrate on the good and keep installing solar panels and taking other steps to reduce fossil fuel use, we can cut our greenhouse gas emissions by 50% over the next 10 years.  It doesn't look like this will happen at the moment, but we can achieve it if we really want to. No one, except perhaps some die-hard gamblers who continue to invest in oil pipelines and coal power stations, needs to be out of pocket.  We can look after fossil fuel workers and lower health costs from cleaner air may be sufficient to pay for it.  Reducing destabilising climate change would be a substantial extra economic benefit.  In the decade after that, by continuing to expand clean energy, we can get net emissions down to zero.
It appears that if Jeff Gibbs can't get a perfect solution, untouched in any way by fossil fuels or large companies, then he's not interested in anything that helps to substantially reduce emissions.
Jeff Gibbs Presents No Road Forward
I don't know what would make Jeff Gibbs happy.  He certainly doesn't tell us what he sees as a way forward in Planet Of The Humans, and this is a significant flaw of the documentary.  Maybe he wants fusion in a bucket4 that anyone can make in their garage following one page of instructions off the internet and using parts from the local hardware store.  But this would technically be nuclear power, and I know Michael Moore doesn't like that.  Even if this was possible — which it isn't5 — it wouldn't be long before large corporations were selling fusion buckets in stores because people are too lazy to put them together in their garages and that would make him sad.  After all, I don't bother to bake my own bread in my kitchen even though I know how.6
Jeff Gibbs Didn't Check Facts
If you didn't know anything about solar power and wind energy and watched this documentary you'd probably come away with the impression they don't work and don't reduce greenhouse gas emissions.  This is because Planet Of The Humans does things like showing people claiming a 60-panel solar array can't power a toaster or that wind farms increase carbon emissions. At no point does he point out they are wrong.  Because Gibbs is the writer, director, and presenter, I say this counts as him lying to me.
You could argue Gibbs never knew these people were wrong and so he's not lying to us in Planet Of The Humans.  But I say because he is promoting what he's made as a documentary – and not Harry Potter fan fiction – he has a responsibility to fact-check, so viewers are not misled7.
Renewable Energy Is Better Than Burning Fossil Fuels
I saw no indication in Planet Of The Humans that Gibbs cares that the claims that renewables are worse than burning fossil fuels is…
Something that has been settled by numerous studies over many years.
A bullshit question from the start.  It's as stupid as asking whether or not bicycles are better for the environment than cars.  It's not a question of if, but only of how much.
One study published in December 2017 by Pehl et al. 8 concluded the embodied emissions for solar PV and coal power plants were the same in 2015.  This is before the coal power station burns a single lump of coal.  So coal power and PV were equal before thousands of tonnes of CO2 start getting spewed out by one, while the other has utterly trivial emissions.  A solar farm is not going to use 60,000 barrels of oil a day to lubricate the gate hinges.
The figure for embodied energy for wind was already much less than for coal power in 2015, while over the past 5 years the figure for PV has improved as panels have become more efficient and manufacturing processes have improved.  Here's a graph showing Pehl's embodied energy estimates for 2050.  The figure for PV is the only one with a large change from 2015 and has gone from being equal to coal power to much lower:
In his documentary, Gibbs asks this question about renewable energy…
"Are we avoiding looking too closely because we don't want to know the answer?"
This is odd because the most charitable interpretation I can give to his failure to present the facts in Planet Of The Humans is he hasn't bothered to look closely himself.
Gibbs Complains About Intermittency Every Now And Then
Gibbs suggests the intermittency of new renewables is a show stopper.  I'm guessing he's one of those 20 percenters I wrote about recently — people who state solar and wind can't provide more than 20% of a grid's electricity despite the existence of grids using more than 50% solar and wind.
He doesn't think batteries will solve this problem.  One reason is that — in one of the few true statements given in his own words — he says…
"In a couple of years they begin to degrade and need to be replaced a few years later."
So how much time is that?  Five years?  With ten years being the typical warranty for energy storage batteries, every major lithium battery manufacturer in the world may go bust.
He also thinks we'll need a lot more battery storage than we do because he states…
"When I looked up how much battery storage there is it was less than one-tenth of one percent of what's needed."
He says this while showing an image of humanity's annual energy consumption: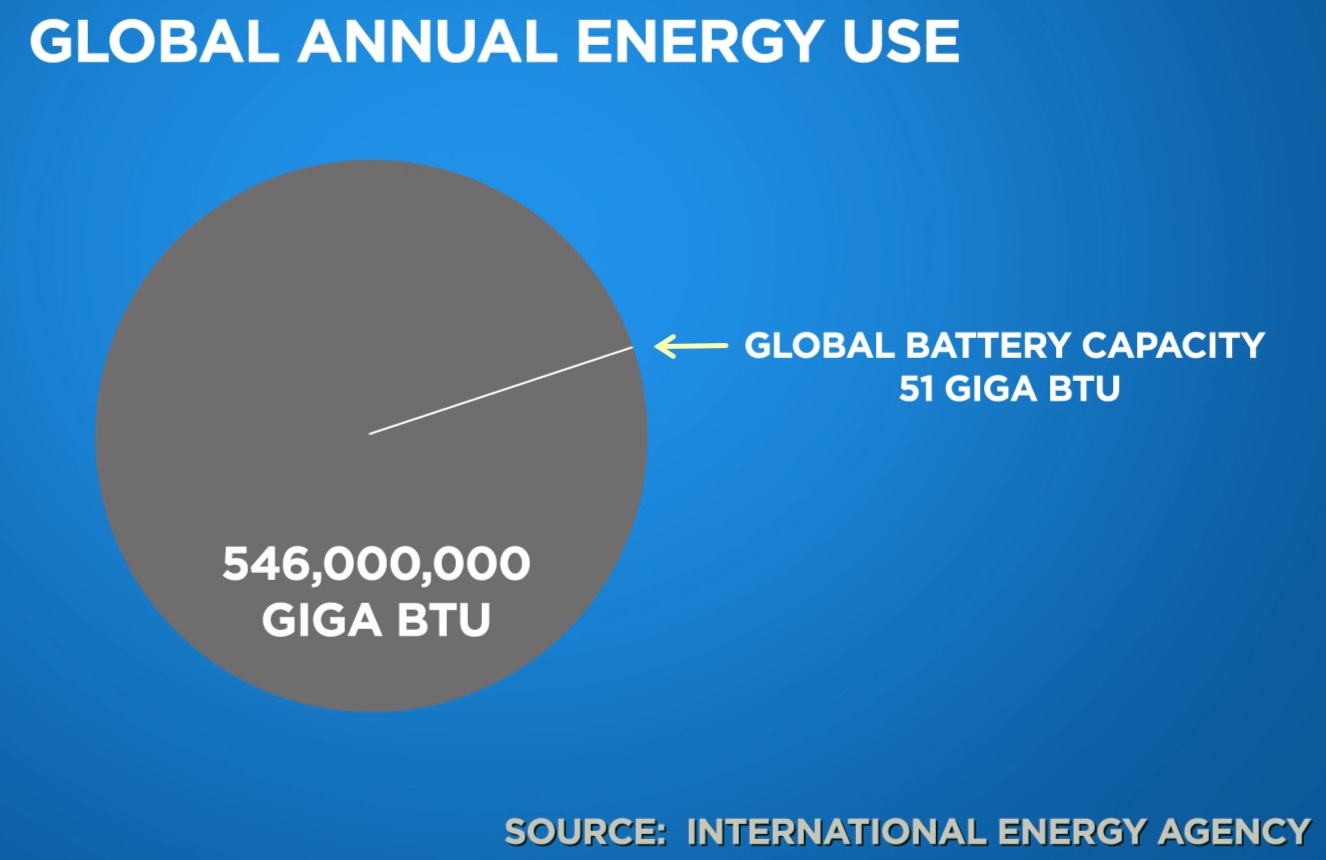 Because clearly, we need that much storage to cope with those times when the sun doesn't rise, and the wind doesn't blow for a year.9
No Additional Storage Required For Zero Net Emissions
Because people have been whining about renewables and intermittency for over two decades now, most people aren't aware the amount of additional energy storage required for the Australian electricity sector to have zero net emissions is none.  No additional storage is required.
Instead we could:
build extra wind and solar power capacity,
build more transmission lines,
make good use of our existing hydroelectric capacity,
use demand management, and
capture and sequester any remaining emissions from natural gas generation used to firm the grid.10
I'm not recommending we do this.  It will be a lot cheaper to just build energy storage.  But even if we lost a bet and weren't allowed to build any more, our grids could still get to zero net emissions and the extra cost would be trivial for a rich nation like Australia.
In reality we are going to end up with a lot of storage.  Some will be pumped hydro and a lot will be batteries.  I happen to know an eco-terrorist with an electric car that represents a lot of energy storage on wheels.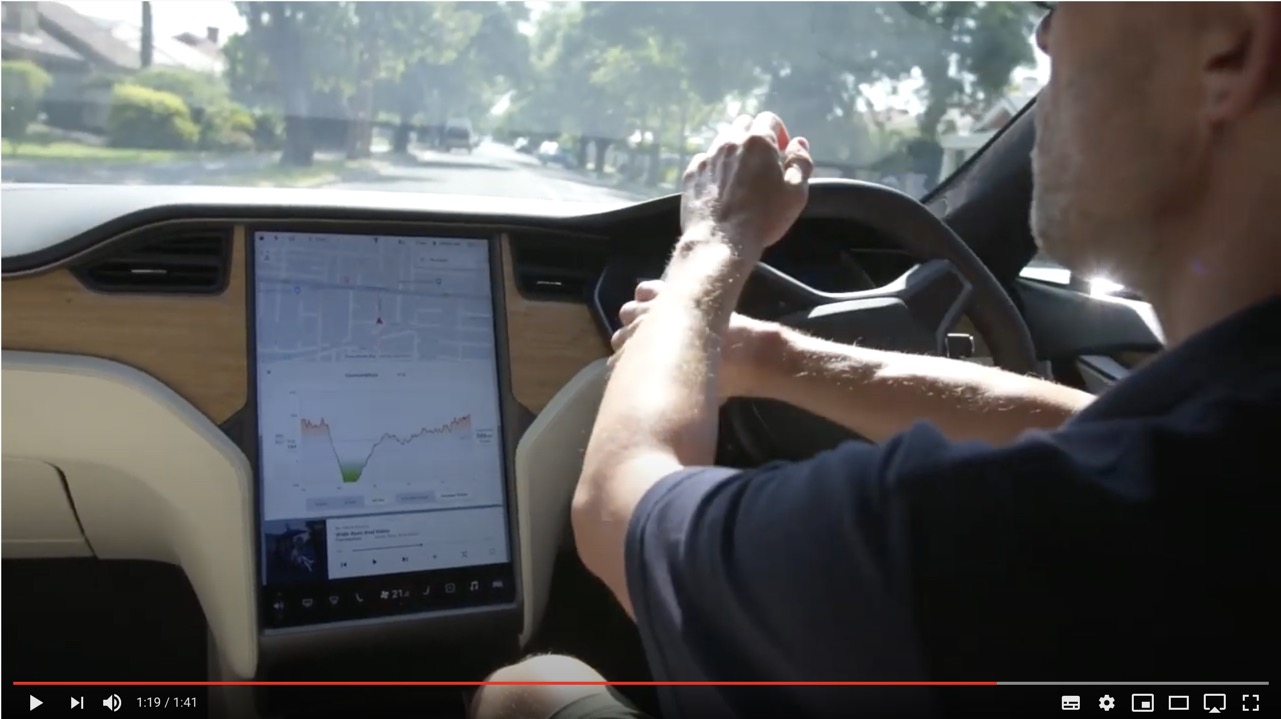 Even if Finn's battery-on-wheels only ever sucks energy out of the grid and never blows it in, it's still beneficial for when renewable output is high.  Also, if Elon Musk stops being such a dick about it, Tesla's electric cars may become able to send energy into the grid one day.
Biofuel Bitching
Jeff Gibbs complains about biofuels a lot.  I'd almost forgotten about biofuels, but it's still a thing in weird places like Finland.  But in normal countries that don't export bike riding eco-terrorists, it's not a very active field anymore.  It's just not competitive with solar, wind, and storage.  But the United States is not a normal country.
The US has a weird, massive, biofuel boondoggle going on. They subsidise corn-derived ethanol to go in their Hummers, Cadillacs, and  Canyoneros11.
While Gibbs does complain about ethanol in Planet Of The Humans, he expends most of his biofuel bitching on the more mundane burning of wood for heat and electricity generation.  I don't know what's going on in this area in the US.  Maybe I could learn something about it if I watched a documentary about it by someone who was a reliable source of information.
We're Ethanol Idiots Too
Of course, just because America's stupid doesn't mean we're not.  We have our own stupid ethanol boondoggle where it's subsidised through a discount fuel excise which makes it cost far more than reducing emissions by other means.  However, it pales in scale to the US.
There are no concrete plans for any significant increase in biofuel use in Australia.12  It's just not cost-competitive with solar, wind, and storage these days.  It's the Grandpa Simpson of renewable energy.  But then Gibbs seems to be living in the past, what with prominently featuring ancient 8% efficient American made solar panels in his documentary.  Even Australians can manage over two times that.
No Babies For You!
I mentioned earlier that Gibbs offers no road forward in Planet Of The Humans.  And he doesn't.  He does have one suggestion, which is dumb.  He thinks we should tackle overpopulation.  This is weird because…
The problem has mostly fixed itself. Improving living conditions causes countries to go through the demographic transition where birth rates fall below the replacement rate.
It's good to help people generate energy cleanly but making other people, who will mostly be black, have the number of babies you think is appropriate doesn't quite count as good.
This fertility map shows all developed countries are below the replacement rate.  China's population may already be shrinking in absolute number's, and India's birth rate has fallen to replacement level.  Despite jokes about quarantine babies, the pandemic will further reduce fertility.  Most countries that have high population growth due to birth-rate are in Africa:
Even if you halve the birth rate, all else equal, it won't have much effect on emissions.  If the world population would be 10 billion in 2050, but you somehow cut the birthrate in half now, the world population will still be around 9 billion in 30 years.  If that reduces emissions by 11%, it's not nearly enough.
To avoid disaster — or at least to have a good chance of avoiding disaster — we need to cut emissions by at least 80% by 2050 and population control isn't going to do that.  Only a rapid build-out of renewable energy will.
A massive decrease in living standards could also do that.  But I don't think you'll be able to convince many to go down that route.  Not when buying solar panels and a bitching electric car can do the same job.  But, by all means, don't let me stop you if you want to try it yourself.  Just be aware that if you lower other people's living standards that tends to increase the birth rate above what it would be otherwise.
We definitely should assist developing nations to get a decent standard of living as swiftly as possible, and we should use clean energy to do this because hunger and preventable disease are nasty.  Birthrates will then fall, but it will be because it happens in every country as living standards improve, not because people have been coerced or manipulated.
Capitalist Punishment
Jeff Gibbs says the only reason capitalist organisations are making solar panels, wind turbines, and electric cars is so they can turn a profit.
He's 100% correct.
Huge factories wouldn't be operating day and night producing the hardware we need to smash emissions if they weren't making money from it.  Maybe it's a good thing that the profit motive is involved, or perhaps it's a bad thing.  But, at this point, I don't give a shit.
I don't want to die.  I don't want my children to die.  I don't want Marie-Khemesse Ngom Ndiaye to die.  (I've never met her.  She could be a real dick as far as I know.  But I still don't want her to die.)  If you stop the production of renewable energy capacity because you don't love the smell of capitalism in the morning, the likelihood of our dying increases and I don't appreciate that.
If Jeff Gibbs, or anyone else, can demonstrate a faster or lower-cost way to replace fossil fuels that don't use the profit motive and works in the real world, that would be great.  I would tell everyone, "Do this, it works better."  But I can tell you now that's not likely to happen.  It would require an intelligence so advanced it's capable of doing basic research, occasionally reading the abstract of a scientific paper, and sometimes pressing the buttons on a calculator.  And Gibbs' Planet Of The Humans documentary has made it abundantly clear this sort of intellect is in short supply.
If At First You Don't Succeed, Burn It All
I can understand how people can be sick to death of big capitalist organisations.
I can imagine being involved in the green movement all your life,  believing it would lead to a future without greed and corruption.
I can see how you might end up feeling hurt and betrayed when clean energy becomes big business and delivers profits to the capitalists and bankers who mocked you for decades.
If, as clean technology marched into the mainstream, you realized – correctly – that this capitalist take over is the quickest way to end deadly climate change, then you'd have no choice other than to hold your nose and bear it.
But if you convinced yourself that using renewable energy was no better than fossil fuels, you could continue to feel both wholesome and righteous by simply attacking the clean energy industry, metaphorically blowing it all up.
And we see that, as always, the first casualty of any war is the truth.