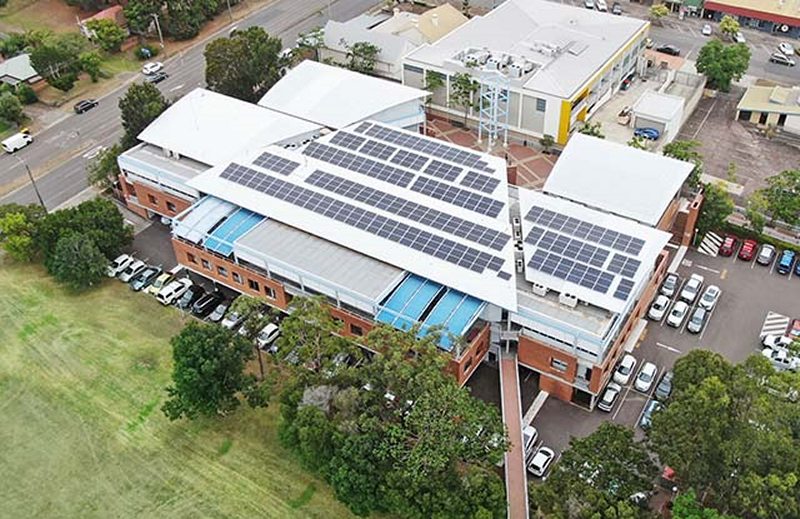 Port Stephens Council has a shiny new solar power system that will provide a very rapid payback and slash the building's electricity related emissions.
The Council has installed 357 solar panels on the roof of its Administration Building in Raymond Terrace. It says the 99.96 kilowatt system will reduce annual main-grid energy consumption for the building by more than 25%.
"We want to keep Port Stephens beautiful, as does our community, so it's important that we use our resources sustainably and efficiently," said Council General Manager Wayne Wallis. "Port Stephens Council is always looking for ways to save money and reduce our environmental footprint – and solar is a proven way to make real and lasting savings for us and our community."
Why 99.96kW?
Commercial solar power has become very popular in Australia due to high electricity prices, ongoing reductions in solar component costs, improvements in installation efficiency and a still-generous subsidy available.
Being 99.96kW, the system just scraped in under the 100kW limit for the Small-scale Renewable Energy Scheme (SRES), so Council could claim the "solar rebate" instead of having to deal with the complexities of the Large-scale Generation Certificate (LGC) system – LGCs have also tumbled in value.
A 99.96kW solar power system installed in the Port Stephens area is eligible for 1,657 Small-scale Technology Certificates (STCs – which the solar subsidy is based on). At a current value of ~$37.50 each, this would have reduced the cost of the installation by approximately $62,000.
Council says it expects to achieve a return on investment in about four years.
Other solar installations on Port Stephens Council properties include a 30kW system on Tomaree Library and Community Centre.
Climate Change A Significant Challenge For Port Stephens
Aside from the bundle of bucks Council saved on the installation through the subsidy and what it will save on future electricity bills, solar energy will help Port Stephens Council reduce its electricity related emissions.
In a 2017 Community Strategic Plan Discussion Paper, Council notes the threat posed by climate change.
"Port Stephens is particularly vulnerable to the impacts of climate change and natural hazards as a low lying coastal area. The likelihood and severity of these hazards projected to increase in the future, presenting significant challenges for Council, the community and other stakeholders."
Currently, there's very little about Council's direct efforts in relation to climate change on its web site – or information regarding solar power for that matter. Port Stephens Council doesn't appear to be a member of the Climate Council's Cities Power Partnership, which is made up over 100 councils from across the country (approximately 20% of all councils), representing almost 11 million Australians.
Port Stephens Council area residents and businesses are also embracing solar PV. Just in the Raymond Terrace postcode (2324), there are more than 2,769 small-scale installations, with a total capacity of just under 10 megawatts.