Recycling is a good thing.  Most of the time.  Humans have been reusing material for thousands of years, probably beginning on a large scale when early agriculturalists noticed poo is good for plants.  Ancient Greeks didn't let pieces of broken pottery go to waste and used them like notepaper, while my father would collect (steal?) rubber bands because a dozen were worth a few cents back in 1950.
Recycling reduces the need for raw materials. Normally that's a good thing for the environment, but not always.  If it involves an environmentally destructive process or requires a lot of energy — which mostly comes from fossil fuels right now — then recycling can be a bad idea.
Because recycling solar panels requires a considerable amount of energy and expense, and because they are mostly harmless when put into landfill, I'm certain recycling solar panels is a clear environmental negative. This is likely to change in the future but until then I believe we should simply stack and/or bury them.
Appearances Vs. Reality
Recycling has a pretty good rep.  But instead of treating…
"Recycling = Good"
…as a simple rule of thumb, some elevate it into an iron law of the universe regardless of whether or not it benefits the environment.
This kind of thinking leads to ridiculous outcomes.  One example is a couple who arrive at the supermarket and discover they've forgotten their reusable shopping bags, so they drive back home to get them because they don't want to commit the sin of using plastic shopping bags.
Please don't be these people.  It doesn't matter if you have a Commodore V8, a Toyota hybrid, or an electric car,1 you will cause more damage to the environment driving just one kilometer than using a couple of plastic bags.
Modern plastic shopping bags that are made to be used multiple times only weigh 7 grams.  Using one and then burning it may release less CO2 than using 10 millilitres of petrol, which will get the average Australian car less than 100 metres.  Also, assuming you put the bags in the rubbish when you're done with them and don't swim out to sea and personally stuff them down a whale's blowhole, those particular bags are very unlikely to harm marine life.
While an over-attachment to canvas shopping bags isn't the worst problem in the world, counter-productive behavior based on the idea that recycling is always good should be avoided to prevent the world getting worse.
I think it would be a good idea if I came up with a catchy term for when recycling does more harm than good.
Recycling Vs. Miscycling
When I decided to come up with a term for recycling that's environmentally counter-productive, I was originally going to call it Wank-cycling after the German Engineer, Felix Wankel.  But then I found out he managed to get kicked out of the Nazi Party for being too much of a dick,2 so that idea went right out the window.
I toyed with the terms re-wasting and fritter-cycling and going through the ScoMotions,3 but I didn't think any of them were better than mis-cycling and so miscycling it is.
Obvious Miscycling Vs. Economic Miscycling
There are two main types of miscycling:
Obvious Miscycling:  Recycling that results in measurably more harm to the environment than not recycling.
Economic Miscycling:  Recycling that doesn't necessarily cause more harm to the environment than not recycling, but the cost is so high there is a clear alternative with a greater environmental benefit.
At this point in time, as far as I can tell, recycling solar panels is both obvious and economic miscycling.
Does It Pay For Itself?
If recycling saves a great deal of energy then it is likely to:
Be environmentally beneficial.
Pay for itself.
Generally speaking, traditional methods of recycling that have been around for a long time because they make money, such as reusing scrap metal, are a net environmental benefit.  Recycling that requires a financial or legal incentive may not save enough energy to be environmentally worthwhile.  Any time recycling requires more energy than extracting and refining more raw materials it's likely to be a net environmental minus.
This is just a rule of thumb and each case needs to be considered on its merits.  But if recycling doesn't pay for itself it's not a good sign.
Recycling's Environmental Benefit Will Improve
Just because something may be miscycling now doesn't mean it will always be miscycling.  Processes can improve and energy is becoming greener.  This means things that aren't worth recycling now may make sense 10 years down the line.  So rather than dumping stuff into landfill and forgetting about it, we should keep records so people in the future can benefit from our junk if technology advances enough to make it worthwhile.
Recycling Solar Panel Frames Is Easy
When I say solar panels don't appear to be worth recycling I'm not referring to their frames.  They're aluminium and definitely worth ripping off and giving a second life.  It's actually worth giving aluminium more lives than a box full of cats, because recycling supposedly only takes 5% of the energy needed to smelt it from bauxite.
It's also a good idea to pull off junction boxes from the backs of panels.  The cables connected to them are worth recycling and it allows stripped panels to stack neatly on top of each other.
It's only what's left after a solar panel has been stripped that – at this time – isn't worth recycling.
There's Not Much Value In A Stripped Solar Panel
Without the aluminium frame and copper cables on the junction boxes there's not a lot of value in a stripped solar panel.  What it does contain, in order from the mostest to the leastest for a standard sized 60 cell panel, is:
Glass — Around 12+ kilograms.
Plastic — The backsheet is around 400 grams and there is also epoxy glue that holds the panel together.
Silicon — Roughly 140 grams per modern solar panel.
Grams of metals — The most valuable being the roughly 8 grams of silver per panel.
Glass:  By weight, the largest component of a solar panel is glass.  Unfortunately, scrap glass is not very valuable and so Australia only recycles around 56% of its glass bottles.  Because recyclers can easily get bottles that don't have solar cells stuck to them, they aren't going to accept stripped solar panels as is.  The glass will have to be extracted with a minimal amount of contamination and this is a difficult process.  Once it's done, scrap glass can be sold for $30 a tonne, which comes to about 40 cents per panel.
Plastic:  To pull apart a solar panel, the epoxy holding it together has to be destroyed, so I don't see how that can be recycled.  The plastic backsheet weighs around 400 grams and if stripped away would be mixed plastic waste, as it's made of various types.  It could be sold for perhaps $225 per tonne or 9 cents per panel.
Silicon:  There's around 140 grams of silicon in the form of solar cells in a modern panel.  While I'm not sure what its grade of silicon waste would be, it may be worth $1,500 per tonne or around 21 cents per panel.
Silver:  There are small amounts of metal in a solar panel and the most valuable is silver.  There's around 8 grams in a modern panel.  At 80 cents a gram that's $6.40 per panel.
Copper:  I don't have a good figure for the amount of copper in a stripped panel4 but even if there is 100 grams, which I think is an over estimate, that's only going to be worth about 85 cents at today's prices for high purity copper.
Other Metals:  After the frame is removed there is still some aluminium in a solar panel, but only around 80 grams.  At the current prices that's about 20 cents worth.  I don't think any other metals, such as tin, would be worth any significant amount.
If we list my estimated values for the materials in a modern panel below we get:
Glass $0.40
Plastic $0.09
Silicon $0.21
Silver $6.40
Copper $0.85
Aluminium $0.20
This comes to a total of $8.15 per panel.5 So to be financially worthwhile the total cost of recycling a stripped solar panel would have to be less than roughly $8.  As no one is offering to pay for old solar panels or even take them off people's hands for free, we can be pretty sure no one has worked out how to do this.6
Australia has one PV recycler and they charge $30 per panel they take.  But that is for small numbers of unstripped panels and includes pick up, so we can't say that's the cost of recycling them.  Last I heard they are still working on their recycling process and so solar panels they take may end up sitting around for a long time.
Solar Panels Can Be Recycled — At A Cost
There is no question that stripped solar panels can be mostly recycled if desired.  Here's a video of a factory in France showing how it's done:
This plant is effective at extracting most of the material in old solar panels — by weight — but this kind of recycling — or miscycling — has a number of problems:
The value of the recovered materials doesn't pay for the recycling and so a financial or legal incentive is required, otherwise it won't get done.
This one plant is for all of France, so panels will have to be transported long distances.  In Australia this will involve burning diesel.
The recycling plant consumes energy.  In France electrical energy mostly comes from nuclear and renewable generation, but in Australia it's still mostly comes from coal.  There is usually a process not shown in the video that uses heat7 to break down the epoxy that holds the panels together.  This heat could come from electricity, but in most industrial process it comes from natural gas.
The factory requires a lot of steel, concrete, and other material that represents a lot of CO2 emissions from their production.
There are things that could reduce a recycling plant's environmental effect, such as putting solar panels on the roof.  But if the electricity they generate would result in more environmental benefit if fed directly into the grid instead of powering the recycling plant, then it's still wank-cycling.  Sorry!  I mean, it's still economic miscycling.
Both Types Of Miscycling
Because the solar panel recycling process is energy intensive and the value of the recovered materials low, I'm certain in Australia it would result in more CO2 emissions than it avoids and so would be obvious miscycling.8
Rather than spending money on a recycling process that doesn't pay for itself and is likely to increase emissions, it could instead be spent on things we know will reduce emissions such as wind and solar energy or reforestation.9  So it would also be economic miscycling.
There Is No Solar Waste Crisis
If you look online it's easy to find articles declaring we're heading for a solar waste crisis and will soon be inundated by tens of thousands, or hundreds of thousands, of tonnes of old solar panels.
The good news is there's no crisis.  There is only a trivial solar waste concern.  But I can forgive people for thinking there's a serious problem because the numbers involved are pretty big.  Griffith University researchers say Australia could have 1.5 million tonnes of solar panel waste from residential installations alone by 2050.
Currently 14 gigawatts of PV have been installed in Australia, which is around one million tonnes of panels.  Over the past year a record breaking 3.6 gigawatts was installed.  If I assume this installation rate keeps up for the next five years and every solar panel installed before 2025 will have to be scrapped while ones installed after that will still be in use in 2050, then in 40 years time we will have around 2 million tonnes of solar panel waste.10
It may seem that if we don't recycle such a massive amount of waste we'll end up with a mountain of old solar panels that rivals Uluru, but it's not that bad.  If we stacked stripped panels one metre high we could fit 2 million tonnes in under one square kilometre.  This means we could fit all of Australia's solar panel waste up to 2050 inside a few parks just south of Adelaide's CBD.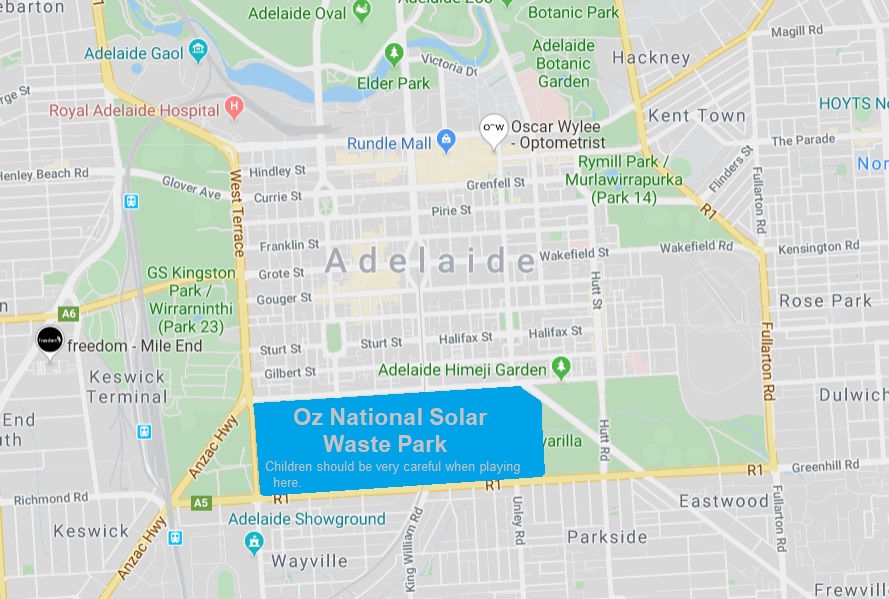 While I'm sure no one would mind if we leveled a few Adelaide parks and filled them thigh high with old solar panels, you may still say that nearly one square kilometre is a lot of land.  And you'd be right.  After all, I wouldn't want to mow it with a Victa 4 stroke.  But I'll provide a little perspective by taking the national solar dump out of Adelaide and moving it 100 kilometres east: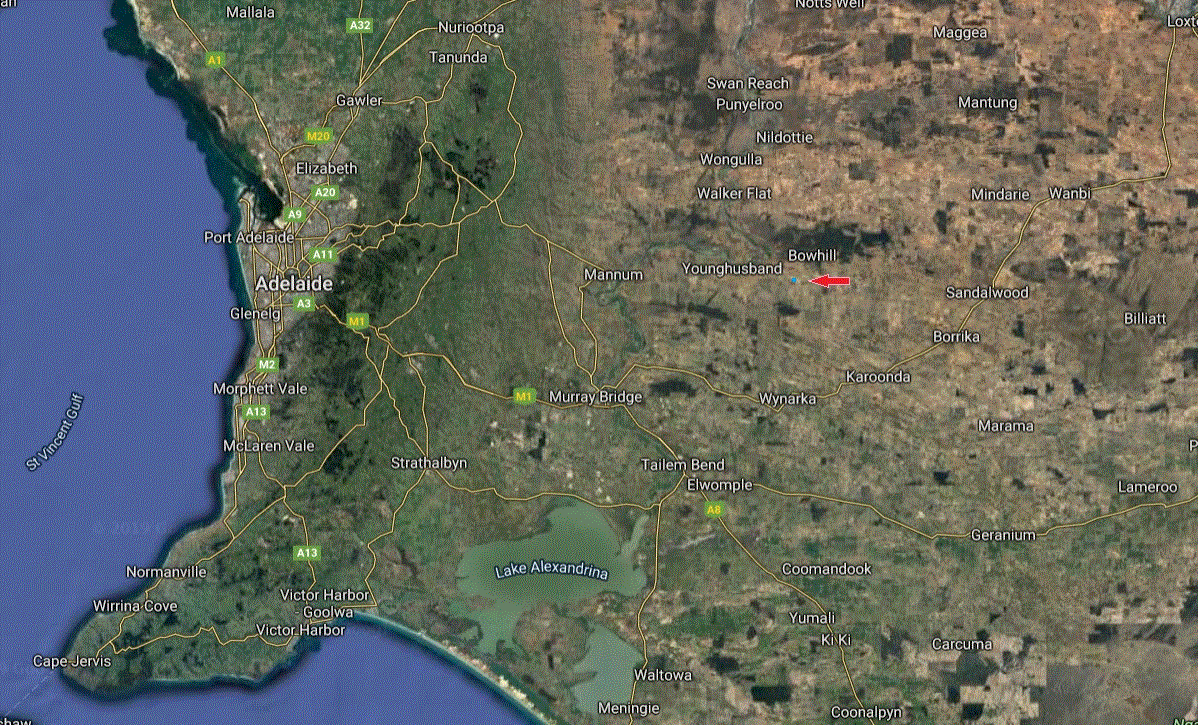 Can you see it?  It's covering the same area but it's hard to make out, so I added a little arrow to help.  If you can't see the arrow, just find Wally and look towards where he's pointing.
I was going to make another map where the camera is pulled back even further, but I had trouble drawing the solar waste dump because I couldn't make anything smaller than one pixel.
If you still think nearly one square kilometre is too much space after looking at the big picture, remember we can always do something crazy like stack the panels 2 metres high and halve the amount of land required.  Around the rural metropolis of Ceduna that would cut the cost of the land required from $50,000 to $25,000.
As for solar waste produced after 2050, I'm hoping we won't have to wait that long for solar panel recycling to pay for itself.  Even it it doesn't pay, if we no longer use fossil fuels for energy then recycling them won't be the environmental negative it is today.
A Coal Comparison
Because I'm creating images showing how much space my 2050 national solar dump will take up in South Australia, I feel I shouldn't pass up the opportunity to show it next to the old Leigh Creek Coal Mine: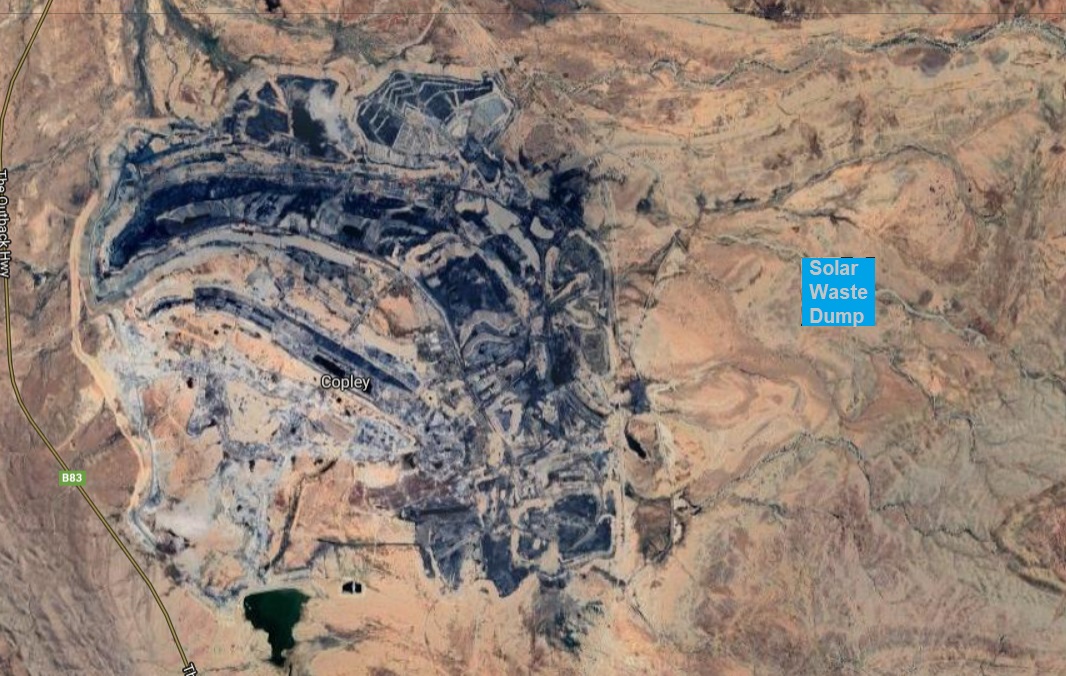 As you can see, it's obviously insignificant compared to one insignificant Australian coal mine.  A mine that's puny compared to the nearly 80 kilometer long Blackwater monster mine in Queensland.  The Leigh Creek Mine removed 60 million cubic metres of coal when in operation, so we could fit my 2050 national solar waste dump in the holes they left behind more than 30 times over.11
Solar Waste Is Mostly Harmless
Some people are concerned if stripped solar panels are stacked in a field or buried in landfill, deadly toxins will leach out and wreak havoc, resulting in deaths, mutations, and tooth decay.  I'm not saying we shouldn't take sensible precautions, but we put far worse things into landfill everyday without worrying about it.  Solar panels are a very benign form of electronic waste.  While the solder used in them contains lead, the amount is so small if they are put into landfill the dirt that comes out of the hole can contain more lead than the solar panels. The silicon in the solar cells is made from reduced sand12 and is not dangerous.  It is doped with chemicals but the amounts are minuscule and the chemicals used aren't particularly scary.
Some solar farms and old rooftop solar installations use cadmium telluride panels instead of silicon ones.  While cadmium is dangerous, cadmium telluride is very stable and not considered toxic if you happen to swallow it.  (But if you go around swallowing cadmium telluride there is probably something else wrong with you.)
Fire safety standards have eliminated many of the toxins from plastics used in solar panels, as they can't be sold if they emit significant amounts of toxic gas when on fire.  Plastic backsheets can contain small amounts of fluorine but it's normally stable over long periods if it isn't burned.  We use fluorine containing plastics for whiteboards and raincoats and I personally rub paste that contains it against my teeth at least twice a day.  But don't get complacent.  Some fluorine compounds are the stuff of nightmares.
But even if solar panels did leak appreciable amounts of toxins it would not matter because it's clear that Australians do not give a shit about this kind of thing.  Let me show you what I mean.  Below is a picture of Vales Point coal power station:13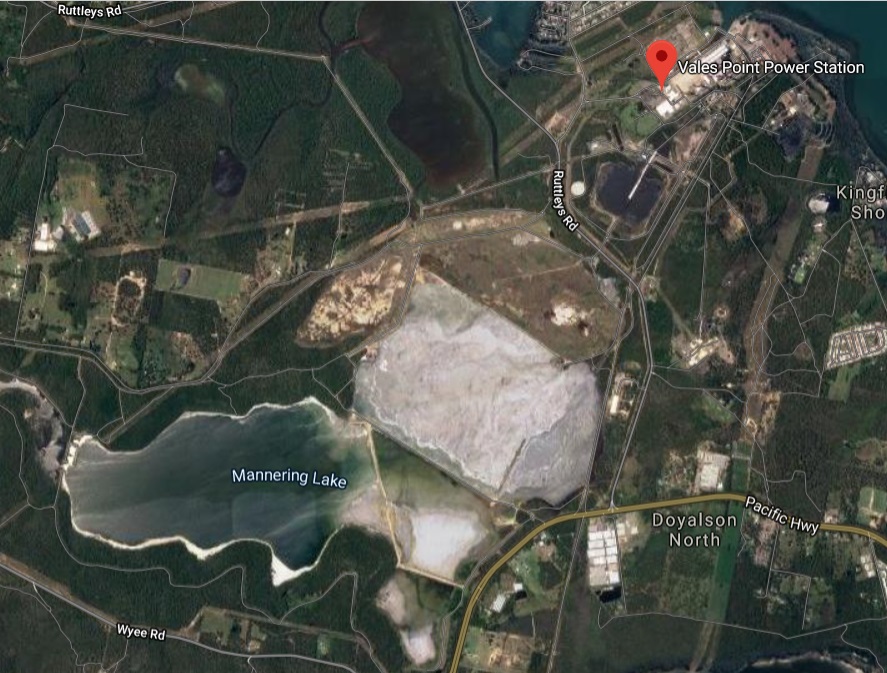 That large light grey thing in the centre is a dam full of coal ash.  It's toxic, it's uncovered, and it's located in a populated area on Lake Macquarie.  At around 1.5 kilometres across it's considerably larger than my 2050 national solar dump.  This was all produced by a single coal power station.
But wait!  There's still more!  There's another ash dam on Lake Macquarie at Eraring Power Station north of Vales Point: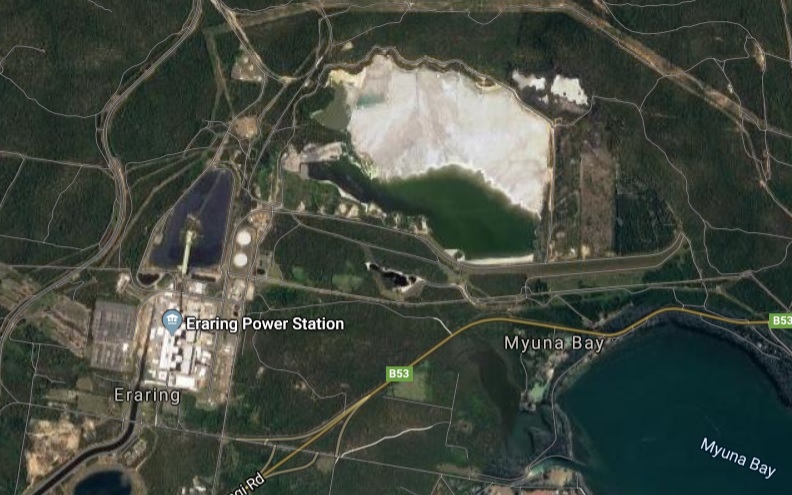 Australia produces 12 million tonnes of coal ash each year14 which is far more than 2 million tonnes of solar waste by 2050 I used for my example.  It's also far more toxic than old solar panels.  I'm not saying it's as toxic as a bucket of angry blue-ring octopi, but don't go sticking your face in either if you want a long life.
A Level Playing Field For Recycling
I'm not saying we should never consider recycling solar panels.  I'm not even saying that if you want to recycle your solar panels you shouldn't.  But I am saying, at this time, we should not require solar panels to be recycled.  I am confident it will harm the environment more than it helps.  We definitely should not put a fee on solar panels to pay for their future recycling as this will increase the cost of solar power and slow the rate at which fossil fuel generation is driven out of the market.
But I'm a reasonable person and willing to compromise.  I'll accept a requirement that all solar panels have to be recycled, provided the coal power industry is held to exactly the same standard.  No more ash dams, ash pits, and ash hills.  All that toxic crud has to be recycled — somehow.  Technically, every chemical reaction can be reversed, so if they apply themselves maybe they can turn a lump of coal ash back into ScoMo's heart.