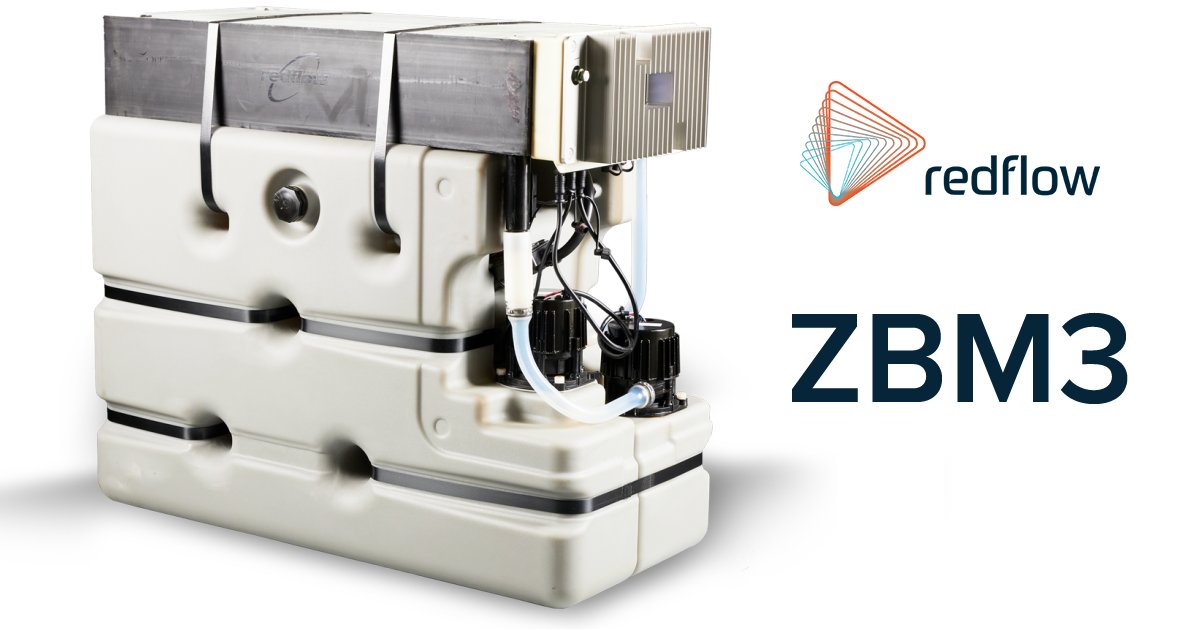 Queensland-headquartered Redflow has announced its new third generation 'Gen3' flow battery – the ZBM3 – is (finally) ready for commercial sale.
Redflow says production of the world's smallest commercially available zinc bromine flow battery commenced at its Thailand manufacturing facility this week. Even smaller, simpler and more compatible than previous iterations of the battery, it has been designed for small commercial installations to large " GWh-scale" commercial applications.
Redflow CEO Tim Harris says the Thailand facility can scale to up to 80 MWh of ZBM3 battery production per annum (which would be 8,000 units a year) – so there won't be any " GWh-scale" installations for a while.
"Importantly, the Gen3 battery enables Redflow to operate at a competitive price that will deliver further benefits as production scales," stated Mr. Harris.
It's been a long and rather bumpy road to this point for Redflow. Gen3 battery customer trials began in 2020 and in February last year, Redflow anticipated commencing commercial production in Thailand during 2021. But impacts from COVID, including staff absences due to infection, material supply and equipment servicing delays, put paid to those plans.
We mentioned in December that in September 2021, Redflow's revised program forecast the introduction of Gen3 into production in Q4 of FY22. So, they weren't far off the (revised) mark and no doubt there has been a collective sigh of relief from the Redflow team.
Redflow ZBM3 Battery Specifications
Voltage: 48 Volt DC nominal (typical operating range 40-60V).
Capacity: Maximum 10kWh usable.
Dimensions: 861L x 747H x 400W (mm).
Weight: 240kg with electrolyte; 90kg without.
Power rating: 3kW continuous (5kW peak).
Stack energy efficiency: 80% DC-DC maximum.
Warranty: Electrode stack: 36,500 kWh of energy delivered or 10 years (whichever comes first).
Among the other features of the ZBM3 is the battery can be left at 100% state of charge for months and started up rapidly. The ZBM3 can also operate in ambient temperatures of 10°C-50°C.
Redflow says a smaller stack design and a bi-directional DC-DC converter built into the Battery Control Module (BCM) enables flexibility of energy flow of 0-60 volts, making it compatible with a wide range of applications without requiring any external voltage conversion. The battery also boasts a new tank design and cooling system. Additionally, all battery components and electrolyte are either recycled or repurposed at end of life.
The ZBM3 datasheet is available here.
What Happened To The ZCell?
Redflow used to produce a home battery called the ZCell1 that was based on a ZBM predecessor, the ZBM2. However, there's no mention of a ZCell in the company's latest product line-up – just the ZBM3 and Energy Pod; which is designed to hold 20  ZBM3 flow batteries.
Redflow says the new Gen3 will play an important role in supporting the company's expansion in the United States and Australia, and the first delivery of batteries is expected next month.
Footnotes
Specifications for the ZCell are still noted on SolarQuotes' solar battery comparison table – for now. We usually only list battery systems currently available in Australia on that page. ↩