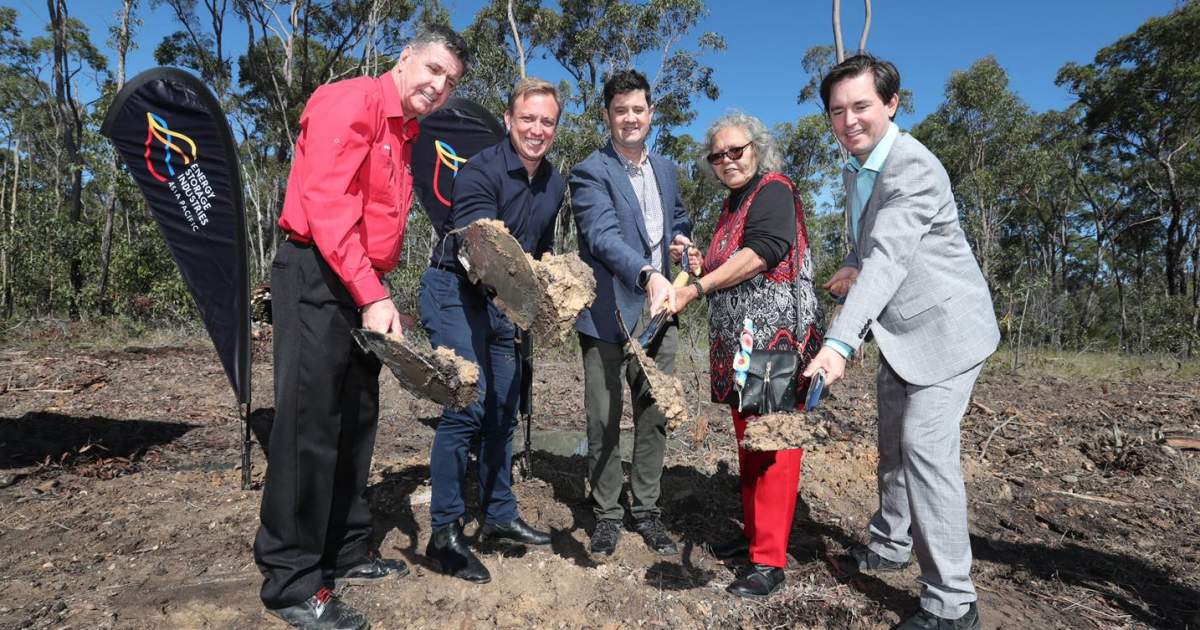 A sod-turning ceremony was held in Maryborough yesterday at the site of what will be Australia's first large-scale iron flow battery manufacturing facility.
Energy Storage Industries – Asia Pacific's (ESI's) $70 million facility is due to be completed by late 2024 and will crank out up to 400 megawatts of flow battery storage each year when fully operational in 2026 – and keep that up for 15 years.
but first …
What Is An Iron Flow Battery?
An iron flow battery consists of two tanks of liquid electrolyte – in this case, iron, salt and water. Between the two tanks are the cell where positive and negative solutions are pumped, but kept separated by a membrane. Ion exchange occurs across this membrane, producing chemical and electrical energy. Energy is released or stored by the continuous circulation of the electrolyte solutions.
Among the claimed benefits of ESI's modular iron flow batteries is longer storage with 10-14 hour duration, an expected service life of 25 years (20,000+ cycling capability with no degradation) and the use of abundant materials that can be sourced locally.
The electrolyte is non-flammable and non-toxic, the batteries can operate efficiently in ambient temperatures of – 5°C to 50°C without any cooling/air conditioning required, and will be 100% recyclable. The batteries can also be stored charged for extended periods without losing charge.
Other types of flow batteries use different electrolyte mixes; including vanadium and zinc bromine. The latter was used in Australian company Redflow's ZCell flow battery, which was based on Redflow's ZBM technology – the world's smallest commercially available zinc-bromine flow battery.
UPDATE: On a related note, Redflow announced today its ZBM3 flow battery is ready to rock.
… but back to ESI's project …
Iron Flow Batteries To Help Power Queensland
Among those attending the sod-turning ceremony yesterday were Queensland's Deputy Premier Steven Miles, State Member for Maryborough Bruce Saunders MP, and Fraser Coast Regional Council Mayor George Seymour.
"Energy storage is key to unlocking Queensland's renewable energy revolution as we power towards our target of having 50 per cent renewables by 2030," Deputy Premier Miles said. "In the near future, power generated from a nearby wind or solar farm will be stored in iron flow batteries and help power Queensland."
The project will also help power job creation, with 500 employees and contractors expected to be working at ESI facilities throughout regional Queensland by 2026. In addition to Maryborough, it appears another facility of some description is in the pipeline for Townsville.
ESI won't just be manufacturing the batteries, but also installing, maintaining and providing finance to its customers. Looking further ahead, the company plans to export its flow batteries to the Asia Pacific region.
"This project, and others like it, signals the green and prosperous future of Queensland's energy supply, driven by symbiotic and sustainable systems delivering economic and social benefits to our state," says the Queensland Government.
In addition to the ESI project, funding for 13 large-scale battery systems across regional Queensland was earmarked in the state's most recent budget, along with $15 million to scale up the National Battery Testing Centre in Brisbane and $5 million to finalise a Queensland Battery Strategy; which is due for release later this year.
And given what's been happening in Queensland's electricity sector, none of this can come too soon.