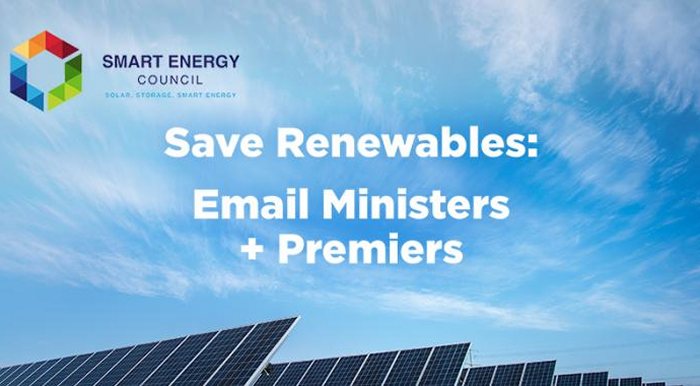 The Smart Energy Council states the National Energy Guarantee is "junk policy" and is calling on Australians to email state energy ministers telling them to stop it in its current form.
While the basis of the NEG is pretty simple – a reliability guarantee, an emissions guarantee and affordable electricity – the road to it has been anything but.
The Smart Energy Council maintains the National Energy Guarantee as it stands has been designed to stop investment in renewable energy and that under it, energy prices will increase for households and business.
It also believes the Coalition backbench will extract further concessions and that it provides no credible pathway to increase the emissions reduction target, while increasing emissions reduction costs across Australia's economy. It says any negative impact on renewables would also result in job losses.
"If states and territories sign on in August, they will be responsible for this mess," states the Council.
The online form for emailing ministers can be found here.
The Smart Energy Council's campaign follows a similar one recently launched by GetUp! that raised the ire of Federal Energy Minister Josh Frydenberg. Minister Frydenberg stated the group and its "fellow travellers" were taking an all-or-nothing approach to energy and climate policy based on ideology rather than engineering and economics.
Clean Energy Council Not So Gung-Ho
The Clean Energy Council continues to have an open mind on the National Energy Guarantee, but its support is contingent on the COAG Energy Council addressing a number of issues.
These include that its implementation isn't accompanied by a commitment to build new coal fired generation and that the 26 per cent abatement target is a floor, not a ceiling. It also won't support the NEG if it alters the current Renewable Energy Target (RET), and wants to see the Large-scale Renewable Energy Target and Small-scale Renewable Energy Scheme (which subsidises rooftop solar in Australia) remain unchanged.
"Encouraging new investment into the next decade remains critical to reducing power prices as our old coal-fired power plants continue to close," said Clean Energy Council Chief Executive Kane Thornton last week.
The  Energy Security Board's "final design" for the National Energy Guarantee was leaked last week, revealing no change to the emissions reduction target for the electricity sector (26 percent reduction on 2005 levels by 2030), which is likely to be met by the early 2020s.
Australia's energy ministers will again meet on August 10 to discuss the NEG.