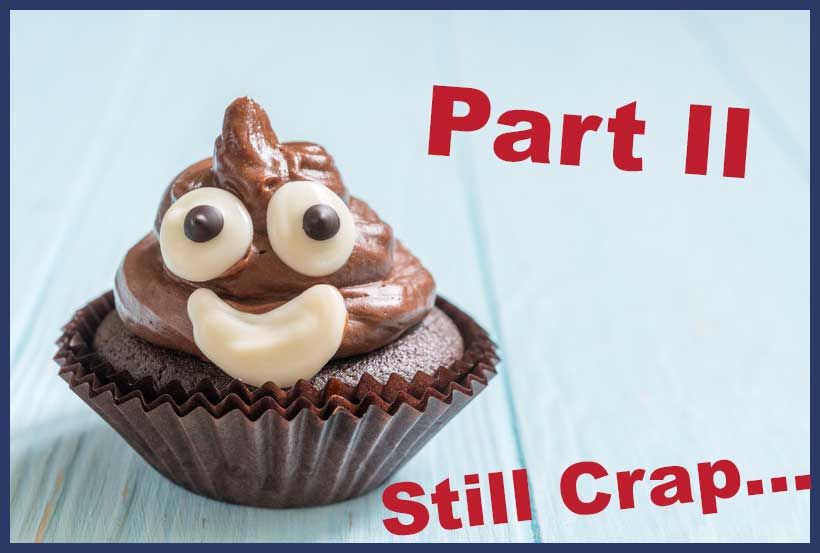 I've already written about how incredibly awful solar panel performance warranties are, but I'm writing about them again because they are so bad I could write for days on the topic and still have a big sack full of snide remarks left over. However, despite my massive sack, I have to admit that warranties are improving.  And not just performance warranties, which are currently for 25 or 30 years, but also the more useful product warranties that are mostly for 10 years.
Before you get too excited I'll explain that most performance warranties would have to improve a bloody long way before I'd call them good. Plenty are just as awful as they have ever been with ridiculous terms that make them about as useful as big nuns on a bull, but things are definitely improving.  In the darkness there is a glimmer of light…
2 Ways Performance Warranties Suck
Last month I wrote this article where I pointed out two problems with performance warranties:
Manufacturers think they only apply to solar panels that have deteriorated in performance but still work.  If the panels have no performance, they believe they owe you nothing.  It's like having a roadside assist service that will only fix your car if you can drive it to their depot.
According to the terms in most performance warranties, manufacturers believe they don't have to give you a replacement or a refund for each panel that under performs.  Instead they think a single replacement panel can make up for multiple inadequate ones.
You might be wondering how panel manufacturers can get away with this.  Well, the good news is they can't — provided they don't pack up shop and abandon the Australian market.  I've already written about how, according to my understanding of consumer law1, if a manufacturer says a solar panel has a 25 year performance warranty then they bloody well have to repair, replace, or provide suitable compensation for each individual panel that fails to meet its performance requirements whether its output is just below what's required or it has no output at all.  Because that's what performance warranty means in English.  The only exception would be if they made it damn clear the performance warranty only applies under certain, very limited, conditions.  And they never do.
How Manufacturers Fail To Inform Customers About Performance Warranties
Here are examples of how manufacturers inform customers about their performance warranties.  All are taken from manufacturers' Australian web sites or from datasheets downloaded from those sites: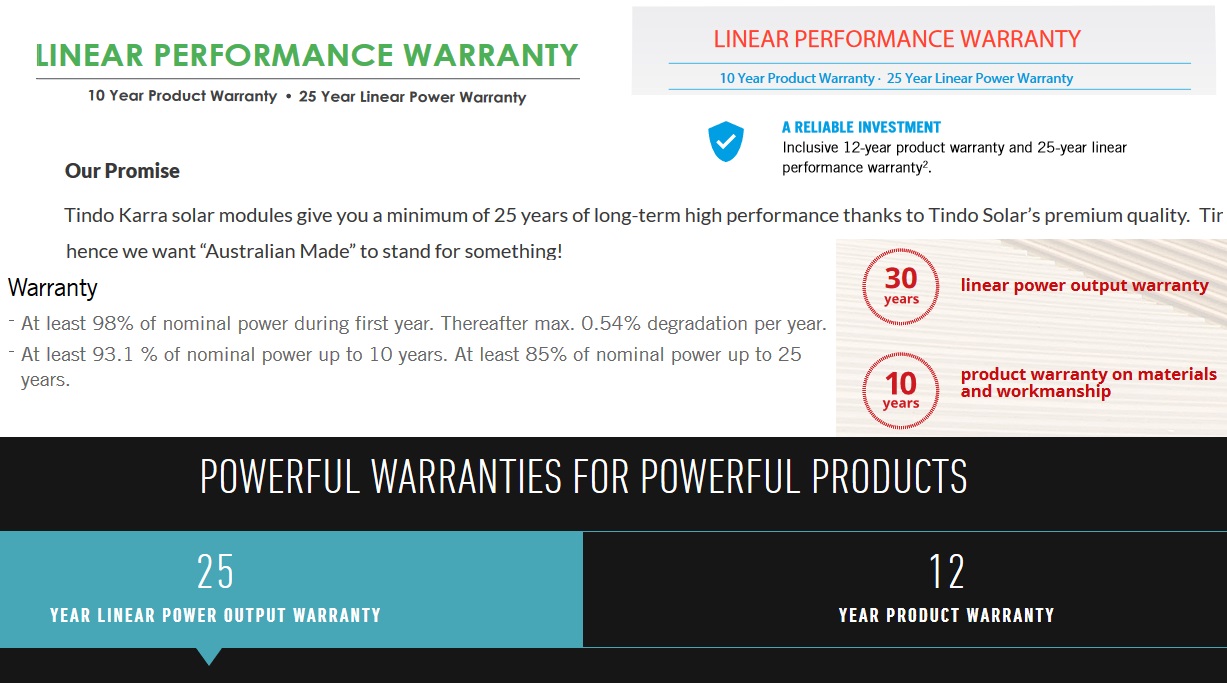 No reasonable person seeing this information is going to think if a solar panel completely stopped working after 15 years it wouldn't be covered by the performance warranty.   They also wouldn't think that if they had three panels that were under performing they might only get one replacement panel to make up for it.  There is no indication of how extremely limited most manufacturers intend their performance warranties to be.
Let me fix that for them.  Instead of saying:

It should say:

Or for some performance warranties:

You might think that if people actually read solar panel warranty documents they'd realize how little the performance warranty is supposed to cover, but this often won't help.  Most are so unclear about their limitations you'd have to be both cynical and familiar with legalistic shenanigans to even begin to suspect how far many companies intend to go to weasel out of the promise they appear to be giving.  Except perhaps for the few where they come right out and basically say, "We don't have to do anything unless we feel like it."
Performance Warranties May Be Arbitrarily Ended At Any Time…
If you bought a solar panel with a performance warranty of 25 years how long do you think the manufacturer would have to provide that performance warranty for?
(a) 50 years

(b) 25 years from the date of installation

(c) 25 years from the date of manufacture

(d) 0 years.
If you chose (d) you are a horrible cynical person. You are also correct.  (It's amazing how often those two things go together.)  According to the terms of some performance warranties manufacturers can unilaterally rescind them any time they like.  This may seem hard hard to believe, but check out what's at the end of the Jinko Solar warranty I downloaded from their Australian site:
Just so there is no confusion, here's what the Cambridge Dictionary says the word "rescind" means in business English:
Although I'm not a lawyer, as far as I can see, according to its terms, Jinko Solar — the world's largest producer of solar panels — could at any time decide the warranty they gave you no longer applies.
…But Not In Australia
Fortunately they can't get away with that kind of nonsense in Australia — or at least they can't if people are aware of the protections they have thanks to Australia's Consumer Guarantees.  Here is the ACCC2 page on them.  You are protected by Consumer Guarantees no matter what the terms of your written warranty.  So if you have a problem the written warranty states it doesn't cover, or even if the written warranty period has ended, it is still possible you can recover your costs from the manufacturer.
Manufacturers Must Keep Any And All Promises They Make
One consumer guarantee states that products must…
"…meet any extra promises made about performance, condition and quality, such as life time guarantees and money back offers"
When a reasonable person sees a manufacturer has given their solar panel a 25 year performance warranty they will consider it to be a promise that if a panel stops working entirely the manufacturer will repair or replace the panel or provide reasonable compensation. Personally, I am certain that if brought before a small claims court or a consumer tribunal this would be their opinion too3.  No one is likely to see the words "25 year performance warranty" and think that it doesn't apply to panels that completely stop working or that one replacement solar panel is fair compensation for three panels that fail to meet the minimum performance level.
Consequential Loses And The Cost Of Installing Replacement Panels
Solar panel performance warranties typically state the manufacturer has no responsibility for the cost of installing any replacement panels they may give you.  However, under Australian Consumer Guarantees you can claim for compensation for damage and loss.  You can seek compensation from either the installer or the manufacturer.  You can be entitled to either a repair, replacement, or refund from the installer while you are only entitled to costs from manufacturer.  According to the ACCC:
"You can seek compensation for damages and losses you suffer due to a problem with a product or service if the supplier could have reasonably foreseen the problem. This is in addition to your repair, replacement or refund rights."
If you receive replacement solar panels it is blatantly obvious they will need to be installed and the homeowner can't do that themselves.  The job requires an accredited solar installer and last time I checked they don't work for free.  Not even if you ask really nicely.  So needing to pay for the cost of installation is definitely foreseeable.  This applies even if you are given a refund rather than replacement panels.
Solar Panel Warranties Are Improving
The good news is solar panel warranties are improving.  An increasing number now include a statement on Australian Consumer Guarantees4 such as this one from Winaico's Australian warranty:
Now isn't that better?  And as far as these things go, Winaico's warranty is a good one.  They even state they will pay — up to a limit — for installation costs for replacement panels.  (I knew there was a reason why I love Taiwan.)  But Winaico is not the only one.  Other manufacturers are now clearly stating they will pay for the installation costs of replacement solar panels.  This should eventually become the norm in Australia mainly thanks to the efforts of the Clean Energy Council, which has been working on this behind the scenes5  They have inspired me to dedicate 6 minutes every second Tuesday to shaming those that are behind the eight ball coughJinkocough into improving their warranty small print.