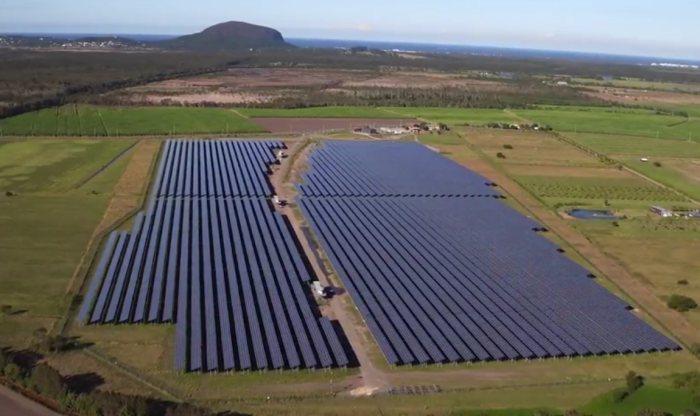 Queensland's Sunshine Coast Council is more than happy with the first 12 months' performance of its 15MW solar farm – benefiting from electricity savings beyond forecasts.
Connected to the grid on July 24 last year, Sunshine Coast Solar Farm has saved Council $1.7 million so far, more than double the amount it had hoped for in the first year said acting Mayor Tim Dwyer.
The clean energy facility was originally expected to provide $22 million in savings after costs over a 30-year period based on current electricity prices. Council says the solar farm is offsetting more than 100% of  its energy usage across all its facilities and operations. In January this year, it enabled council to offset 129% of its total electricity consumption.
The project marked the first time in Australia a local government has constructed a solar farm to offset the electricity use of all its operations.
According to the power station's live data page, it has generated 27,232.7 MWh of electricity since construction was completed, avoiding 21,241.5 tonnes of carbon emissions in the process. Its best energy day was December 7, 2017, when 121.5MW of electricity was generated. Its peak power day was in September, when it hit 14.8MW1
Sunshine Coast Solar Farm is located at Valdora and consists of 57,850 Trina Solar panels and SMA inverter/power conversion equipment. The project has won three awards, including taking out the sustainability category at the Local Government Managers Australia excellence awards in Brisbane earlier this year.
Sunshine Coast Powers Ahead With Solar Energy
Before the solar farm, Council had already installed PV modules on dozens of its buildings; including six libraries, various halls and community centres and the Sunshine Coast Stadium, which has the largest system at 33.6kW. The electricity generated by these other systems averages out to 242,214 kWh per year.
Solar power on the Sunshine Coast has grown rapidly thanks also to the efforts of residents and businesses, with more than 40,000 systems installed across the region. Council is keen to see more panels on rooftops and to help residents make the most from installations currently in place.
"Over the next six months, we'll be pulling together independent information from trusted experts and sharing that with our residents and businesses," said Division 9 Councillor Steve Robinson. "We want to help our community learn how to reap maximum savings from their existing solar PV system, what renewable options are available, how to choose an energy provider and how to reduce their home's energy usage."