Grid connection of the 15MW Sunshine Coast Solar Farm in Queensland on the weekend marks a couple of firsts in Australia.
According to a Courier Mail report, the facility went live yesterday, making Sunshine Coast Council the first in Australia to offset 100 per cent of its electricity consumption with renewable energy. The event also marked other important milestones for solar power in Queensland and Australia.
"Our solar farm is the first, and will be the largest, to connect to the electricity grid in southeast Queensland. It is also the first in Australia to operate at 1500 volts DC which enables it to operate more efficiently," said Mayor Mark Jamieson.
Among the largest solar farms in the nation, the project has been delivered at no ongoing net cost to ratepayers, as the revenue generated by Council selling surplus electricity at the best price it can achieve and getting its energy at the lowest rate possible will offset any associated costs to build and maintain the farm.
"The positive financial dynamics of this project were crucial in determining whether the project would be supported by Council," states an FAQ.
After costs, the $50.4 million clean power station is expected to save ratepayers $22 million over a 30-year period.
57,000 Solar Modules
As we mentioned in May, the facility is comprised of 57,000 Trina solar panels and also features six inverter stations containing SMA solar inverters.  Originally planned to be 10MW, the 15MW solar farm will generate enough electricity to power 5,000 homes. The facility's capacity was expanded as it was determined the extra 5MW would provide significantly greater environmental and economic value.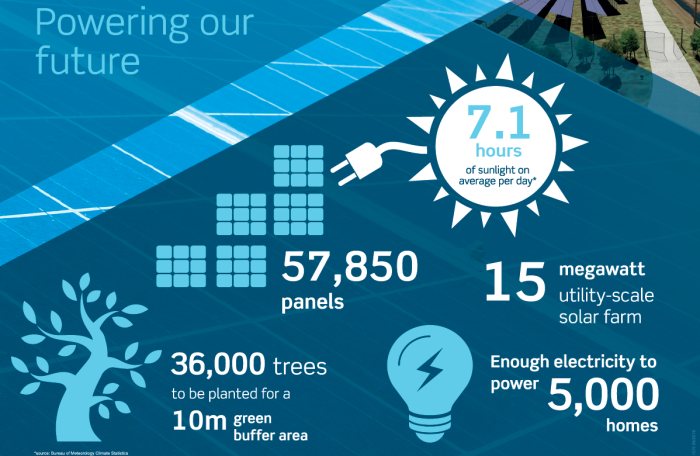 Sunshine Coast Solar Farm is situated on 24 hectares of a 49 hectare site at Yandina-Coolum Road, Valdora; close to a 33kv Energex line capable of handling the output.
36,000 trees will be planted at the site to provide a 10 metre buffer area. All critical components of the solar energy plant have been raised above the one-in-one-hundred-year flood level, with most at 4.2m. Council says the highest recorded flood level was 3.4m in 1992.
Downer Utilities Australia Pty Ltd built the solar farm, Energex dealt with the connecting infrastructure and electricity retailer Diamond Energy is purchasing all the farm's output.
The project complements approximately 40,000 solar power systems on the Sunshine Coast already installed on residential and business rooftops throughout the region.