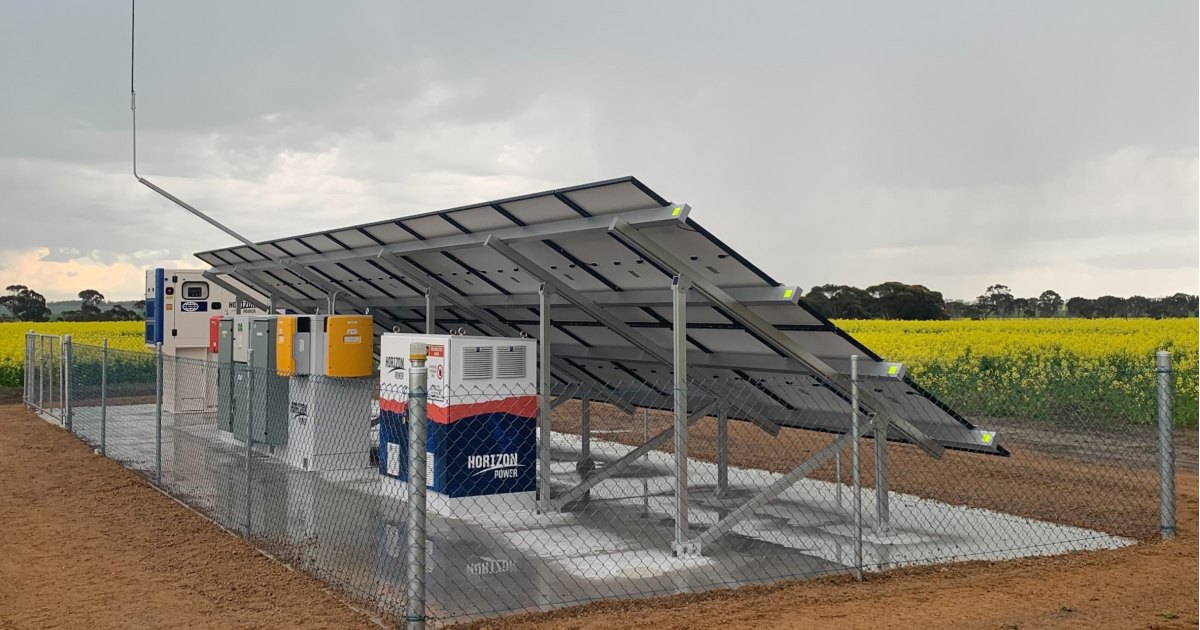 A long-awaited rule change allowing distributor-led stand-alone power systems (SAPS) to become part of Australia's national electricity system has entered the consultation stage.
A SAPS (sometimes referred to as SPS) is not connected to the grid and is typically comprised of a renewable energy generation element such as solar panels, a battery and back-up diesel generation. For some Australian households and businesses – particularly those in "fringe-of-grid" areas – a stand-alone power system can deliver safer and more reliable electricity at a cheaper cost than having them connected to the mains grid.
Over in Western Australia various SPS trials and rollouts have been very successful in reducing not only unplanned outages and maintenance costs, but also delivering significant carbon emissions reduction. The image above is of a very tidy Horizon Power SPS installation in WA.
But to this point, Distributed Network Services Providers (DNSPs) regulated under the National Electricity Rules (NER) have been unable to offer a SAPS to existing customers1.
That changes on 1 August 2022, when DNSPs will be allowed to connect customers to a 'regulated SAPS' – part of the national electricity system and regulated in the same way as it would if it was connected to the mains grid. This will enable DNSPs to connect customers to SAPS when this option offers better value for money than connection to the interconnected national electricity system.
For example, a long  run of power lines servicing a small number of properties may be approaching the end of its life. It could be a problematic stretch with a history of high maintenance requirements, poor quality supply and frequent blackouts, and/or in a high risk bushfire area. In these scenarios it may make more sense from economic and safety perspectives to decommission the lines and provide electricity via stand-alone power systems.
The amendments of rules enabling this to happen will also contain a "quality of supply" principle, ensuring consumers being switched over to a regulated SAPS will not be at a disadvantage with respect to price, reliability and consumer protections.
Guidelines Consultation Kicks Off
Last week, the Australian Energy Regulator (AER) commenced a consultation process on amending six documents in relation to the National Electricity Amendment (Regulated stand-alone power systems) Rule 2022 (Amending Rule). The documents are guidelines for distributors to deliver outcomes that are in the best interest of electricity customers. The affected guidelines are:
Regulatory Investment Test for Distribution
Connection Charge
Distribution Service Classification
Distribution Reliability Measures
Regulatory Investment Test for Distribution
Expenditure Forecast Assessment
Comment on the draft amendments to the guidelines is open to all interested parties until close of business on June 30, 2022. Feedback will be used to inform the final guidelines, which are due to be published on August 1, 2022.
Further information on the consultation and access to all documents can be found on the Australian Energy Regulator website. A handy explanatory statement can be viewed here, which provides a more detailed overview of the review process.
Footnotes
While the NER refers to "national", Western Australia has a separate legislative framework. ↩