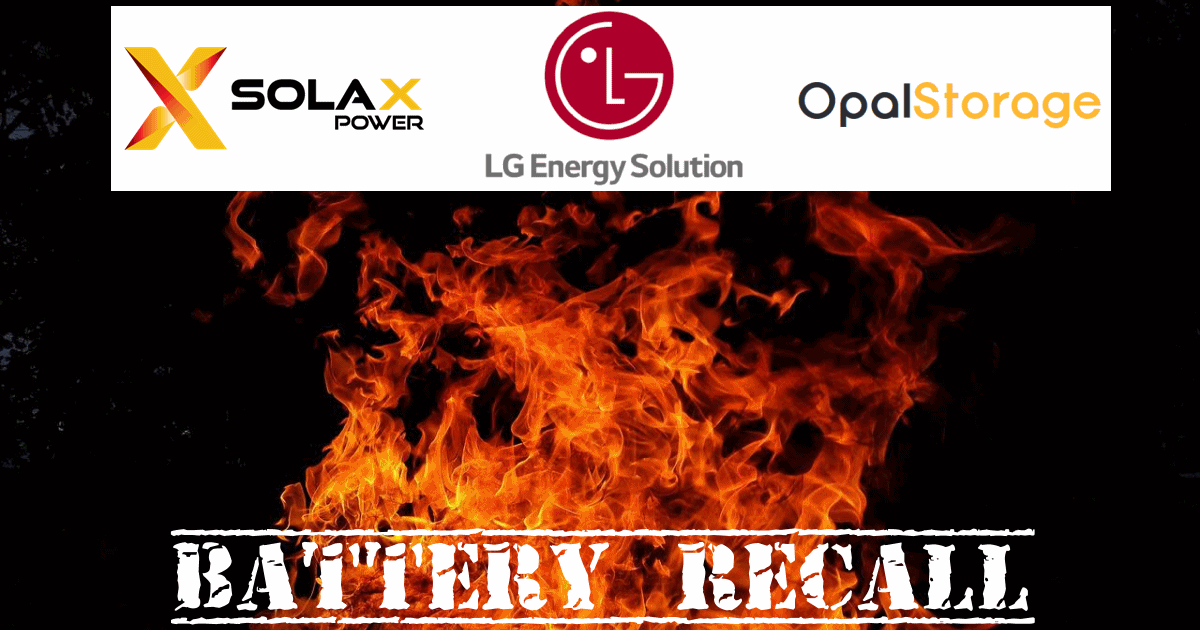 A recall of certain LG, SolaX Power And Opal Storage battery systems is ongoing, with thousands of at-risk units still to be replaced says the ACCC.
First, a bit of background.
In late 2020, LG Energy Solution implemented a voluntary recall in the USA after several reports of fires associated with certain LG Chem RESU 10H residential energy storage systems.
Then in February last year, a recall notice was published on the Australian Competition & Consumer Commission's (ACCC's) Product Safety Australia web site for various LG battery models and battery packs with cells manufactured between March 2017 and September 2018 from certain production lots. At that point, 479 units in Australia were affected by the recall.
In late March this year, a new recall notice went up on the Product Safety Australia web site in relation other brands using affected LG battery packs – SolaX (X-cabinet, PowerStation) and Opal Storage (rebadged SolaX). This wasn't a recall that could be ignored – affected units may overheat and cause a fire.
The scale of the issue wasn't clear at the time, but it turns out around 7,200 battery systems were impacted. Considering 140,000 battery systems had been installed in Australia up to the end of last year, it's a significant chunk of the total tally.
ACCC Issues Another Alert
On Friday, the ACCC expressed serious concern that 6,400 of the recalled batteries have not been replaced, and owners may not be aware of the recall and the fire risk.
"These batteries have already caused injury and fire damage to properties and could lead to serious injuries or death," ACCC Deputy Chair Delia Rickard said. "Consumers who identify they have an LG energy storage battery under recall are urged to immediately contact LG to discuss next steps, including a free replacement when available."
Risk Reduction
Owners of affected systems wishing to switch off their battery should follow their instruction manual for shutdown procedures or contact their installer or LG/SolaX Power for advice.
In the interim while replacement batteries become available, among the measures LG has implemented to reduce risks for owners is to drop the maximum state of charge of an affected system to 75 per cent. In cases where battery systems are connected to the internet, LG has been able to do this remotely. In other cases, this needs to be performed on-site by a qualified technician.
How To Check A Battery
LG battery owners should see instructions on this page on how to identify an affected system. It's a two-step process; first gathering the required serial number information and then submitting those details to LG via a form. For any questions or further information required, the ACCC advises contacting LG Energy Solution Australia's product department via phone on 1300 677 273 or email at [email protected]
SolaX/Opal Storage owners are urged to immediately contact SolaX Power by email at [email protected] or by telephone on 1300 476 529 for assistance in determining if they have an affected LG battery; which have model numbers LG S/A Gen2 1P (EM048063P3S4) and LG S/A Gen2 2P (EM048126P3S7).
If you know of someone who owns an LG, SolaX Power or Opal battery system, do them a very big favour and point them to this or the recall notice pages: LG here and SolaX Power/Opal Storage here.