Green Energy Markets' latest Renewable Energy Index states small scale rooftop solar power systems installed in October across Australia will deliver $195 million in power bill savings over the next ten years.
"Electricity consumers are flocking to solar to shield themselves from the significant electricity price rises that have unfolded this year," states the company.
Electricity price hikes in July saw households and businesses throughout much of Australia slugged with increases of up to nearly 20%, so the spike in interest in going solar comes as no surprise as new bills started rolling in –  along with the shock.
Green Energy Markets notes that in October, rooftops solar installations exceeded 100 megawatts of capacity for the month (106MW). The company says the only other occasion when 100MW+ was installed was back in June 2012.
The report states the 15,736 small-scale systems installed during October will generate electricity equivalent to powering almost 28,000 homes, and supported 5,193 full-time jobs.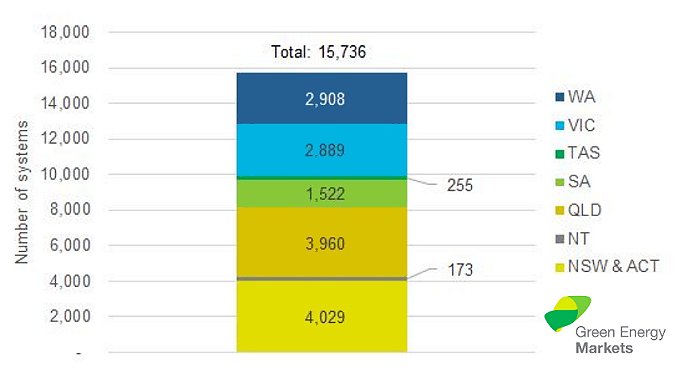 Queensland led the states and territories in terms of rooftop solar installs and employment, with 3,960 systems installed during October; supporting 1,347 full time equivalent jobs.
The latest Renewable Energy Index, which includes Green Energy Markets' methodology, can be downloaded here (PDF).
The Clean Energy Regulator's take on October was quite different to Green Energy Markets'.
In its recently published Cracking The Small Scale Code,  the Regulator states there were 7,412 small-scale systems installed nationally in October (6,152 of those solar PV), with a total capacity of 37, 991 kW (all systems). However, the Regulator's published statistics were current as at November 1. The stats are based on Small-scale Technology Certificate (STC) creation – and certificates can be created for up to 12 months after installation, meaning the installation figures for October will continue to rise.
The Regulator states 88 solar PV systems had a concurrent battery storage installation in October – so less 1.5% of installations it noted.
The SolarQuotes auSSII report for October indicated just under 5% of Australians receiving quotes from the service during the month were seriously considering installing solar + battery systems concurrently.
According to the Clean Energy Regulator, there were at least 1,763,298  <100kW capacity solar power systems installed across the country as at November 1.