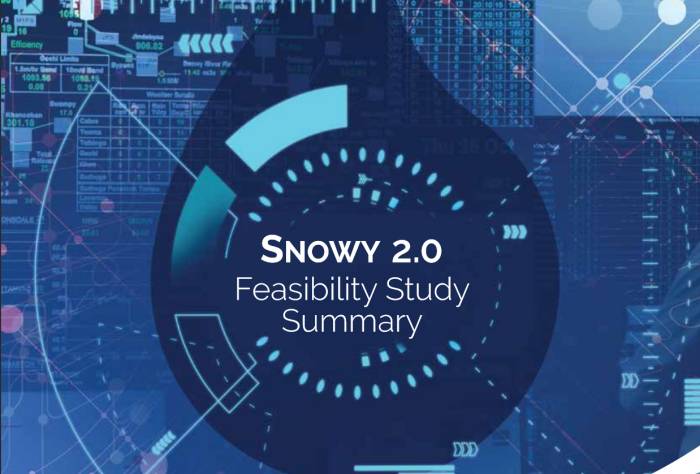 Snowy Hydro's feasibility study on the Snowy 2.0 electricity generation expansion and pumped hydro storage project has been completed. It's doable says the company, but it won't be cheap.
The Snowy 2.0 project will increase generation capacity by up to 2,000 megawatts and provide approximately 350,000 megawatt hours 1 of energy storage when at full capacity.
To be situated around halfway between Melbourne and Sydney, Snowy 2.0 would link Tantangara and Talbingo Reservoirs via approximately 27 kilometres of tunnels. A hydro power station is to be constructed at the middle point between the reservoirs, built almost 1 kilometre underground.
This  power station would feature "reversible turbines"; enabling water to be pumped back to the upper reservoir (Tantangara) during times of low electricity demand, using surplus energy provided by renewable sources such as wind farms (or brrr …coal?). This water is referred to as "energy-in-waiting".
The company says Snowy 2.0 won't impact on downstream water releases and won't use any additional water.
"By moving or recycling water between our existing storages, it gives us more flexibility to manage our water, especially in times of drought," says Snowy Hydro's Guy Boardman.
What Snowy 2.0 Will Cost – And Who Will Pay?
The current estimate for the project is a whopping $3.8 – $4.5 billion; far higher than initial guesstimates of around $2 billion. Commenting just prior to the report's public release; Snowy Hydro Chief Executive Paul Broad said the company would pick up the tab and there will be no cost to taxpayers.
However, RenewEconomy's Giles Parkinson states the feasibility document says Snowy 2.0 is only viable if Snowy Hydro stops paying dividends to its government owners – so in effect, a tax-payer subsidy. The RenewEconomy article also raises other thorny questions about the project.
UPDATE: David Leitch has also published his take on Snowy 2.0.
Assuming it goes ahead, the first power generated from Snowy 2.0 is expected in 2024.
The company claims while other technologies can be implemented if Snowy 2.0 is not built, such as battery storage and gas peaker stations, Snowy 2.0 is "by far" the cheapest option.
"Snowy 2.0 has significant benefits for consumers. By pairing new dispatchable renewable generation with large scale energy storage, Snowy 2.0 will make renewables reliable and lower future energy prices," says the feasibility study summary. "Snowy 2.0, along with the existing Snowy Scheme, will underpin an orderly transition from coal to renewables and help Australia meet its global climate change targets."
Snowy Hydro's independent Board of Directors has approved to progress the Snowy 2.0 project from the feasibility stage towards final investment decision, and to pursue further related work and project refinements.
A summary of the feasibility study can be downloaded here.
Footnotes
It's been estimated 450,000 megawatt-hours of energy storage is required in Australia to support a 100 per cent renewable electricity system. However, the estimate didn't envision the majority of it being in one spot ↩