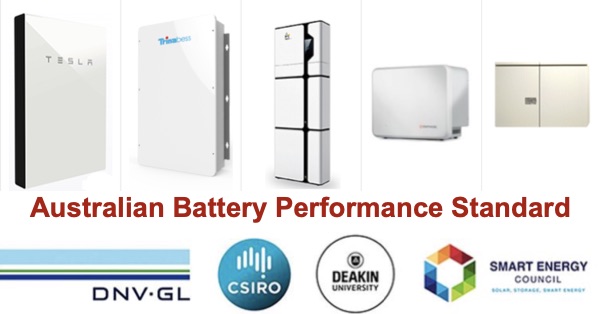 Out of my twenty-four 2V, 1200AH batteries, one has developed a fault and is dragging on the whole system. It would be a simple warranty claim except that I have to get the battery tested, and where I live nobody has the equipment needed.
As a result of my battery discussions with my installer, I was very interested to learn that a solar battery performance standard is under development; so last Thursday (June 20), I joined a webinar hosted by the Smart Energy Council briefing the industry on its progress.
As is so often the case with standards, it will still be some time before the final document is ratified – but the industry is very close to having a usable document while Standards Australia goes through its formal processes.
Explaining the draft standard, which was completed at the end of May 2019, CSIRO Energy's Dr Anand Bhatt and DNV GL Australia's Felix Liebrich told the briefing that Australia's progress toward battery performance reporting standards makes us an international front runner.
The standard will apply to batteries connected to domestic and small commercial solar power systems, covering total system sizes up to 100 kW / 200 kWh.
Making It Easy To Compare Battery Data Sheets
The aim of the standard isn't to prescribe the behaviour of the batteries themselves – there are already too many different chemistries and designs in the market for that – but to put the testing and documentation of solar batteries on an equal footing. That way, we in the industry – most particularly, retailers and installers – will be able to read spec sheets on a like-for-like basis, making it easy to compare solar batteries and give end users the best possible advice.
That can be difficult as things now stand. Manufacturers self-report battery performance, not always using the same parameters, making such comparisons difficult and complex.
As shown on DNV GL's project page, that involves a lot of different systems: data might be reported at the cell level, the whole battery level, the DC system level, and the AC system level – with a variety of sub-modules involved in each of these.
As well as making sure solar battery manufacturers report a consistent set of parameters, Liebrich told the briefing the standard will also mean those running battery tests – which may be wholesalers and independent test labs as well as manufacturers – can know what tests they need to carry out.
As Dr Bhatt told the meeting, lead-acid battery lifetimes might be between 180 discharge cycles and 8,000 cycles, depending on measurement setup; while lithium-ion lifetimes can be reported as between 2,000 and 8,000 cycles.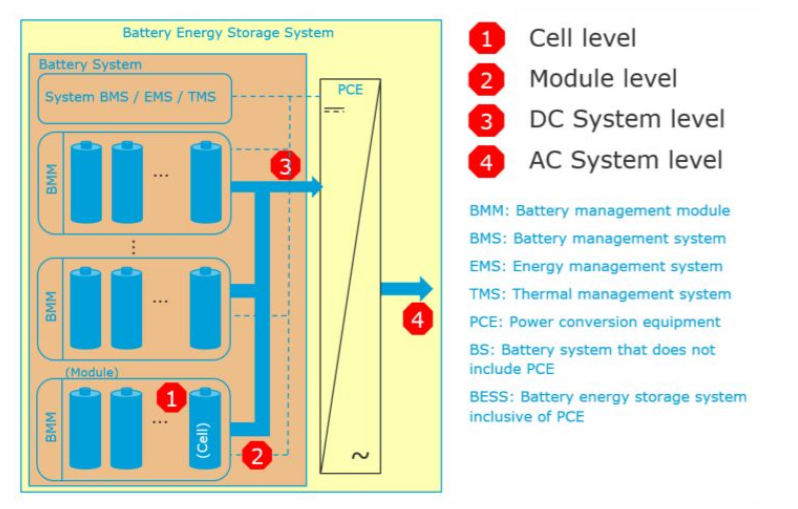 Manufacturers Gaming Battery Performance Figures
Dr Bhatt said there has been evidence of manufacturers "gaming" how battery performance is reported. For example, lifetime is discharge dependent – a solar battery that never suffers more than 5% discharge will deliver a much better lifetime than if the tester punishes the battery with a full discharge on each cycle.
Capacity tests are another target for the standard, Dr Bhatt said: "When we ask for a capacity rating, we want to know the time taken and the currents used", he said – again to stop makers from gaming the system. "The tests are designed to provide usable numbers, estimates of efficiency losses … we're trying to remove that sort of gaming."
The standard will also cover how manufacturers specify the temperature range a solar battery is intended to operate in – but the far extremes of temperatures that could be seen in a climate-changed Australia won't be covered. For example, operation when the mercury hits 52°C is already far outside any battery manufacturer's warranty range.
That said, the standard covers four regional temperature averages for four seasons, to be as predictive as possible across the whole country.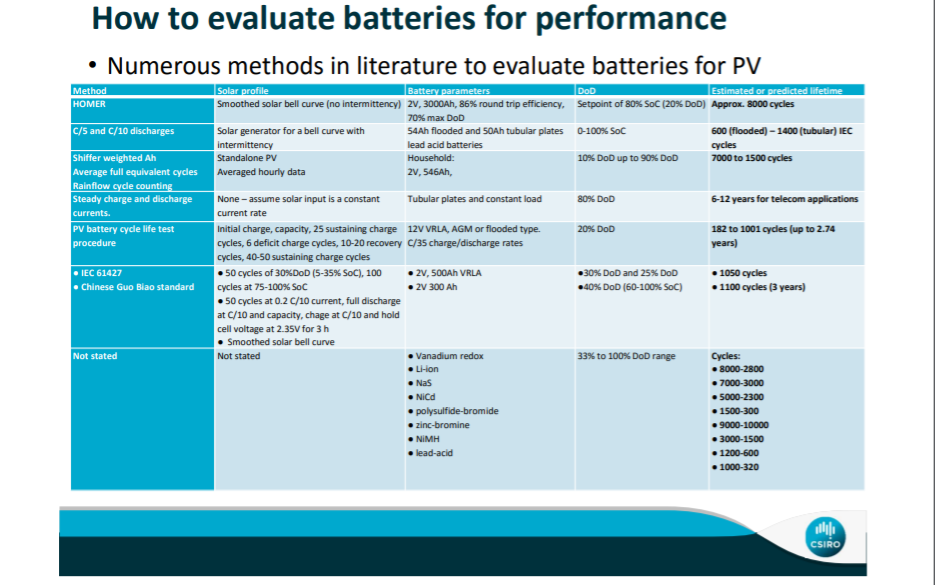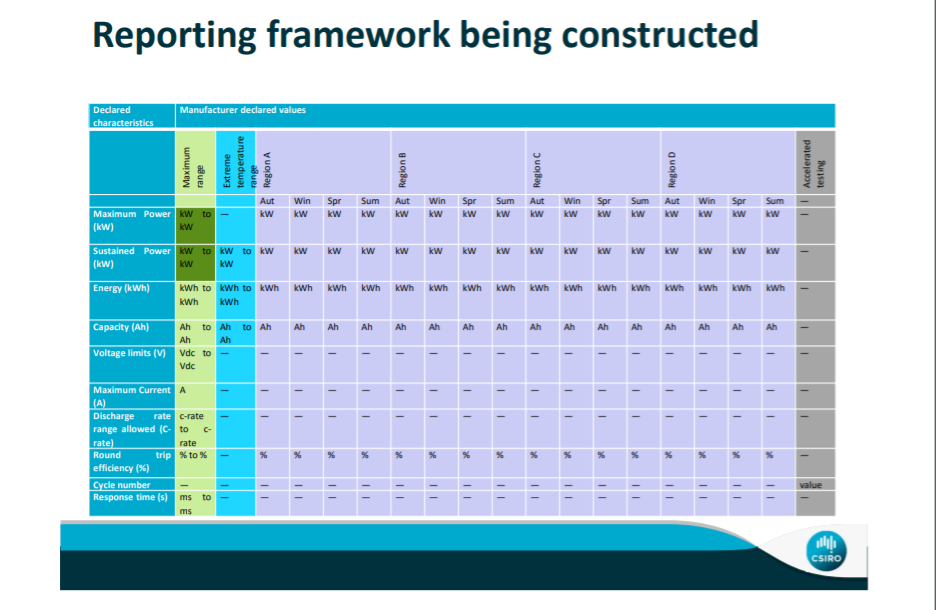 The standards experts combed through hundreds of documents as the basis of their work, and identified many gaps in current international frameworks, so there are many more variables in the proposed standard's electrical profile. It includes maximum power and sustained power (kW), stored energy (kWh), capacity (AH), voltage and current limits, C-rate (the maximum allowable discharge rate), efficiency, cycle number, and response time.
The two user profiles currently under consideration in the standard are today's default solar-with-battery profile (battery stores energy from PV, discharges during morning and evening periods); and the "virtual power plant" (VPP) profile, in which the battery is managed by the VPP when it's not being used by the owner.
Where to now?
When the project concludes in May 2020, the formalisation of the standard – that is, its ratification by Standards Australia – will commence. In the meantime, the project participants hope the draft standard will be adopted as widely as possible.
The CSIRO is due to publish battery testing pathways as soon as possible.
If you'd like to take in the webinar in full, the Smart Energy Council has it here, along with the full set of slides.
The standardisation project is funded by ARENA and the Victorian state government, and as well as CSIRO and DNV GL, participants include the Smart Energy Council and Deakin University.
And my problem? The standard will arrive too late to help, and while "warranty reporting" isn't directly mentioned in the reporting framework, I'd hope that the industry can pluck out suitable parameters resellers can test in-place, so I don't have to manhandle the battery out of the system and into my car to take to a test centre!