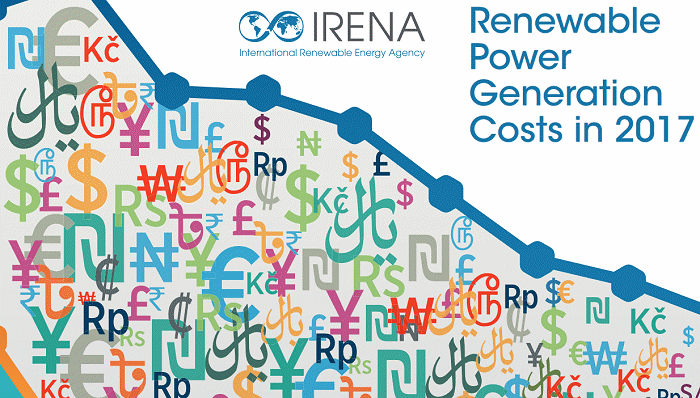 A new report from the International Renewable Energy Agency (IRENA) that includes information on Australia shows how much the cost of electricity from solar power and other renewables has dropped in recent years.
IRENA states the global weighted average levelised cost of electricity (LCoE) from utility-scale solar PV has plummeted 73% over 7 years – with further reductions to come.
Global weighted average costs over the last year for onshore wind and solar PV were USD 6 cents and USD 10 cents per kWh respectively. IRENA says the best onshore wind and solar PV projects will be delivering electricity for USD 3 cents per kWh (around AUD 3.8 cents at current exchange rates) or less by 2019, well below fossil-fuel based electricity generation prices.
The cost range in G20 countries during 2017 for fossil fuel-based electricity generation was estimated to be between USD 0.05 and USD 0.17/kWh.
Utility-scale PV's remarkable performance has been primarily driven by an 81% decrease in solar panel prices since the end of 2009, along with reductions in balance of system (BoS) costs.
IRENA says all current commercially viable renewables technologies will fall within the cost range of fossil fuels or undercut them by 2020, with most at the lower end of the range.
"Turning to renewables for new power generation is not simply an environmentally conscious decision, it is now – overwhelmingly – a smart economic one," said Adnan Z. Amin, IRENA Director-General.
Residential Solar Costs In Australia
The Renewable Power Generation Costs In 2017 report also mentions home solar power in Australia. IRENA's figures indicate the average total installed cost of residential solar PV systems in this country had dropped 50% in the second quarter of last year compared to the second quarter of 2013.

The report states the levelised cost of electricity from Australian residential solar systems dropped 45% over the same period. While that's impressive, the LCoE shown for Australia seems rather high; but it appears IRENA's calculations are based on the assumption of a 7.5% cost of capital.

Total installed costs for commercial solar power (<500kW) in Australia have also seen a huge drop – 44% lower in Q2 2017 compared to Q2 2014. The LCoE of commercial solar in Australia had dropped 38% over the same period, and in Q2 last year was the lowest in the world.
The full Renewable Power Generation Costs in 2017 report can be downloaded here (PDF).