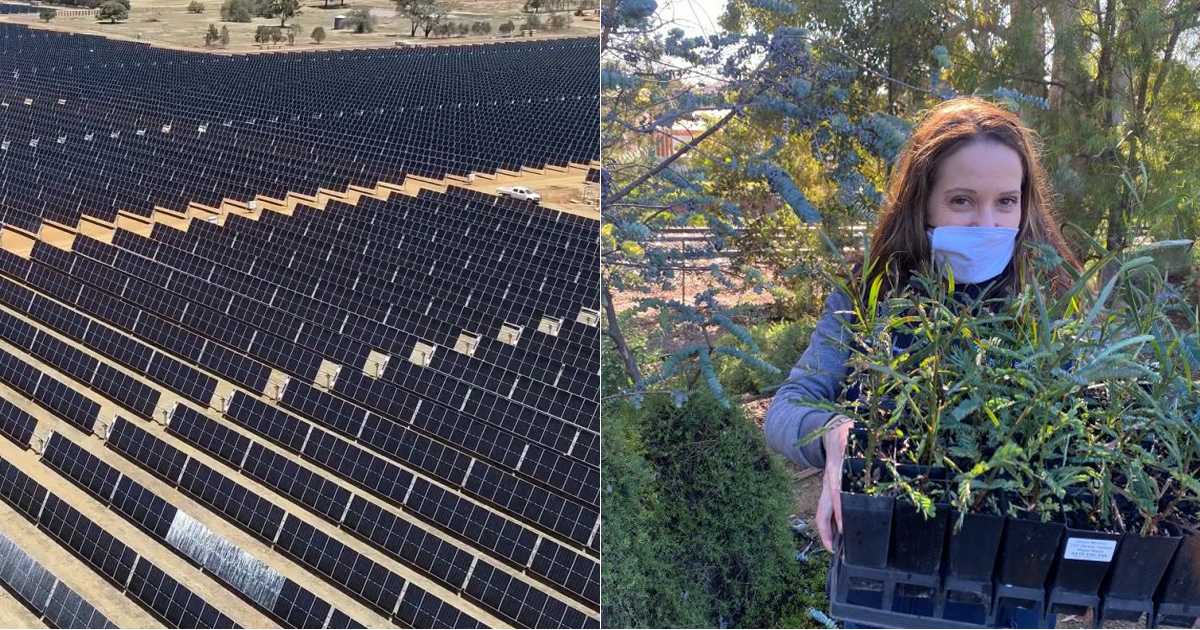 Beyond the clean electricity, jobs and associated economic activity, many solar farm projects provide other positive and ongoing benefits in their local communities.
Solar farm projects are well-known for providing a sugar-hit of employment during their construction and it's not unusual for hundreds of jobs to be created during this phase. But after the construction is complete and these PV-based power stations are operational, there's not a lot in the way of ongoing full-time equivalent employment.
However, accompanying many projects are community benefit funds and other arrangements that provide cash and support to local communities to carry out various activities.
A recent example we mentioned is the recently-approved Stubbo Solar Farm in New South Wales – a huge venture that will involve 400MW of solar power capacity and a 200 MW/200 MWh battery storage system. This project is expected to generate 400 jobs during the construction phase and support 10 ongoing jobs when operational.
The community benefits package associated with Stubbo Solar Farm includes an initial payment of $100,000 to Mid-Western Regional Council over the construction period, plus a payment of around $120,000 per year in contributions to Council for community enhancement projects.
Bomen Revegetation Project
An example of community benefit funds in action is associated with Bomen Solar Farm, a 100MWac clean power station located in New South Wales' Wagga Wagga Special Activation Precinct that became operational last year.
Bomen Solar Farm is owned by Spark Renewables, part of the Spark Infrastructure Group. Westpac purchases output from Bomen Solar Farm under a power purchase agreement (PPA) inked last year that will deliver 45 per cent of the bank's 100 per cent clean energy target. Westpac purchases approximately thirty percent of the electricity generated by the solar farm.
Yesterday, Wagga Wagga City Council announced an ambitious revegetation project in the Bomen area involving 58 hectares of previously cleared land across 4 sites that are to be planted with more than 50,000 seedlings.
The project, to be run over 5 years, is receiving $250,000 funding from Bomen Solar Farm, as part of a partnership with Spark Renewables and Westpac.
"It's encouraging to see private industry take affirmative action in the communities in which they operate and work with Council to help improve our region's biodiversity and provide the habitat needed to restore our native fauna populations," said Council's Manager Environment & Regulatory Services, Mark Gardiner.
As well as acting as a carbon sink, the plants selected for the project will help support species including the Superb parrot, Swift parrot, Glossy Black-cockatoo and Grey-headed flying fox.
15,000 native seedlings have been organised to go into the ground this winter. The sites have been prepared in consultation with the local Wiradjuri community and the project feeds into Council's Biodiversity Strategy: Maldhangilanha 2020-2030.
"Bomen Solar Farm is committed to giving back to the Wagga Wagga community and the Bomen Revegetation Project is just one program being supported with the $1 million Community Fund that Spark Renewables has established in partnership with Westpac to fund local community initiatives over the next decade," said Claire Dawson, Head of Legal & Community at Spark Renewables.
Among other projects under the community benefits package is $500,000 for programs at Mount Austin High School and $50,000 for the Euony Bushfire Brigade.
Stubbo and Bomen Solar Farms are just two examples of how solar farms in Australia can support communities past the construction phase. If you have a solar farm proposed in your area, check out the community benefits package associated with the development – and if there isn't a generous one, push for it.