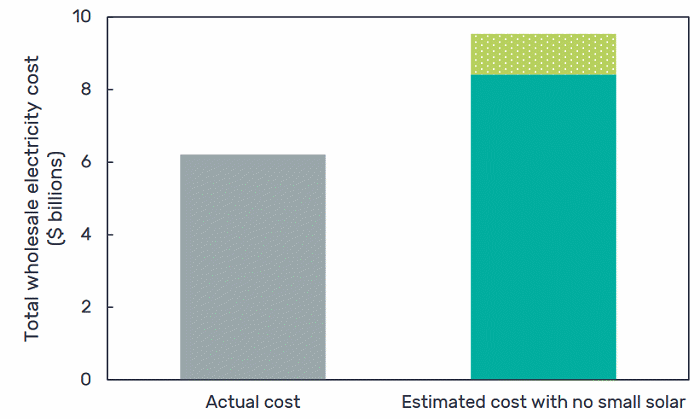 The hundreds of thousands of solar power systems installed across New South Wales are benefiting all electricity consumers – collectively to the tune of billions of dollars.
A new report prepared by Energy Synapse on behalf of Solar Citizens gauges the impact of small scale solar (<100kW capacity) on the state's wholesale electricity market from May 2016 to April this year. It states without small PV, the volume weighted average price of wholesale electricity could have been 33-50% higher.
"This price depression equates to a cost saving of $2.2-3.3 billion to the NSW market. This benefit is shared by all consumers, regardless of whether or not they have installed solar panels," states Energy Synapse.
The report says small-scale solar PV had the most significant impact on wholesale electricity pricing during February 2017. In February, New South Wales was hit by an extreme heatwave that boosted demand and resulted in the coal-fired clunker, Liddell Power Station, failing. The other factor was a very steep supply curve at high levels of demand.
"This enabled small solar generation to have a bigger impact than at lower levels of electricity demand," states the report.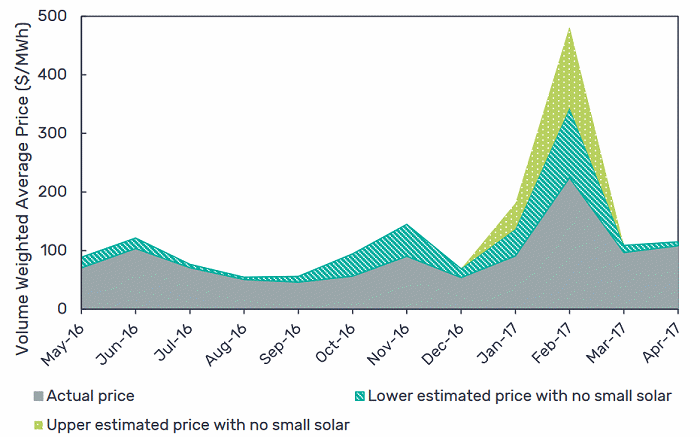 During the top 10 demand days, small solar reduced the severity of peak demand by an average of 432 MW (3%) and slashed its duration by 58%; from an average of 5.3 hours to 2.2 hours.
The authors also determined small-scale solar continued to place significant downward pressure on wholesale prices in the late afternoon, even though PV generation tapers off during this period.
The report, titled " Impact of small solar PV on the NSW wholesale electricity market," can be viewed here (PDF).
The latest information from Australia's Clean Energy Regulator, current as at 1 September 2017, indicates more than 377,000 small scale solar power systems are installed throughout New South Wales. The state has the second highest number of systems installed in Australia, behind Queensland's 523,000+.
Recent substantial electricity price rises coupled with increases to feed in tariff incentives have made installing solar panels in New South Wales – and across much of Australia – an even better investment. Given the situation, SQ blogger Ronald recently suggested system purchasers should install as many solar panels on their rooftop as they reasonably can.