On Thursday I attended the All Energy Conference and saw a presentation by Sandy Pulsford of the Clean Energy Council on solar panel quality.  The gloomy skies above Melbourne that day well matched the bad news he gave about the quality of some solar panels in Australia.
Sandy Pulsford manages the Clean Energy Council's product testing program which checks the quality of a small portion of the panels sold in Australia.  He also oversees the development of their PV module listing process that tracks the almost 14,000 varieties of panels that can receive STCs when put in place by a qualified installer.
Before I start giving you the bad news, I'll tell you the good news. If you bought premium panels from a high end manufacturer they are probably fine, as the manufacturer will be concerned about maintaining their reputation and is unlikely to have sold you rubbish.
If you bought mid-range or lower cost tier one panels you may have a problem, but the odds are still good they will be of decent quality and reliability.  However, if some slick salesperson managed to talk you into buying solar panels that weren't tier one and/or from a manufacturer with a reputation for quality, then I am afraid there is an excellent chance you will learn first hand about all Australia's solar panel quality problem.
Many Panels Do Not Match Manufacturer's Descriptions
We were told that many panels out there, potentially including those that are tier one, do not match the descriptions on their datasheets and cannot meet standards their datasheets claim they have been certified for.  This can include salt mist corrosion resistance, ammonia corrosion resistance1, and PID resistance2.
Of the panels tested by the Clean Energy Council, or CEC for short, it was found that:
78% were under powered and could not produce the watts they were rated for.
45% had substituted components that were different or inferior to what the manufacturer claimed they were made from.
Out of 30 manufacturers tested, 5 averaged over 20 microcracks per panel. A quality solar panel has zero microcracks.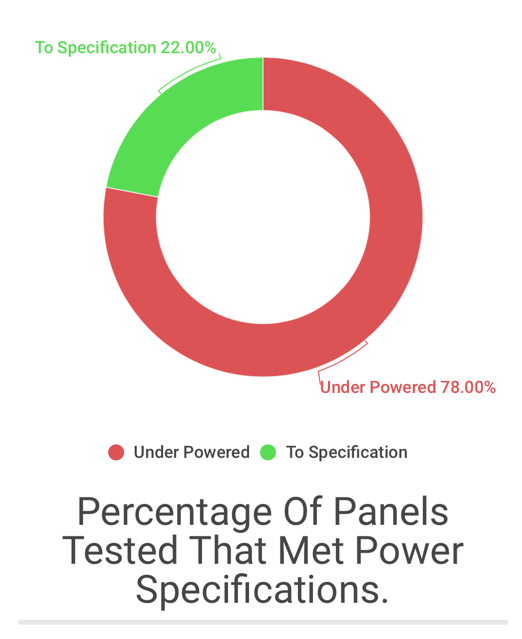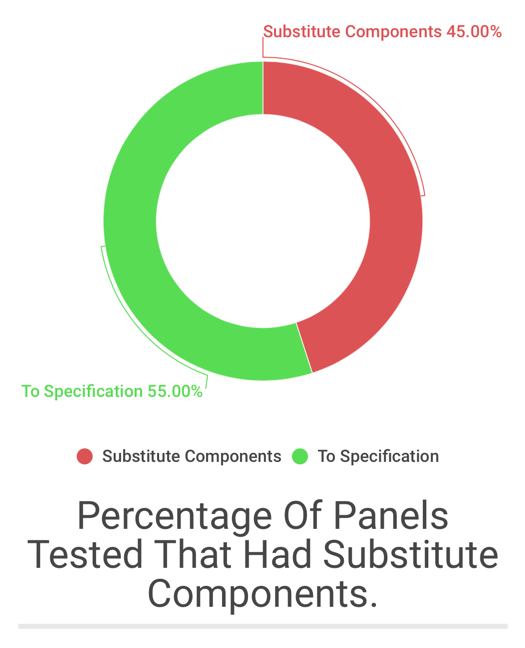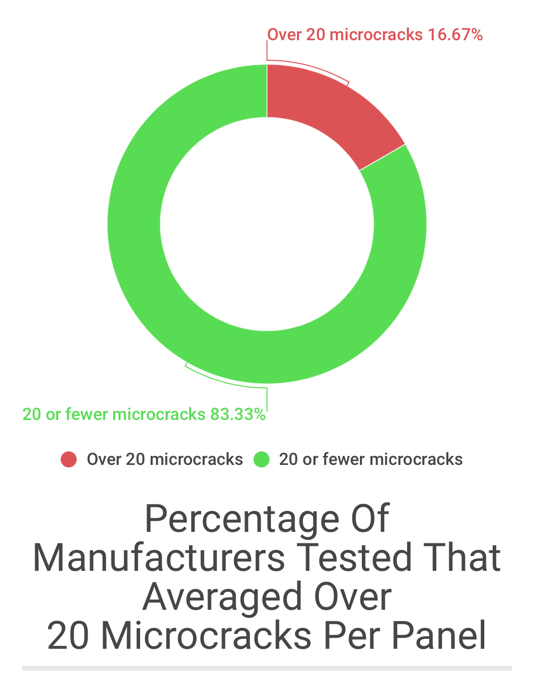 In his talk, Sandy Pulsford described how one model of solar panel can have many varieties made with different components and only the one made with quality materials may be capable of passing tests and obtaining the certifications given on datasheets.  If Australian importers don't specify in writing exactly which variety of panel they want, they are likely to receive a cheaper version made from inferior components.
Several steps were outlined for for importers to use to reduce the problem:
Don't buy the cheapest panels possible.  Pay enough to cover the cost of quality components.
Use the full model numbers to order the versions made with quality components that certifications apply to and check those panels are the ones that are received.
Pay for agents to be present in the solar panel factories to physically check the panels are made with the correct components and those are the panels that are sent.
Not meeting the claims made on datasheets is a huge violation of Australian Consumer Law, but many overseas manufacturers either don't care or aren't even aware of the existence of Australian Consumer Law.  But given the number of Australian companies that don't seem to know about it, I guess I can't be surprised.
How The CEC Investigates Panel Quality
The CEC doesn't have the resources to investigate every panel for quality and manufacturer honesty.  What they can do is investigate panels they receive complaints about and so have reason to believe won't stand up to scrutiny.
So far they have investigated panels from 30 different manufacturers.  As each manufacturer can produce several different models and each model can have scores of variants, I have no idea how many panels in total they have tested.  It was probably a lot.
In the past 12 months they have tested the panels of 14 manufacturers and 7 failed and have been delisted.  This means they have been removed from the huge list of panels approved for use in Australia.
In the same time, another 9 panels were delisted for not meeting the Terms and Conditions for panels to be sold in Australia. In some cases this were simply due to a company stuffing up their paperwork, while in other cases companies apparently couldn't be bothered to do the paperwork properly and have decided that staying in the Australian market isn't worth the effort.
In the latest round of testing, 7 manufacturers had their panels examined and of them 5 had misleading documentation.
Why Haven't I Heard About These Delisted Panels?
Unfortunately it takes time for a panel to go from failing its tests to being delisted and we can expect to hear just who the latest rejects are in March. Obviously, it would be better if the wheels could move faster.  The damage caused by lousy panels would be lessened if they could be delisted at ludicrous speed rather than ludicrously slowly, but it is probably a matter of limited resources and red tape. Hopefully, the process can be streamlined in the future.
Tier One Is Not A Guarantee Of Quality
There are plenty of people out there who will tell you that a tier one rating is not a measure of reliability, but bankability.  Some of the people who are happy to tell you this sell panels that are not tier one.
It is absolutely true that tier one only means large financial organizations are willing to lend money to large scale projects that use these panels.  But it is also true that no one is going to use solar panels for a large scale project if they are crap. So tier one status is an indicator of quality, but not a guarantee.
Tier one manufacturers want to remain tier one and produce quality panels with a reputation for reliability. But they also know people who are spending hundreds of millions building giant solar farms are more likely to pay attention to the reliability of their panels in solar farms rather than on Australian roofs, so the temptation does exist for them to supply cheaper, lower quality, panels to the Australian residential market.
Also, the people spending hundreds of millions of dollars on giant solar farms make damn sure they get exactly the type of panel they ordered made with exactly the components they contracted for.  This kind of oversight often simply doesn't exist for panels headed for Australian rooftops.
Hopefully, tier one manufacturers care enough about their reputation to have sent decent quality panels to Australia, but there is no guarantee of this. And when a manufacturer runs into financial trouble3 and is concerned about still being around in six month's time, let alone 10 or 20 years, the temptation to substitute cheaper components will be strong.
Sub Tier One And OEM Panels Are The Worst
The CEC found the most problems with panels that are produced at high volume and sold at low cost. In other words, those that are competing on price and not quality.  While this category could include the lower cost tier one panels, my personal experience is that panels below tier one perform far worse on average.
Included among the worst performers are OEM panels which stands for Original Equipment Manufacturer.  In this context, it means panels that were made by a manufacturer for another company that are sold under the other company's brand.
In some cases OEM panels are not a problem.  For example the giant company Flex has been making quality panels for other companies for many years now.  But these aren't the panels I'm talking about.  Sometimes manufactures who sell decent products under their own brand will use this method to sell off their poorer quality panels to avoid harming their company name, while at other times it is simply a dodgy method for avoiding responsibility. After a few years when warranty claims from selling shoddy panels start to mount up, the company that rebranded them can disappear while the company that made them can keep on producing crap panels.
Under Powered Panels Cheat Purchasers
A total of 78% of the panels tested were under powered. This means they did not produce the power they were rated for. This includes the panels' tolerances.
All tier one panels have a positive tolerance.  This means if you buy a 270 watt tier one panel it should give a minimum of 270 watts of power when tested under standard conditions and maybe a little extra.  But bottom end panels can have tolerances of plus or minus 5%.  So if one of these panels is under powered by just 2% the buyer would be paying 7% more per watt than the rating suggests.  This will be 7% of the total cost of the system, as other costs don't get any lower just because the panels are weak sauce.
Quality Panels Have A Nice BoM
The list of components used to make a solar panel is called its Bill of Materials or BoM for short. One model of panel can have many different variations using different BoMs. Unfortunately, certifications for corrosion resistance, ammonia resistance, PID resistance4, and the ability to pass other tests, will often apply to only one specific BoM.  Unfortunately, I can't think of one single manufacturer that mentions on their datasheets that they produce inferior versions of the same model of panel that cannot live up to the claims they make.
So someone who installs a particular model of panel by the seaside because they think they are salt mist corrosion resistant may find them corroding away after just a few years because the Bill of Materials of that particular version of the panel had substituted lower cost materials that can't handle the salty conditions.  The same goes for someone in Townsville who thinks their panels are PID resistant or someone who bought what they thought were ammonia corrosion resistant panels because they enjoy peeing on them.  (Peeing on a solar panel in the daytime is probably a lot safer than you think it is, but it's not nearly safe enough in my opinion. The chance of a bad outcome is awfully small, but that outcome is awfully bad.)
45% Of BoMs Were Wrong
It's bad enough that a manufacturer will sell panels with BoMs that can't meet the claims made on their datasheets, but of the panels they tested, the CEC found that 45% of their BoMs were fraudulent and the panels did not contain the components claimed.  In some cases manufacturers may have swapped out a component for one of equal or better quality and simply neglected to do the paperwork showing the change, but the temptation is definitely there to substitute cheaper components and hope no one notices.  After all, the CEC can only test a very small portion of the panels approved for sale in Australia.
Microcracks Are Bad News
CEC testing found that 5 out of 30 manufacturers had an average of 5 microcracks per panel. The number of microcracks there should be in a new panel is zero.  Microcracks are very small and can't necessarily be seen with the naked eye.  Hence their name.  For example, I have a solar cell I know is full of microcracks because I put them there with my fat fingers, but if I lay it down flat they are mostly invisible and only the worst can be seen.
Each microcrack will cause a tiny reduction in a panel's output, but that's just the start of the problem. The tiny decrease in power may not be noticed when the panel is new and the pieces are pressed closely together, but after years on a roof where it will suffer thermal expansion and contraction from changes in temperature and flexing from the wind, those cracks can expand, multiply, and grow worse. They can damage electrical contacts and cause a hot spot to form which can cause the entire panel to fail.
If a panel comes with some microcracks rather than none, it can indicate two things. Firstly it is excellent evidence the manufacturer's quality control is poor and so there are likely to be additional problems and that doesn't bode well for its reliability. Secondly, it suggests the panel may easily develop cracks through normal transport and handling and this is also a sign of poor reliability.
Trust Solar Datasheets? Sure Can't!
You may think producing datasheets that state a solar panel is certified as being resistant against corrosion or PID and then selling versions of that panel that don't meet that certification is a massive breach of Australian Consumer Law.
And you'd be right. It bloody well is.
But, as I mentioned, manufacturers may not care or even understand what Australian Consumer Law is.  I've talked to representatives of large overseas manufacturers and they don't seem to have a clue.  One cheerfully told me, "Our product warranty is just a piece of paper!" and they can actually become rather distraught if you try to explain it to them5.
The good news is, the CEC will require datasheets for panels where not every variant has been certified to state that things such as corrosion, ammonia, and PID resistance are only optional or available by request and not a feature of every panel. They will also require all warranties to mention the existence of Australian Consumer Law.  Unfortunately, these changes may take 12 months to implement.
Using Complete Model Numbers Is Vital
In order to make sure panels received from overseas have a nice BoM and are actually capable of what their datasheets say they are certified for, it is vital for importers to use the complete model number when ordering them.
For Example: Don't order XYZ P275 panels, order XYZ P275 – 234-987-ABC panels.
If you look down the CEC list, you'll see lots of panels from the same manufacturer and the same power and silicon type, but with a number of different suffixes. Each one has a different test certification.
The digits at the very end of a solar panel model number must be written on the order.
These final digits specify exact BOM of the panel. So if they are not on the order then they have the option of sending cheaper panels with an ugly looking BoM.  If the company they are being purchased from isn't motivated to maintain a good reputation in the Australian market, guess which are likely to be sent.
It's also not enough to request in writing exactly what you want and to use the correct and full model number when ordering, it is also necessary to check you actually receive what you have paid for, on account of how not everyone in this world is 100% honest.
Australian Importers Need Agents In Overseas Factories
To ensure they get what they have ordered, larger Australian importers need to pay agents to be present in overseas factories to check the agreed to Bill of Materials is actually used to make the panels and that those panels are the ones that get shipped to Australia.  Sandy Pulsford said:
"That is what the manufacturers expect and if you haven't got an outside agent looking over their shoulder at what they use during that production, then they assume you don't care about what you're going to get."
What Can Homeowners Do?
You may be wondering what individual homeowners can do. Well, if you already have panels on your roof that aren't from a premium manufacturer and aren't even tier one, then all you can do is cross your fingers and hope they last.  There are companies out there doing pretty much everything right in order to build a good reputation and potentially become tier one in the future, so let's hope you got one of them instead of a company looking to make a quick buck.
If you are looking to install solar panels in the future, then the only way to be very confident of receiving what you have paid for to shell out for premium panels where the manufacturer has a reputation they want to defend.
If you don't want to pay for premium panels and instead purchase lower cost tier one panels then you are probably safe, as these companies will still want to maintain a good name, but it's not really possible for the average home owner to be certain they haven't received a variant of a panel made with cheap materials.
What I do not recommend doing is purchasing panels that are not tier one and not from a reputable manufacturer.  The cost of tier one panels is now so low that it makes no sense to purchase panels that aren't tier one or from a manufacturer with an excellent reputation.  The difference between a low cost tier one panel that will probably last 25 years versus one that might only last 5 years can be less than $20 per panel.
So no matter what a salesperson tells you, no matter how much German design he says went into the panel, or if he tells you the silicon ingots were organically grown and cut into solar cells by virgins in the Solomon Islands, if it's not from a well-known manufacturer with a solid reputation for quality — don't buy it.