Here is a photo I took of a house around the corner from me.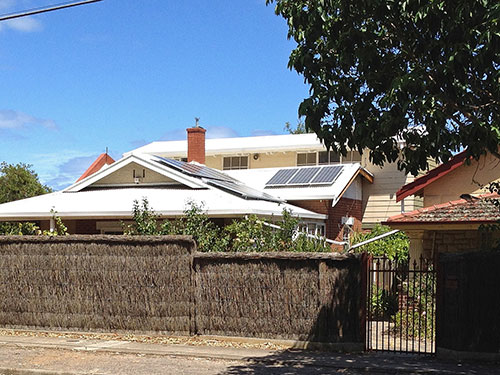 As you can see, it has solar panels on 2 separate roof areas. In solar jargon, you would say there are 2 "strings" of solar panels.
The main string is facing North, which is the best roof orientation for solar panels. These panels should get the optimum amount of sun throughout the day.
The smaller string is facing East. These panels will get 15-20% less sunlight than the panels facing North.
Obviously the installer could not fit all the panels on the North facing roof. Fair enough.
If your home will require solar panels on multiple roof areas, which face different directions, then you should use a special type of inverter to ensure that you still get good system performance.
Multiple Roof Areas Require Multi String Inverters
If you have solar panels facing different directions then you need a Multi String Inverter (also called a Multi MPPT inverter) with one string/MPPT for each roof area.
In order to maximise output from your solar panels, each roof area's panels must be connected to a separate inverter string that has its own Maximum Power Point Tracker (MPPT). The MPPT is a bit of electronics that optimises the power from the panels. It is impossible for an single MPPT to work optimally if it is connected to panels which are facing different directions.
[ For the technically minded people the reason for this is that the IV Curves are different for each roof area because they get a different amount of irradiance from each string of panels. This means there are 2 maximum power points to choose from and an MPPT can only optimise properly to 1 maximum. ]
Caveat: The exception to this rule is if you have 2 identical strings, 1 facing east and 1 facing west.
If you are using a reputable solar company then they will employ a CEC accredited solar designer to individually design each homes solar system, and take stuff like this into account. If you ask to see the design drawing of your solar system they should show you it. For the solar system above, it would look something like the sketch below – notice how it clearly shows each string is wired into its own MPPT in the inverter.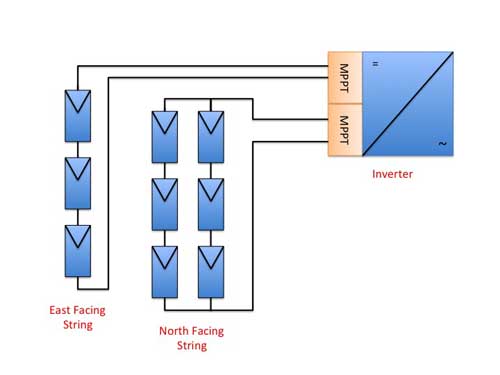 If your system is not designed like this then the string of solar panels with the least sun shining on it at any one time will drag the other panels' power down to its low power output. This will reduce your power output. If your solar installer cannot provide a diagram like this as part of your quotation (and more importantly as part of your final contract when you are ready to buy) then move quickly on to a more professional firm.
 UPDATE: June 2013
Thanks to Martin in the comments below for pointing out that, since I wrote this post, an alternative option has come to the market in Australia: micro inverters. Micro inverters are a fantastic new technology whereby each panel is has its own inverter, and there is no central inverter at all. This means that every panel is optimised independently and you can have as many roof areas pointing in as many directions as you want. You can read lots more about the pros and cons of microinverters here. I'm a fan – I have 6kW of the little beauties on my roof in sunny Radelaide.
UPDATE: March 2016
Thanks to Hagen for pointing out that using the phrase "This will cripple your power output" is an exaggeration, so I changed it to "This will reduce your power output" . In the example in the line diagram, due to the configuration of the strings the power output will be reduced slightly, with a single MPPT, not crippled. In other configurations the power reduction could be much more. A good solar installer will quantify all this for you as part of the design documentation.