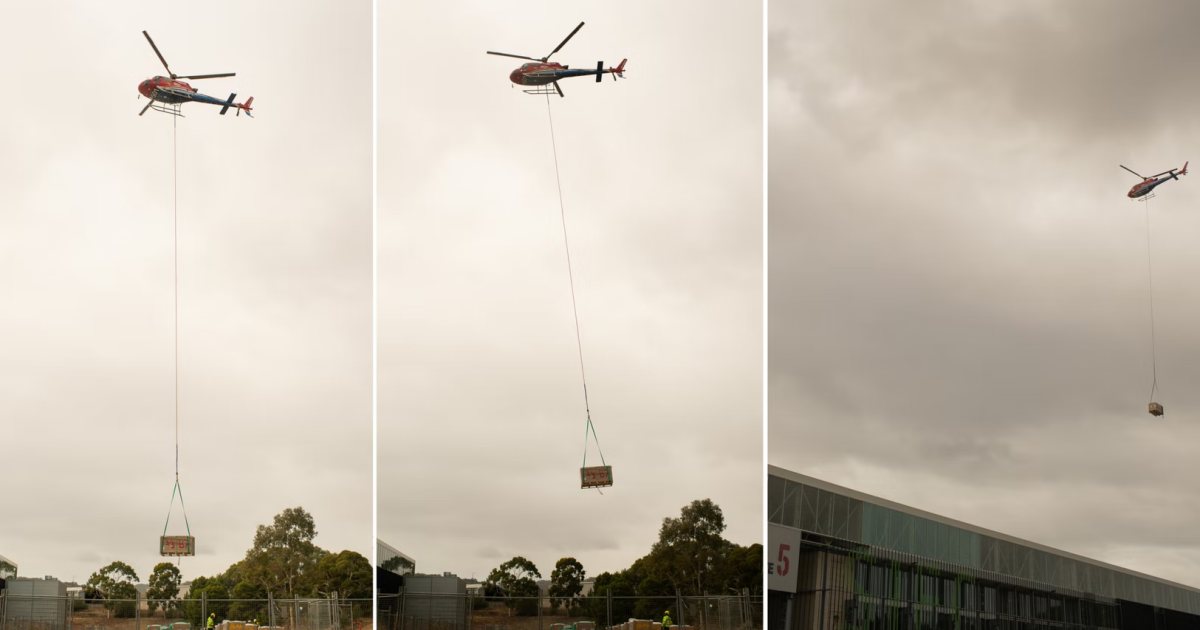 2,000 solar panels were recently airlifted by helicopter onto the roofs of Renewal SA's Line Zero building and TAFA SA's campus in Adelaide's Tonsley Innovation District.
In what turned out to be a 10-hour exercise, 80 pallets of solar panels weighing up to 800kg each started making their way onto the rooftops from 6.30am on Saturday, May 7. The lifts were carried out by Adelaide's Aerotech, which among other activities provides heavy lift aerial crane operations for significant construction projects.
The solar panels are part of a Stage 2 PV installation at Tonsley Innovation District, increasing its solar power capacity to 5 megawatts.
Combined with the existing solar panels already in place atop the Main Assembly Building (MAB)1, addition of the new capacity will collectively generate up to 80% of Tonsley's energy demand according to Todd Perry, General Manager of Project Delivery and Property at Renewal SA.
"Tonsley has demonstrated a strong commitment to sustainable and innovative outcomes since its inception," said Mr. Perry. "The District Energy Scheme is a great example of that commitment because it gives businesses within the district surety and access to reliable, renewable energy at a cheaper rate without having to rely on supply from the national electricity grid."
Located around 11 kilometres south of the heart of Adelaide, in a previous life Tonsley Innovation District was the home of Chrysler Australia's automotive manufacturing. Mitsubishi Motors purchased the site in the 1980's and shuttered operations there in 2008. In 2010, the South  Australian Government purchased the 61-hectare site, with the intention of creating a smart technology mixed-use precinct and residential development.
10MW Battery On The Way For Tonsley
Today, Tonsley Innovation District hosts dozens of businesses and organisations, with significant representation from the cleantech and renewable energy sectors. Among the firms with a presence there are Tesla and CleanPeak Energy; the latter responsible for delivering Tonsley's District Energy Scheme.
CleanPeak Energy has committed further funding to install a 10-Megawatt battery at Tonsley to soak up surplus solar energy generated for use outside the "solar window".
"Once finished, the integrated solar and battery system will allow the world class Tonsley Innovation District to be supplied by 100% renewable energy," said CleanPeak Energy CEO Phillip Graham.
When done and dusted, Tonsley is expected to host 13,000 solar panels, 34 solar inverters, the 10MW battery system and more than 15 kilometres of electrical cabling installed as part of the District Energy Scheme. Originally, there was to be "up to" 20,000 solar panels for a total capacity of 6 megawatts.
In other recent Tonsley Innovation District news, Labor leader Anthony Albanese and Industry spokesman Ed Husic last week pledged $10 million to boost advanced manufacturing through expansion of Flinders University's Factory of the Future at Tonsley. Flinders' Pro Vice-Chancellor (Research Impact) Professor John Spoehr said the funding would help generate some 800 secure jobs.
Footnotes
7,400 solar panels were previously installed on the Main Assembly Building roof at Tonsley, delivering a total installed capacity of 2.34 megawatts ↩