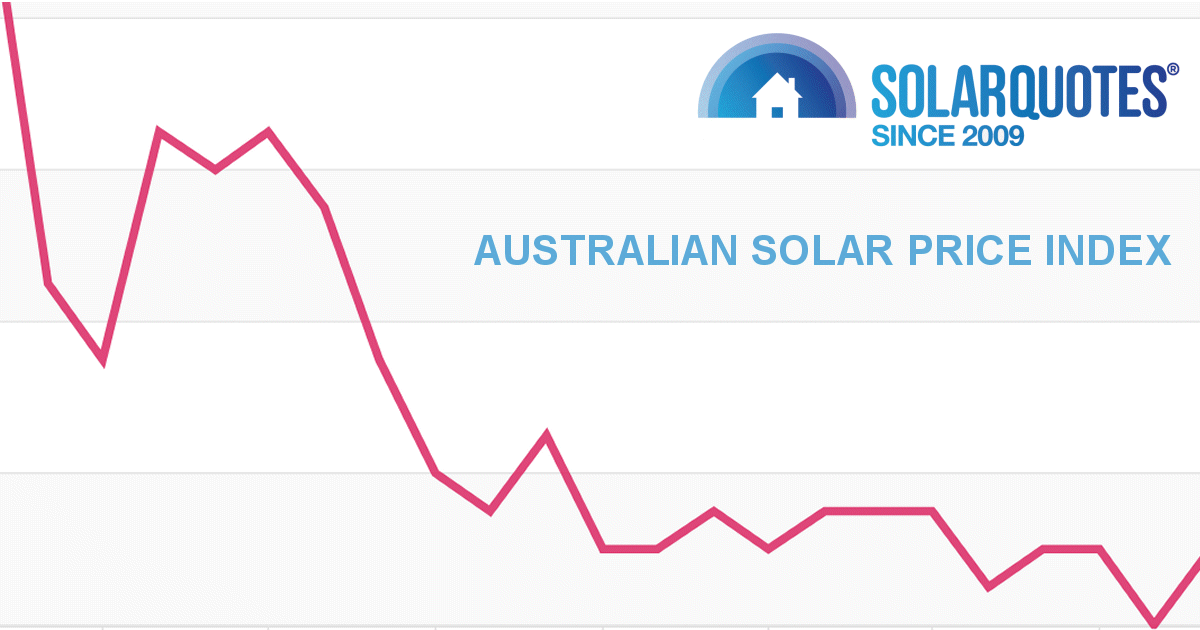 Which state had the cheapest solar power systems overall last month? Here's a hint – the initials are WA. Discover what Australians across the country were paying for solar in May 2022.
Cost per watt for fully installed systems including any up-front subsidies and across all system sizes was a mixed bag again in May. There were decreases in Queensland and New South Wales compared to April, and increases in all other states we had sufficient data for at the time of writing.
State 
Cost per watt
(May 2021)
Cost per watt
(April 2022)
Cost per watt
(May 2022)
QLD
$0.89
$1.02
$0.99
NSW
$0.99
$1.14
$1.11
ACT
$1.02
$1.26
$1.37
VIC
$0.92
$1.10
$1.12
TAS
$1.17
NA
$1.50
SA
$0.92
$1.04
$1.14
WA
$0.71
$0.87
$0.90
NT
NA
NA
NA
AU
$0.92
$1.05
$1.08
May's figures are based on details supplied by 279 Australians who chose to note what they paid for their systems when submitting solar installer reviews – these included reviews of installers not within the SolarQuotes installer network.
Cost Per Watt Nationally
The following graph indicates average cost-per-watt across all system sizes nationally going back to June 2020.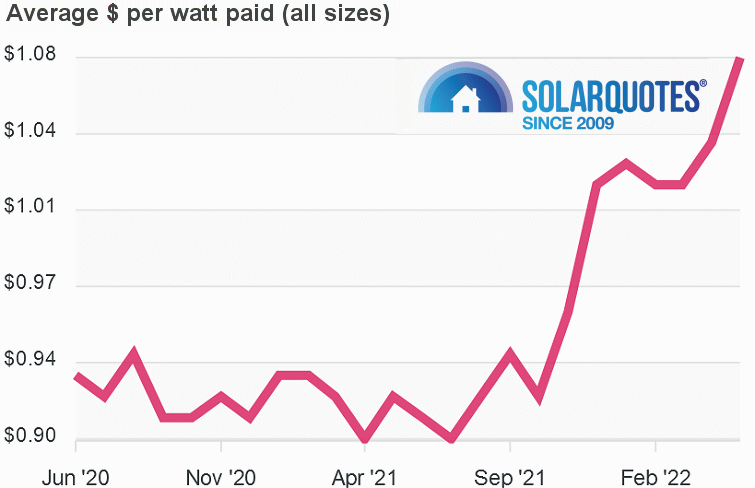 6.6kW Solar System Prices – May 2022
While many Australians are choosing to fill their rooftops with panels these days, 6.6kW solar systems are still very popular (interest in 10kW systems is also growing). The following graph shows how average national pricing on 6.6kW capacity has tracked over the last couple of years.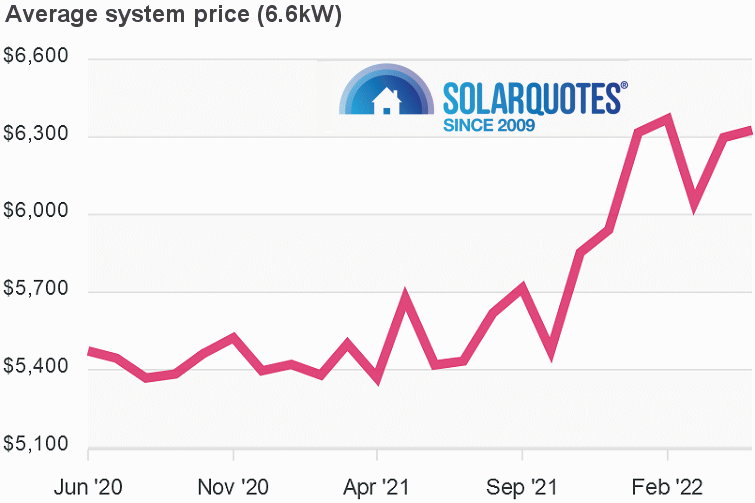 For advice on system sizing and just about everything else you'll need to know about going solar, check out Finn's guides to understanding, buying and owning a solar system.
Electricity Prices Spark A Solar Rush
Last month's report  mentioned significant power price increases for many households and businesses were on the cards. Unfortunately, that came to pass in regional Queensland, SE QLD, SA and NSW,  Victoria, Tasmania and to a lesser degree Western Australia and the Northern Territory.
The uptick in solar energy interest in May became a frenzy in June as news of power price hikes hit home. With supply and demand (and other factors) influencing system prices, it will be interesting to see how the rush has affected the cost of solar power systems during June.
You'll be able to get a sneak peek at how prices tracked during June early next month using the Solar Quotes Australian Solar Price Index; which is what this report is based on. It generates historical solar pricing in each state and nationally, along with filters for creating reports on various system capacities and components.
Note: the tool generates figures in real-time as new reviews are submitted, so the results you'll see for May when using it may differ to the table and graphs above.
Pricier systems are a pain for solar buyers, but so are higher electricity bills – particularly if the current situation continues for some time. Holding off on an installation hoping system prices drop substantially soon could turn out to a costly decision.