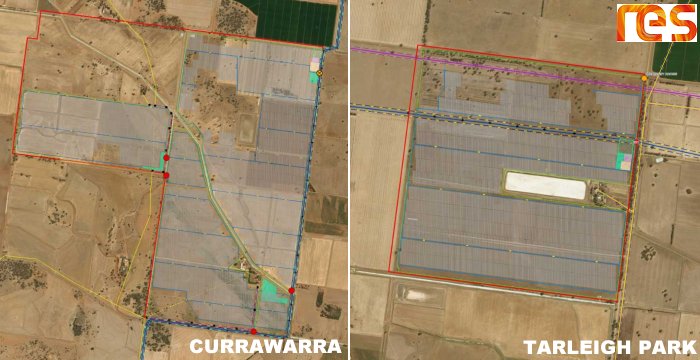 Submissions relating to two proposed large-scale solar + battery storage facilities in the Edward River Council area in New South Wales are currently being reviewed.
Both are RES Group projects to be built not far from Deniliquin.
Currawarra Solar Farm
To be constructed around 25km north east of Deniliquin, Currawarra Solar Farm will have a capacity of around 195MW. The ~667,0001 solar panels will be mounted on either a fixed or single axis tracking system and will generate electricity equivalent to supplying the needs of 77,900 New South Wales homes.
The plant's energy storage facility will be integrated during construction, or within 5 years of the power station's full commissioning. RES says it is contemplating a lithium-ion battery system with approximately  88MW/44MWh rated capacity.
Assuming appropriate approvals are in place within expected timelines, construction of the facility would start between spring 2018 and autumn 2020 and take approximately 18 months to build. The estimated capital cost of the project is $250 million.
Tarleigh Park Solar Farm
The proposed Tarleigh Park Solar Farm site is situated  23km south east of Deniliquin. With a total solar capacity up to 90MW, as with Currawarra, its 290,0002 solar panels will be on either fixed mountings or single axis trackers.
Tarleigh Park's energy storage facility will also be lithium-ion battery based and have a rated capacity of approximately 32MW/16MWh.
The timeframe for construction of the solar farm is 12 months states RES, starting between spring 2018 and winter 2019.
In both instances, battery storage will be housed in specialised containers.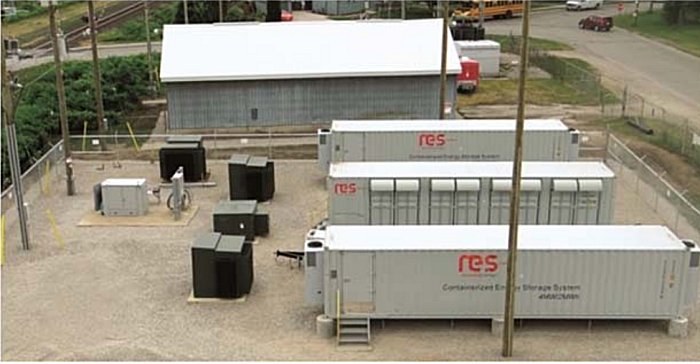 At the end of the envisioned 30 year life of both facilities, farm infrastructure, soil condition and vegetation within the project areas will be reinstated in consultation with the respective landowners and consistent with land use requirements  says RES.
Community Benefits
As well as the clean electricity generated and emissions avoided, the company says hundreds of direct jobs will be created during construction of the two projects, as well as indirect supply chain jobs and flow-on activity for businesses in the area.
Community funds will be set up in both instances – Tarleigh Park Community Fund ($20,000/annum) and Currawarra Community Fund ($50,000/annum), with both funding levels CPI linked.
UK-based RES Group is headquartered in the UK and has a 12 GW project portfolio consisting of wind, solar and battery storage projects. The company, which also asset manages more 2 GW of renewable energy projects around the world, has had a presence in Australia since 2004.
As both solar + storage projects are classified State Significant Developments, they require approval from NSW Department of Planning and Environment (but Edward River Council has had its say). A big solar project recently approved by the Department was the 100MW Hay Sun Farm.
In related news, approximately 915 small-scale solar power systems (<100kW) had been installed in Deniliquin's postcode (2710 – population 10,123) by the end of November last year according to figures from Australia's Clean Energy Regulator. These systems have a collective capacity just north of 4.6MW.