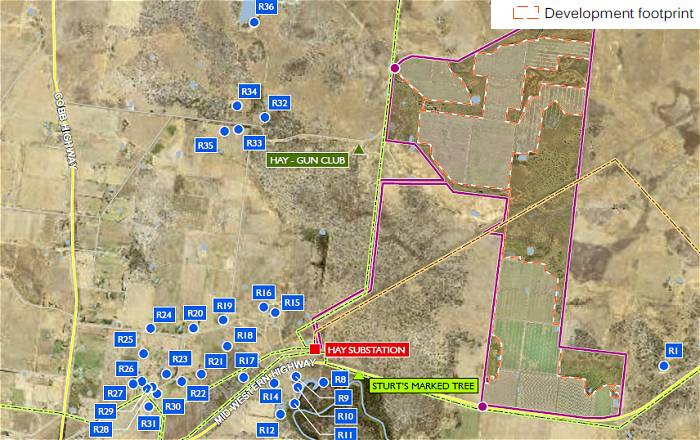 Hay Shire Council has welcomed a decision by New South Wales' Department of Planning and Environment approving the development of a major solar farm in the region.
The NSW Government classified the Hay Sun Farm project as a State Significant Development (SSD), hence the need for the State Government approval rather than Hay Shire Council being able to give the nod.
The $150 million Hay Sun Farm is to be constructed approximately 6 kilometres north-east of the township and is a joint venture between Overland Sun Farming and  Island Green Power UK Limited (IGP).
Consisting of approximately 300,000 solar panels and covering an area of up to 660 hectares, estimated nominal capacity of the facility will be 100MWac; generating enough electricity to supply the equivalent of 41,000 homes. A purpose-built transmission line from the site will connect to the Essential Energy 132 kilovolt  electricity distribution network that originates at the Hay Substation.
An average of 100 full-time equivalent jobs will be created during construction and up to five full time positions during the operational stage of the project.
"Based on the results of stakeholder engagement activities, there is a positive attitude and general community support for the project," states the Hay Sun Farm environmental impact statement. "The project will make important contributions to the production of renewable energy in NSW while creating employment opportunities, diversifying local revenue streams and generating direct and indirect benefits to the local economy throughout the life of the project."
At the end of its operational life of an estimated 30 years, the Hay Sun Farm site will be returned to its pre-existing land use (currently sheep grazing), or other land use in consultation with the landholders – a simpler process than  decommissioning a coal-fired power station.
Hay Mayor Bill Sheaffe said Council embarked on a campaign around four years ago with the goal of attracting projects such as Hay Sun Farm to the region.
"The shire has big spaces, reasonable land prices and lots of sunshine," stated Cr. Sheaffe.
As for small-scale PV in Hay (population: ~2,400), there are 241 solar power systems in the 2711 postcode, representing just over 1.5MW capacity (Source: Clean Energy Regulator) – so Hay Sun Farm will give the area a mighty boost.
Overland has four solar farms under construction at present; Karadoc (Iraak, Victoria -112 MW), Wemen (Victoria – 109 MW), Yatpool (Victoria – 112MW) and Hughenden (Queensland 22.5 MW). Projects under development aside from Hay are Hillston (NSW), Limondale (Balranald – NSW) and Middlemount (QLD).