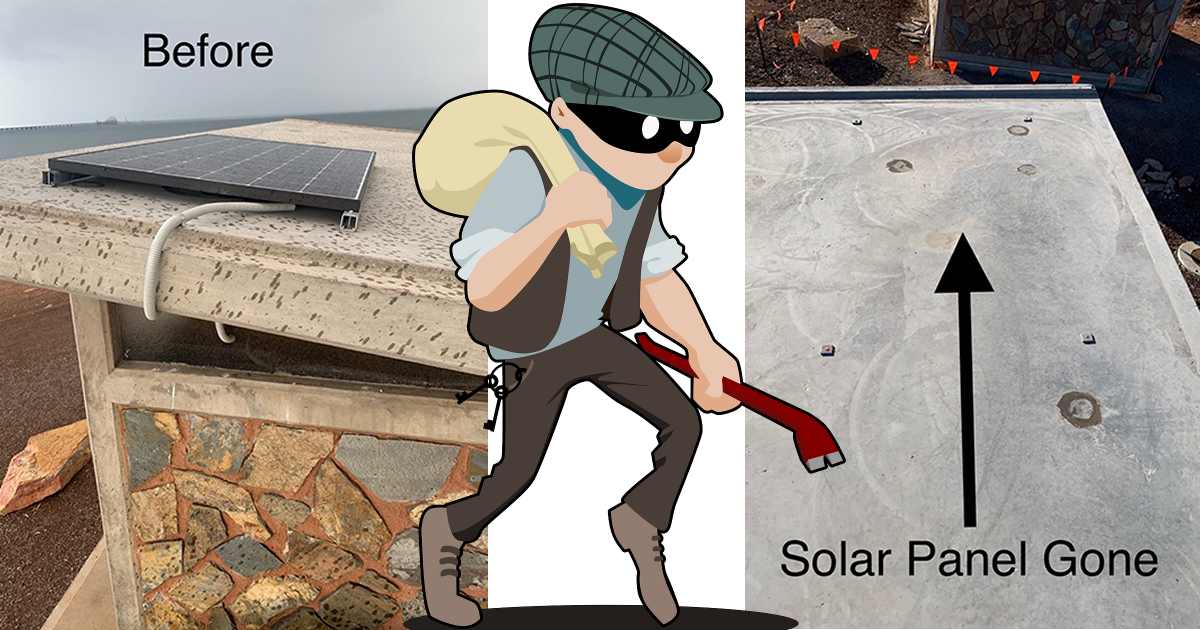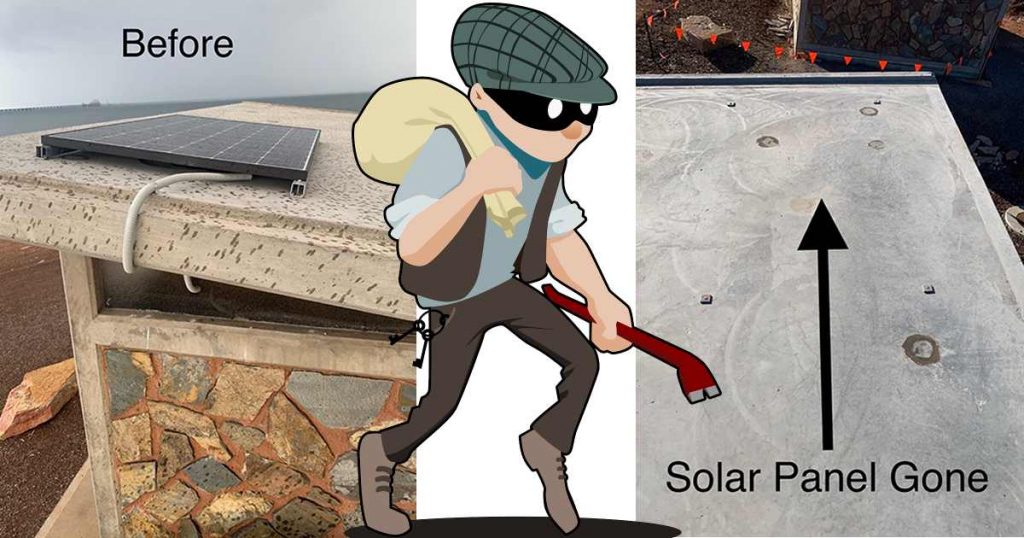 Whyalla City Council's CEO is fuming after a small off-grid solar setup was stolen from the toilet block at Stony Point. This is an example of why we can't have nice things.
Taken were a 300W solar panel and associated cabling, a couple of Leoch Powerhouse EV 6/260 deep cycle batteries, a solar light and associated small solar panels. Also snaffled was a "Power Cube Box" that included a regulator, circuit breakers, 12 volt sockets, Anderson plug and USB ports, and a Sundaya Solar Converter Hub.
Sure, it's not crime of the century or the first time solar panels have been pinched from somewhere. But you can imagine Council's frustration with the situation; particularly given it has happened in the midst of cuttlefish season. Stony Point is a popular spot for observing giant cuttlefish that have gathered in the area for breeding.
Council says it is working to restore the toilets to full working order as soon as possible.
"We are talking about a public-funded facility that provides comfort and a warm welcome to visitors and locals at this important site in our region," said Council CEO Chris Cowley. "These thieves have stolen from the community of Whyalla and effectively taken money straight out of our residents' pockets."
Unfortunately, it's not uncommon for solar panels and batteries to be stolen – but it's usually small systems such as this and from isolated locations. I'm not aware of any reports in recent times of marauding gangs roaming Australian towns and suburbs pinching 6kW rooftop systems.
While the cost of solar equipment has dropped considerably over the years, theft is never cool. This sort of theft is a real prick of a thing to do as these small systems are often powering important amenities (such as in this case) or communications/safety/security related equipment or signage. Thieves also put themselves at risk of electric shock when removing components (so sad), but more importantly, a fire could occur.
While it's possible the stolen solar gear is now residing in/on a shack in the area, it may have also found its way onto sites such as eBay or Gumtree. The theft occurred last Friday and Mr. Cowley has urged anyone with information on the "low-life thieves" to call CrimeStoppers.
Like anything, when buying second-hand solar power components it's important to check their provenance as best you can. On a somewhat related note; check out some advice from SQ's Ronald about buying second-hand solar for your home (spoiler: don't- and it's not just about its potential origin).