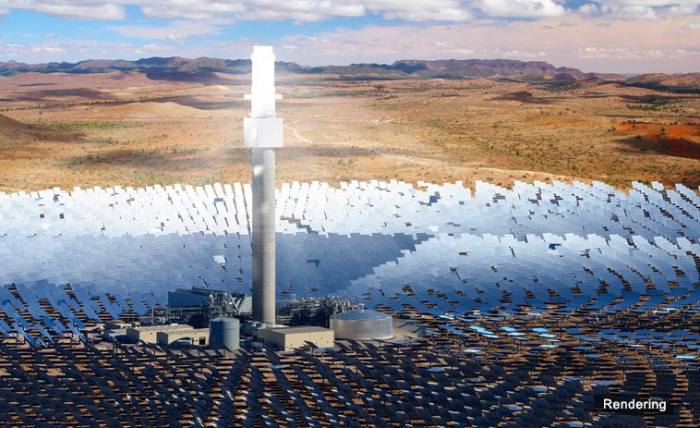 SolarReserve, the company that will develop the Aurora solar thermal power station project near Port Augusta, officially opened two offices in South Australia yesterday.
SolarReserve has established its Australian headquarters in Flinders Street, Adelaide and a field office in Commercial Road, Port Augusta. The company's Adelaide team will be focused on delivering the Aurora Solar Energy Project, while working on future projects in the state and beyond. The Port Augusta presence will act as a networking point for local workers and businesses.
"The Aurora project is part of a much bigger picture for South Australia," said SolarReserve SVP of Development Tom Georgis. " SolarReserve hopes to build six solar thermal projects in the State over the next ten years, with our Australian headquarters in Adelaide serving as the development hub."
The Aurora project is a 150MW solar thermal power plant that will feature 1,100 megawatts-hours of molten salt energy storage, enabling the facility to dispatch electricity during unfavourable daytime conditions and during the night.
"South Australia is leading the world in renewable energy technologies, and SolarReserve's solar thermal power plant is one of the world's most exciting projects," said South Australian Premier Jay Weatherill, who attended the Port Augusta office opening. "Port Augusta is a symbol of South Australia's transition from old to new."
In August last year, the South Australian Government awarded SolarReserve a contract for all electricity generated by the facility and the project was granted development approval earlier this month.
Construction of the facility will begin this year, with completion estimated to be in 2020. SolarReserve says the project and other solar thermal investments in the state will create thousands of jobs for South Australians and generate energy "that's fully dispatchable, day and night."
Premier Weatherill On The "Renewable Energy Election" Trail
Premier Weatherill also turned the first sod at the 212 MW Lincoln Gap wind farm site near Port Augusta yesterday and officially opened the first stage of SSE Australia's Whyalla Solar Farm.
The Premier believes renewables will be a hot-button issue in the state's upcoming election.
"Make no mistake, this state election will be seen as a referendum on renewable energy," Mr Weatherill stated.
Premier Weatherill criticised what he said was State Opposition Leader Steven Marshall's policy of scrapping the Renewable Energy Target and SA Best's Nick Xenophon's view that "wind farms cause brain damage". Mr. Xenophon previously claimed infrasound from wind turbines affects brain activity.
Mr. Xenophon's attitude towards wind power appears to have somewhat softened. He also played a role in securing a $110 million concessional equity loan agreement from the Federal Government to support the Port Augusta solar thermal project. The current status of that loan isn't clear.