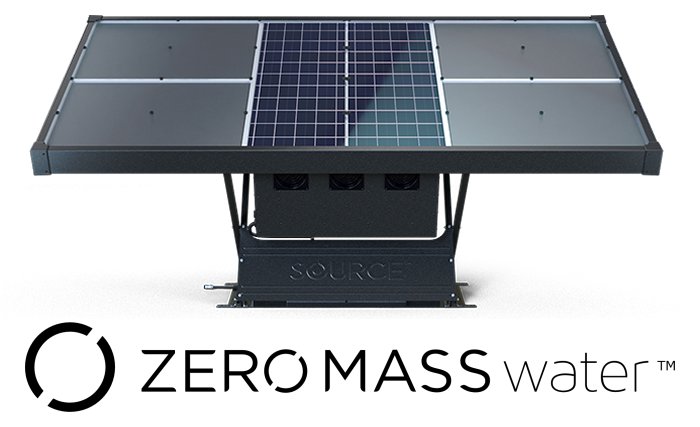 Source is a completely off-grid, solar powered and self-contained device that creates drinking water from sunlight and air.
Air is drawn into the unit with a fan, then special hygroscopic materials absorb the water. The water vapor is collected as the airflow passes through a condenser, then flows into a reservoir where it is mineralised with calcium and magnesium, which avoids a "flat" taste in the final product. Water is pumped through a polishing cartridge before being delivered to a designated tap or a refrigerator with an integrated water dispenser or ice maker
Each hydropanel reservoir is 30 litres capacity, so 60 litres in total for a standard installation (2 hydropanels).
In addition to the solar panels, the system incorporates a battery so the water can be accessed at night and water production can continue during cloudy periods. How long it can operate in unfavourable conditions isn't clear.
Of course, no self-respecting high-tech device these days is complete without an internet aspect. Each Source installation is connected to the Zero Mass Water Network Operations Center, which monitors performance and remotely optimises the system. Any issues that crop up are either resolved remotely, or a service team is deployed.
Zero Mass Water says Source works in low humidity conditions, but it does significantly impact on water production. The following graph is based on a sunny day and based on the number of hours, appears to be during summer months.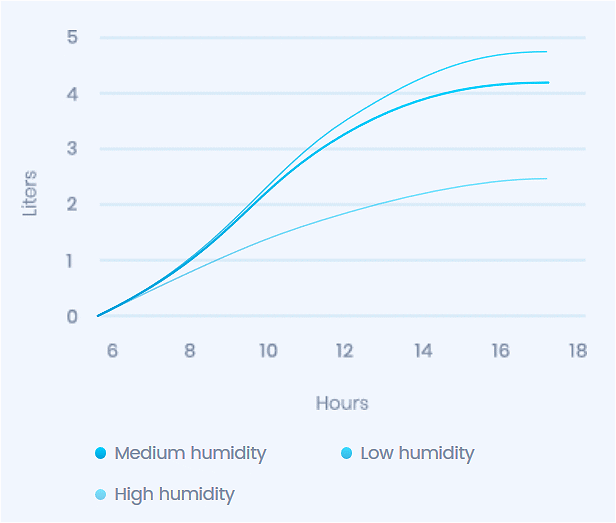 Zero Mass Water states a standard array (2 panels) averages 4-10 liters of water production each day depending on sunlight and humidity conditions.
Source is a hefty device with each panel weighing around 124 kilograms and measuring 1.2m x 2.4m. A special mounting system is used to distribute the weight evenly.
As for the price:
"A standard two-panel SOURCE array is $4,000 plus tax, delivery and installation. Standard installation is $500 in most areas and delivery depends on your location."
.. that's in US dollars – so around $5300 in Australian dollars for the unit – then add shipping, whatever duties and installation to that.
Maintenance-wise, Source requires the air filter and polishing cartridge to be changed annually and the mineral cartridge changed once every 5 years. Maintenance services can be provided by a subscription service.
Zero Mass Water was named a CES 2018 Innovation Awards Honoree for Source in the Smart Home Category. The company's hydropanels will be displayed at CES 2018, which runs January 9-12, 2018, in Las Vegas, Nevada.
It's certainly a very interesting concept, but some might say it's a rather expensive and complex way to create a few litres of drinking water a day.
Learn more about Source.