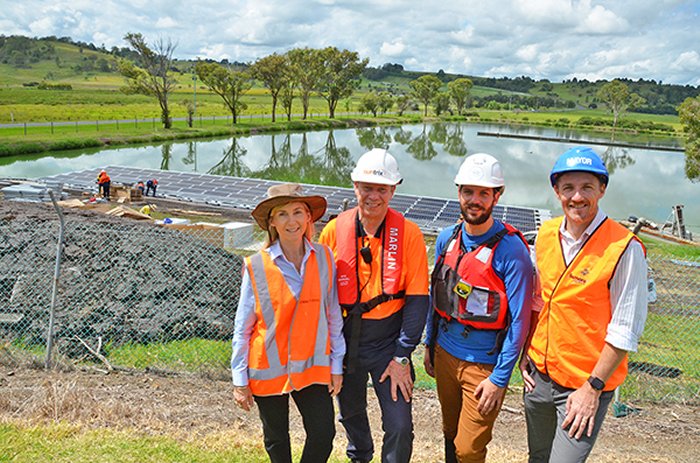 A 99kW floating solar array at the East Lismore Sewage Treatment Plant in New South Wales will provide 12% of the facility's energy requirements.
Installation company Suntrix is in the process of installing 280 solar panels on Ciel & Terre floats on overflow ponds at the plant. Lismore City Council says the cooling effects of the water will improve performance of the system, while shade from the panels on the water below will inhibit growth of algae.
It's expected the official launch of the facility will be in January next year.
The array is the second project under the Lismore Community Solar initiative. The first system, a 99kW array on the roof of the Goonellabah Sports & Aquatic Centre, was installed earlier this year.
"These solar farms are Australia's first council/community solar farms and we believe the floating solar system will be largest floating solar farm in Australia," said Council's Environmental Strategies Officer Sharyn Hunnisett.
The Lismore Community Solar initiative is a collaboration between Council and Farming the Sun.
Investors from the community contributed funds for the projects and Council says these investors will see a return on investment "slightly better than that of a bank." Funding was also sourced from the NSW Office of Environment and Heritage Growing Community Energy grants program and donations from private philanthropists.
Both systems are part of Council's Renewable Energy Master Plan that sets a goal of self-generation all electricity from renewable sources by 2023. Lismore's biggest solar project may be yet to come – also on the drawing board is a potential  large-scale 3.8-4.7 MW solar farm.
Photovoltaics aren't just popular with Council – the residents and businesses of Lismore are pretty keen on solar panels too.
In September, Australia's Clean Energy Regulator named Lismore as one of the nation's top solar postcodes.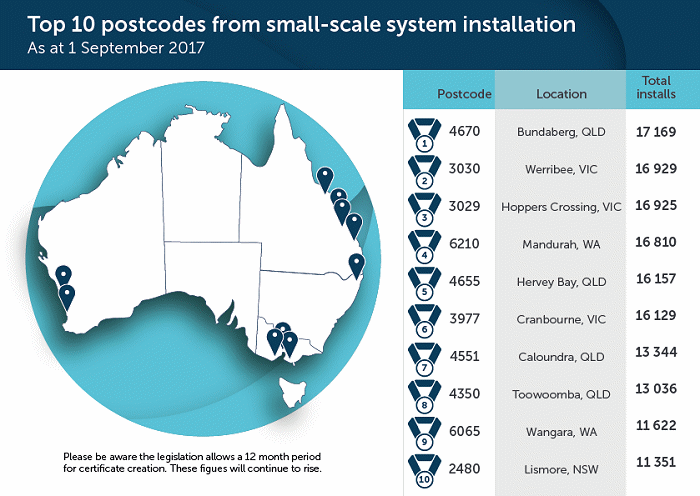 According to the Regulator, at least 1 11,351 small-scale solar power systems had been installed in the 2480 postcode as at September 1, 2017. Lismore was the only New South Wales entry in the September top 10 list, with the other postcodes predominantly in Queensland, Victoria and Western Australia. The top solar postcode was 4670 (Bundaberg), with 17,169 installs.
Footnotes
Under the Small-scale Renewable Energy Scheme (SRES), certificates can be created up to 12 months after installation takes place. It's the creation of certificates that the Regulator bases its statistics on, so the figures will rise ↩