Elon Musk's Latest Announcement Is A Big Trucking Deal
Elon Musk has revealed Tesla's impressive looking electric truck in a live streaming event seen around the world.  But not by me.  Tesla's live streaming technology was clearly too advanced for my bandwidth to handle.  I was only able to see a stuttery version of the final third.  Because of this, I have something to say and that is…
Goddammit Malcolm!  Fix the internet like Tony told you to!1  This is getting embarrassing!  It's not like I'm in the middle of nowhere!  And no, Adelaide is not in the middle of nowhere!  It's only at its edge!
Fortunately, I didn't have to wait too long for electric trucking with Elon to appear on Youtube.
Now that I'm done complaining, I'll tell you about the presentation.
First off, it looks awesome.  This was a surprise because Tesla is well known for its incredibly ugly products.
The driver sits in a central position like on a lawn mower, a zamboni, or a horse.  (Unless the horse is drunk and you need to compensate.)  I like this a lot because it means Australia won't need to wait for a version to come out with the steering wheel on the right side.  There is room for a single passenger on a folding jump seat to the right and behind the driver.
Elon said it would outperform any diesel truck on the road and when fully loaded, will go from zero to 60 miles an hour in 20 seconds.  This means it can out drag a classic Datsun.  When it comes to its performance, I have no trouble at all believing what Elon says.  This is because electric motors have plenty of torque and diesel trucks can have up to 18 gears to work through while the Tesla truck has zero.  You just put your foot down and go.
Elon says it comes in 480 km and 800 km range versions and they'll do those distances with a full load in a worse case scenario.  And now I've stopped believing Elon Musk.  That didn't take long, did it?  I'll go into why I have doubts later.
We were not told the capacity of its battery, but if you believe the Tesla site where it says it uses less than 1.25 kilowatt-hours per kilometer then a battery that provides 800 kilometers would be around one megawatt-hour in capacity.  No mention was made of battery swapping so I am sure that's not available, but what it will have is MEGACHARGING!!! which Elon says can provide 640 kilometers of range in 30 minutes.  That's a lot of MEGACHARGING!!! and with losses these MEGACHARGERS!!! would have to provide over 1.6 megawatts of electrical power.
No mention of price was made, but Elon did say its total cost of operation would be 20% less than a diesel truck.  Even if you assume that Elon is fibbing 20% and it will only break even, in Australia diesel costs 50% more than in the US, so the economics of electric trucking will be better here.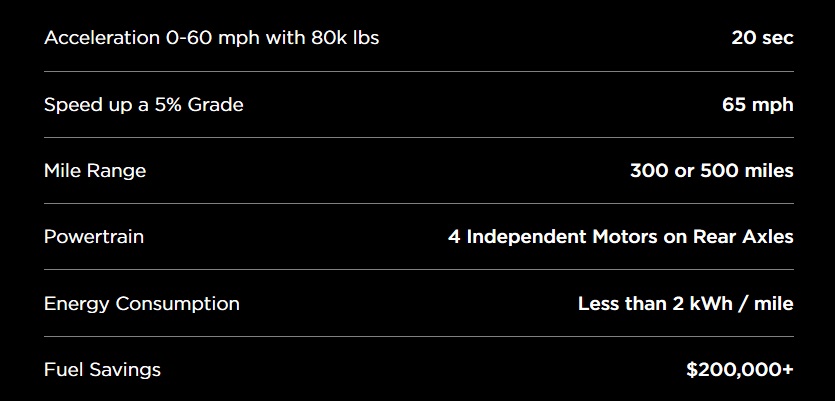 The truck will apparently go into production in 2019.  Hopefully it won't be plagued with the problems of their Model 3 passenger car which has had a glacially slow roll out and is months behind schedule.  Apparently they decided to skip the months of testing every manufacturer carries out before before putting a completely new car model into mass production.  This decision was very courageous and did not turn out well for them.  But this is Tesla we are talking about, a company that does things at ludicrous speed and I'm sure that in a few month's time the model 3 will be ready for launch.  Half a year after it was.  Hopefully things will go more smoothly for their big truck.
Its Range Does Not Live Up To Promises
Six months ago, at a TED Talk, Elon Musk said:
"So this is a heavy duty, long range, semi truck.  So it's like the highest weight capability, and with long range.  So essentially it's meant to alleviate the heavy duty trucking loads.  And this is something people today do not think is possible."
That's 32 words and he manages to say it's long range twice.  If you check the video you'll see he says it's long range two times within 8 seconds:
While 800 kilometers range may sound good to people who only drive cars, to those who actually buy trucks I'm afraid it sounds piddly, because it's not unusual for diesel trucks to have ranges of 2,000 km or more.
It's a pity Elon had to MEGAGILD!!! that lily, because if he had simply held off describing it as a long range truck I would have been amazed when he announced its range was 800 kilometers, as that is much more than I expected.
Unfortunately, I don't believe Elon when he says its range is 800 km.
Translating Musk Speak On Range
In the past Elon Musk has made statements that can't be taken at face value.  Hopefully this is not one of those times — but I sure as hell think it is.
Elon said:
"But what does a 500 mile range mean?  By the way, that's 500 miles at maximum weight at highway speed.  So you're doing like 60 miles an hour.  That's a worse case scenario."
I'm going to be generous here and assume Elon doesn't know what the phase "worse case scenario" means.  What if the truck has to climb a mountain range or drive into 50 kilometer headwinds all day?  But maybe what he actually said was "wurst case scenario" and rather than carrying 27 tonnes of cargo the truck is only hauling one case of German sausages.
But what Elon's quote above appears to make it clear the truck can travel 800 km (500 miles) with a maximum load at around 104 kilometers an hour (60 miles an hour).  But the low figure we are given on the Tesla site of battery energy use of less than 1.25 kilowatt-hours per kilometer makes me think this is not true, because under normal circumstances, let alone a worse case scenario, this should not be possible.
Elon went on to say:
"Because the vast majority of routes are under 250 miles…  You can deliver a load out to the middle of nowhere and come back."
Because the physics of it makes it seem very unlikely to me that the truck's real range is 800 km when fully loaded, I think Elon has left himself a way to wiggle out of his previous statement, because he doesn't mention picking up a load.  So he could mean the truck is capable of driving 400 km at around 104 km an hour with a full load, which for a single trailer diesel semi in the United States would be around 27+ tonnes of cargo, and then after the truck has dropped it off it is capable of driving another 400 km with an empty trailer.
So I think likely that the actual range is not what Elon said at first, but is 400 km driving at maximum weight for the United States — which is 36 tonnes for truck, trailer, and cargo — plus 400 km with no cargo.
Energy Required By An Electric Truck
Fortunately, it is not too difficult to estimate how much energy an electric truck actually requires to haul a full load.
Using a Truck Operating Cost Calculator I see an Australian single trailer truck carrying an average of 24 tonnes of goods will get 2.1 kilometers per liter of diesel.  This is less than the 27+ tonnes of stuff a fully loaded diesel truck would haul in the United States, but that's okay, I'll spot Tesla that much.
Because there are 35.8 megajoules of chemical energy in one liter of diesel the truck consumes 17 megajoules per kilometer.  Modern diesel truck engines are around 48% efficient at supplying power but electric motors are around 90% efficient.  This means they only require 53% as much energy.  They also don't have idling losses and can make use of regenerative braking.  However, a diesel truck will get lighter the more fuel it uses, while an electric truck always has to lug around a large, heavy battery that's the same weight whether drained or fully charged.  I'll come back to the battery's weight, but for now I'll just assume an electric truck requires half as much energy per kilometer as a diesel one, which comes to 8.5 megajoules per kilometer.
Because there are 3.6 megajoules in a kilowatt-hour the Tesla truck will require around 2.4 kilowatt-hours of battery electricity per kilometer.  But Elon Musk said the Tesla truck has such a great range because of its superb aerodynamics and its coefficient of drag is 0.36 which is around half that of a normal semitrailer.
One estimate of the energy lost by trucks to air resistance is 20%.  But a truck moving at 104 kilometers an hour can lose over 50% of its energy to ploughing through air.  Generally a truck's average speed will be under 104 kilometers an hour, but I will optimistically assume the Tesla truck will lose 25% less energy than the diesel truck.  This is despite the fact that Australian trucks require large, unaerodynamic bull bars because of the of the existence of bulls.  I also wonder if its drag coefficient will be so low after it has splattered through one million insects.  But I'll ignore the bug guts and assume Tesla can make some kind of aerodynamic bull bar.
I Don't Believe Tesla's Efficiency Claims
So all up, with optimistic assumptions, a loaded Tesla truck will require around 1.8 kilowatt-hours per kilometer.  This is much higher than the "below 1.25 kilowatt-hours" figure the Tesla site gives and so I do not think the truck's range when fully loaded is 800 kilometers.  Instead it might be two-thirds of that and closer to 500 kilometers.

Tesla might also be assuming the truck and trailer will have ultra low rolling resistance tires, but they could also be put on a diesel truck.  Also, in his presentation, Elon Musk never mentioned the elephant in the room.  Or rather, the elephant on the truck, which is the weight of the battery.
Tesla Truck Battery Weight
The Tesla site says their truck uses less than 1.25 kilowatt-hours per kilometer.  So if the actual figure is 1.2 kilowatt-hours and its range is 800 km as Elon says, then its battery capacity must be at least 960 kilowatt-hours.  Let's make that a nice round 1,000 kilowatt-hours or 1 megawatt-hour.
The 85 kilowatt-hour Tesla S battery pack is 540 kilograms.  That comes to 6.35 kilograms per kilowatt-hour.  If it is assumed over the next two years Tesla can increase the specific energy of the battery by an optimistic 20% then it will weigh 5 kilograms per kilowatt-hour. That's a total of 5 tonnes for the 1 megawatt-hour battery, which is more than the average weight of adult African elephants.
The good news is, because electric motors are light and electric trucks don't require transmissions, exhaust systems, fuel tanks, and many other components, this may save them close to two tonnes of weight.  The Tesla truck uses a carbon fiber body to further reduce its weight, but as that could also be used to reduce the weight of a diesel truck, the Tesla truck is likely to weigh over 4 tonnes more than a diesel of comparable construction.  If we assume the carbon fiber construction reduces its weight by over one tonne compared to a typical diesel truck it is still likely to weigh around three tonnes more.  This will reduce the maximum weight a single trailer semi can carry by an equal amount.  This is over a 10% reduction in maximum cargo weight.
Low Range Is Not A Big Deal
The short range of the Tesla truck isn't a huge problem — for now.  This is because there are plenty of short routes in the world where Tesla trucks can start hauling loads without a problem.  For example a considerable number of electric semis could be kept busy rolling back and forth all day between Brisbane and Toowoomba where the round trip distance is only 256 kilometers.
I can tell you now, that electric motor is going to be great for getting up the Toowoomba range.  There are no gears so you can just floor it all the way.  If the load is heavy it won't fly up the range, but it won't crawl like diesels do.  And trucks leaving Toowoomba won't need a full charge as they can get that using regenerative braking going down the range.
What the short range will complicate is driver scheduling and rest periods.  But while they won't drive themselves at first, it may not be too long before truck drivers will need to hope their skills will turn out to be highly valued in other parts of the economy.
Electric Trucks Can Pay Big Bucks
Musk says the total cost of ownership will be 20% less than for diesel trucks.  Since he hasn't said how much the trucks will cost or how long the batteries will last I have no way of determining if this is correct.  But I will mention the cost of diesel in Australia is 50% higher than in the United States and it is much higher in Europe.  So even if Musk is exaggerating, Tesla electric trucks are still likely to pay for themselves in many countries, even without accounting for their air quality benefits.
While I can't know how much Tesla trucks will cost to run, it's not too difficult to crunch some numbers and come up with a back of the envelope calculation to see if electric trucks are likely to pay for themselves here.  What we can be certain of is, as soon as electric trucks clearly beat diesels on price they will start to take over, as the road freight business is very focused on the bottom line.
Running Cost Comparison — Diesel Versus Electric
Diesel is now around $1.40 a liter.  With the fuel rebate it comes to about $1.28 and for the single trailer diesel truck example used earlier it will come to 61 cents per kilometer driven.
I estimated that, at best, a loaded electric truck will consume 1.8 kilowatt-hours per kilometer, but energy will be lost charging the batteries.  When a Tesla S sports car uses a Tesla Supercharger the losses can be over 25%.  The losses from a MEGACHARGER!!! are also likely to be high, but because truck owners care more about cutting costs than sports car owners (if they were careful with money they wouldn't own a sports car in the first place) I will assume steps will be taken to minimizes losses and they will only be 20%.  This means an electric truck will require 2.16 kilowatt-hours of grid electricity or distributed solar electricity per kilometer.
Electricity in Australia is not cheap, but there is considerable variation across the country.  Large commercial users also pay far less than households do and their costs will be even lower if they can do a considerable amount of charging late at night, or as solar capacity expands, in the middle of the day.  It is now also very cheap for companies with roof space to install large commercial solar systems that can provide electricity at low cost — although MEGACHARGING!!! will consume far more power than all but the most massive commercial solar systems can provide.  But assuming electric trucks will mostly be used where electricity is cheaper and the average cost of commercial electricity used won't be high, I will use 15 cents a kilowatt-hour as the average cost of electricity used to charge truck batteries.
This means the it will cost 32 cents to drive one kilometer using electricity, which is much better than the 61 cents for diesel.  However, there is also the cost of wear and tear on the batteries.  This will depend upon battery prices and how durable they are.
The good news is Tesla battery packs may now only cost $200 per kilowatt-hour and Elon says he expects them to be around $130 by the end of 2020.  While Elon's predictions rarely arrive on time, Chinese manufacturers may get there sooner.  I will assume they'll cost $150 per kilowatt-hour.
How long they will last is difficult to say.  I have been told Samsung batteries used for stationary storage can now be cycled 6,000 times within 10 years.  The problem with this is:
I don't know if it is true in practice.
A car or truck is a much harsher environment for batteries.
But if I assume truck batteries can be cycled 1,000 times or over 1,000 times once battery degradation is figured in, then the cost per kilowatt-hour of stored electricity would come to 15 cents which would be 27 cents per kilometer using the optimistic figure of 1.8 kilowatt-hours per kilometer.
With the 32 cent cost of electricity, the total would come to 59 cents which is almost the same as diesel.  But with an improvement in batteries or an increase in oil prices, electric trucking would clearly win on price.
One cost advantage electric trucks will have is in maintenance because electric motors are far simpler and longer lasting than diesel ones.  Maintenance costs, not including tire replacement, are roughly 14 cents per kilometer for diesels and while it will probably take time to perfect the reliability of electric trucks, as new products are more likely to have bugs and flaws than tried and tested ones, I think they could cut maintenance costs by more than half, reducing costs by over 7 cents a kilometer.
So while electric trucks have some cost disadvantages such as the need to pay for the battery upfront and potential increases in labor costs due to the need to spend time charging, it does seem likely electric trucks could pay for themselves, provided batteries continue to fall in price and improve in reliability, as they have over the past several years.
The Competition Is Weak
Apart from electric trucks there is not much in the way of effective alternatives.  Hybrid trucks have been built and have been used in the mining industry for a long time.  They have the advantages of reduced maintenance and fuel costs.  However, because trucks spend most of their time on highways instead of in town, the savings from hybrid technology are not as great as for hybrid cars and may only reduce fuel costs by around 30%.  This doesn't mean hybrid trucks won't be built, but as batteries improve they are unlikely to be able to provide the same cost advantages.
There are natural gas powered trucks, but their popularity will depend on Malcolm Turnbull keeping gas prices down.
Fuel cell trucks, whether powered by hydrogen or other fuel have not yet demonstrated the ability to compete on price and I don't think they will.
Electric Trucks Rely On Subsidies
In Australia electric vehicles are subsidized because they don't pay the excise on petrol or diesel.  On the other hand, diesel and petrol vehicles are subsidized because they don't pay the cost of the environmental and health damage they cause.  But, if electric vehicles were required to pay the equivalent of the fuel excise per kilometer traveled, it would it would really hurt their economics.
Electric Trucks Will Favor Big Business
One thing Elon Musk did not mention in his presentation is that electric trucking is more likely to help big business than independent owner operators or small trucking businesses.  The reason is the higher upfront cost of electric trucks and lower operating costs makes the ability to borrow cheaply more important and here larger companies usually have an advantage.  In addition, the larger the company, the less they are likely to pay for electricity and the more trucks they have the more use they will get out of any MEGACHARGERS!!! they install.  As an additional bonus, Tesla trucks are made to be able to travel close behind each other to reduce air resistance, letting those with more trucks reduce costs further.
Better Living Through Electric Trucking
If oil prices rise electric trucks can save us from increasing transport costs, and when oil prices fall thanks to all the electric vehicles saving us from high transport costs, they can help save us from melting icecaps and choking on pollution.  As diesel engines are terrible for air quality, electric trucks have the ability to make our lives cleaner, greener, and also quieter.
Just watch out for idiots who buy only the electric truck and no trailer so they can drive around town and hoon away from the lights at ludicrous speed.
Footnotes
Or is it a case of fix the internet like Tony didn't tell you to? ↩