In order to improve the probability of South Australia making it through the summer without one or more blackouts, the state government has leased, with an eye to buy, 9 mobile General Electric TM2500 turbine generators. 
According to their brochure they are able to supply a total of 309 megawatts of power — in winter.  During a heatwave, which is when they're most likely to be used, this will be reduced down to around 240 megawatts because the hotter it gets, the less efficient they are1.
For now they'll be run off diesel, but next year the generators will be moved to a permanent location where they will use cheaper and and less filthy natural gas.  Because of their relatively small size these turbines are capable of going from a cold start to full power in 5 minutes.  A useful feature when it comes to reacting quickly to changing grid conditions.  Because materials expand when heated, this warming up process can't be skipped.  If a small part breaks off things can rapidly go to pieces.
I expected the Coalition to be over-freaking-joyed that the South Australian government is buying fossil fuel powered generating capacity.  But, despite the fact these turbines are capable of running off not one, but two fossil fuels, there are still members of the Coal Forever Brigade who are not happy.  Leader of the state liberals, Vickie Chapman, said the plan to purchase the turbines was "scandalous"  I really don't know what it takes to please these people.  Do the turbines have to burn diesel, natural gas, and coal all at the same time while directly farting flame onto the one remaining intact icecap before they're satisfied?
I've seen people on the internet say the diesel generators are worse than coal power and they wouldn't be needed if we had more coal capacity.  Neither of these claims are correct.  Diesel generation is less polluting than coal and for the purpose they are being used for the turbines are cheaper.  There are diesel generators in states that produce the majority of their electricity from coal and coal heavy Victoria is getting some.  Australia already has 650 megawatts of diesel capacity with another 473 megawatts of kerosene generating capacity for people who like their liquid fueled turbines to run off jet fuel.
They Cost Under $360 Million Dollars
The South Australian government hasn't revealed how much the nine TM2500 turbines cost, but we do know they were under $360 million or $40 million each.  But they'd better bloody well be under that much each because Sell Energy has two of them for a cool $23 million US dollars each.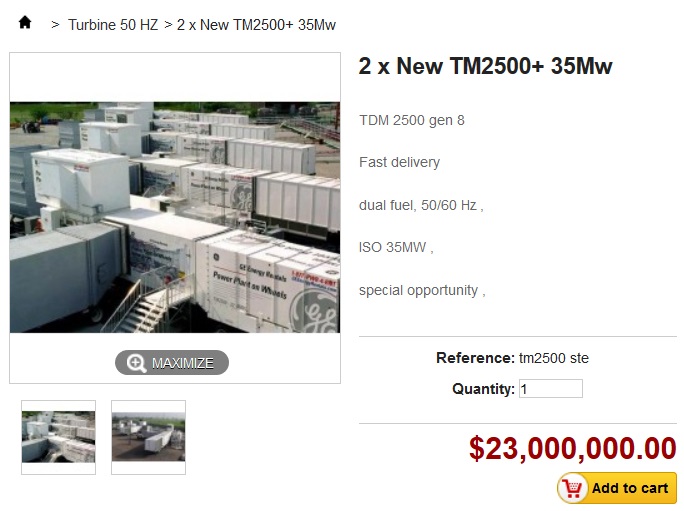 That's under $29 million Australian at the current exchange rate.  I was tempted to get them both.  If the South Australian ones are they same price, the nine will come to $260 million.  But the state government has specifically said they got a good deal, so what could that be?  Maybe $230 million?  If so, that would be $745 a kilowatt.  That's not cheap as turbines go, but small, mobile ones cost more per kilowatt and have the advantages of being able to be quickly deployed and shoved where needed which saves on transmission costs.
How They Work
A General Electric TM2500 is a mobile power plant mounted on two trailers.  The larger trailer has a turbine similar to a jet engine firmly bolted to it.  This device truly sucks.  It sucks, it compresses, and it blows.  Rather than try to describe the magnitude of its suckage with words, I'll instead show you this video by GE:
While I'd like to thank GE for making this video, I'm afraid it's not perfect.  But rather than waste your time pedantically going over the couple of things I found annoying, I'm instead going to hold a contest and let people try to guess what annoyed me in the comments.  My good friend Al Pacino will describe what fabulous prizes are on offer:
Efficiency
GE says TM2500 turbines have an efficiency of 35.3% whether using natural gas or diesel.  Unfortunately, that's only when the air temperature is 15 degrees and they're not likely to be needed in that sort of weather.  If they function like large stationary turbines, then their efficiency during a 40+ degree heatwave should be around 31% or higher.  Unfortunately they don't function like them.  According to their brochure, at 30 degrees their efficiency drops down to about 30%.

If I extrapolate that in straight line then in a 42 degree heatwave their efficiency will only be around 27.6%.  This will lower their total capacity from 309 megawatts down to 241 megawatts.  The good news is this is still well above the 200 megawatts of generation South Australia needed to meet the Australian Energy Market Operator's (AEMO) reliability standard which allows only a moderate chance of a blackout over summer.
Pollution
Breathing diesel fumes is bad.  Trust me on this.  My IQ2 would probably be 20 or 30 points higher if I hadn't huffed all that burnt diesel when I was slightly younger.  In fact, if I hadn't huffed it, I'd be almost smart enough not to huff diesel exhaust.  Fortunately, these turbines burn diesel much more cleanly than the average truck does.  Water is also injected in with the diesel to reduce the amount of noxious NOx produced.
But, no matter how bad burning diesel is, coal is worse.  If you don't believe me burn a chunk of coal and an energy equivalent amount of diesel and inhale the fumes from both and see which one makes you die less.  Scott Morrison has some coal you can burn, but you might have to fight him for it.  To the death.

CO2 Emissions
Including emissions from mining, generating one kilowatt-hour of electricity from coal in Australia releases around 1 kilogram of carbon dioxide into the atmosphere.  When burning diesel in heatwave conditions, these turbines will generate just over 1 kilogram of CO2 per kilowatt-hour and in about one year when they are changed to burn natural gas they will produce around 810 grams per kilowatt-hour3.
Fuel Cost
Burning one liter of diesel releases 35.8 megajoules of heat.  As the turbines should be about 27.6% efficient at converting heat into electricity and there are 3.6 megajoules in one kilowatt-hour, 1 liter of diesel will produce 2.7 kilowatt-hours of electricity.  As generators don't have to pay the fuel excise they can get diesel for around 90 cents a liter, which comes to a fuel cost of around 33 cents per kilowatt-hour.  This is not cheap and is more than what most Australian households are charged per kilowatt-hour on their electricity bills.  It is around 7 times as much as the current cost of generating electricity from black coal at its current high price of $130 a tonne.
They Will Rarely Be Used
Any coal fetishists reading this are probably currently coughing and spluttering at the high fuel cost of diesel generation.  Even more than they normally do from all the coal smoke they are so fond of inhaling.  But because these generators will only be used during critical periods to prevent blackouts, they may only operate on average for a few hours a year, so the high fuel cost isn't much of an issue.  This is especially true when the price of electricity during these critical periods is considered.  When the grid is under stress the wholesale price of electricity is likely to be $14 a kilowatt-hour or potentially even higher.  At that price a 33 cent fuel cost is only 2% of what the electricity can be sold for.
Why Not Use Them More?
If the fuel cost is around 33 cents and we assume operations and maintenance is another 2 cents per kilowatt-hour, then why not run these generators whenever the wholesale electricity price is over 35 cents and use them to make some money?  The problem with this plan is, as far as I understand, the state government can't.  They have to assure the private generators they won't compete with them and will only provide power to stabilize the grid and prevent blackouts.  In other words, private companies are allowed to make money selling electricity while the state government is only allowed to spend money to keep the grid operating.  But this isn't quite as crazy as it may seem.  If electricity demand is going to — almost — always be met, then some generating capacity is going to have to sit idle most of the time and having it belong to the government may be the best solution.
Why Diesel/Gas Turbines And Not Batteries?
While large scale batteries could be used to stabilize the grid and prevent blackouts, at the moment using fossil fueled turbines is much cheaper.  Large scale batteries will still have to fall a long way in price before than can compete with diesel and gas turbines, but this may not be the case for home and business battery storage thanks to the extremely high cost of retail electricity.
Looking at the current cost of producing battery packs for electric cars, it is inevitable that home battery storage will start to pay for itself in Australia before long.  If just 2% of South Australian households installed battery systems with 5 kilowatts of power and 10+ kilowatt-hours of storage each year, that would represent an annual addition of 66 megawatts of dispatchable power to the grid or more than what two TM2500 turbines can provide when it's 25 degrees.  In eight years households would be able to provide more power to the grid than Pelican Point, which is currently the second largest power station in the state.
What About Concentrating Solar Power With Thermal Storage?
The South Australian government has approved the construction of a 150 megawatt Concentrating Solar Power station with thermal storage 30 kilometers north of Port Augusta.  It still remains to be seen if the federal government will approve a loan for its construction, but the price that Solar Reserve has given makes it appear competitive with new gas and coal capacity.  Additional plants built after the first are almost certain to be even lower in cost.
So between home and business battery storage and solar with thermal storage, there may be little to no need for any additional fossil fuel generating capacity of any kind in Australia within just a few years.
These Nine New TM2500 Turbines May Never Be Used
It is now February and, apart from tests, the TM2500 turbines have never been used.  While this month is, on average, the second hottest of the year in South Australia, it is quite possible the generators won't need to be used at all this summer.  But February is the hottest month for Melbourne and so it is possible their output will be needed to prevent blackouts there.  And it's always possible a coal power station anywhere from the LaTrobe Valley in Victoria to Gladstone in Queensland will have a major breakdown and the generators will be called upon to pick up the slack.
It's even possible the new turbines will never be used.  But while I can't predict what will happen with them, there are some things I know for certain will occur for as long as the current mob are in Canberra:
If the turbines aren't needed they'll be called a terrible waste of tax payer's money and renewable energy will be declared a failure.
If they are used and successfully prevent blackouts, because they were required renewable energy will be declared a failure.
If the new turbines are unable to prevent blackouts from occurring, which is quite possible, then renewable energy will be declared a failure.
If the new turbines are unable to prevent blackouts because one of Australia's increasing unreliable coal power stations broke down, then renewable energy will definitely be declared a massive failure.
Footnotes
The AEMO gives them a firm rating of 170 megawatts.  This rating apparently assumes very hot conditions and 2 of the 9 units being non-functional. ↩
My IQ is 160.  I took an IQ test and got a result of 70, but because I finished in half the time I doubled it. ↩
For diesel I included an estimate that 13% of its emissions result from its extraction, refining, and transportation and for natural gas I have assumed fugitive emissions equal to 1% of that total burned with a global warming potential equal to 25 times that of carbon dioxide. ↩